Playoff-style baseball, heartbreak, back in Pittsburgh for big weekend
Looking to push closer to the Cardinals in the wild NL Central race, the Pirates were within one out of the most memorable September win since PNC Park opened in 2001. Then the roof caved in. Which, for an open-air park, is nearly impossible. But it was that kind of night for the Buccos. ...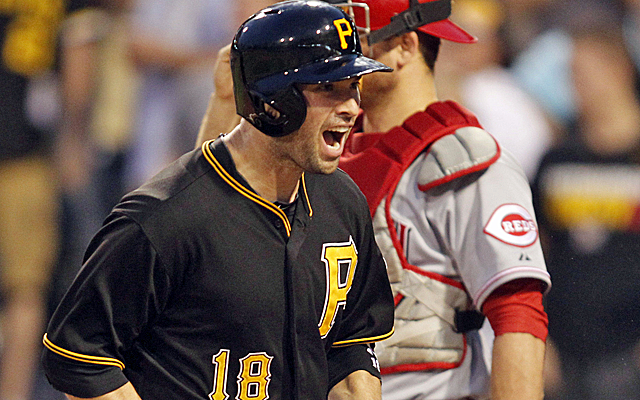 PITTSBURGH – Only thing missing was someone – a peg-legged Pirate, perhaps -- rolling out of the red carpet.
Playoff-style baseball in late September was back in Pittsburgh, and the PNC park lights never burned more brilliantly. The Allegheny River never reflected the downtown buildings more beautifully.
You watched thousands walking across the Roberto Clemente Bridge toward the park in the glimmering, early evening sun, an extra bounce in their steps, and you couldn't help but smile.
Then, as the Pirates raised the curtain – or was that another Jolly Roger? – on the most anticipated series here since the christening of PNC Park in 2001 … the baseball played by both the Buccos and the Reds lived up to the expectations.
There was an ace taking command, big home runs on both sides, gorgeous defense, a late-game hit batter, tempers flaring, Pirates manager Clint Hurdle's ejection … and that was only the leadup to an incredible ninth-inning sequence that led to a devastating 6-5, 10-inning loss for the Pirates.
And, oh, the trip for many of those 37,940 – Pittsburgh's 21st sellout crowd this season -- back across the Clemente bridge. …
"We should have won that game," said Pirates' closer Mark Melancon following his second blown save in three days. "That was our game to win."
"We'll get back on the horse tomorrow," second baseman Neal Walker said. "We're not going to get to finger pointing."
"Just tried to rush the throw," shortstop Jordy Mercer said.
The Pirates led 5-2 with two out and one on in the ninth. Francisco Liriano was fabulous for eight innings, surrendering just two runs on three hits. But after 94 pitches, he told pitching coach Ray Searage he had nothing left.
Liriano, Melancon, whomever. With two out, the game should have been over on Todd Frazier's ground ball to shortstop. But then Mercer, moving to his right while fielding the ball, air-mailed the throw to first base.
"Obviously, a good throw and the game's over right there," Mercer said quietly. "All that other stuff wouldn't have happened."
"I was excited just to get on," said Frazier, who went from curtains to exultation in about one second flat. "I hit a topper. …"
Nobody yet knows how an NL Central race that now has moved into overdrive will play out.
But you can bet that if it doesn't play out well for the Pirates, that play will be the smoking gun in every videophile's collection until the day comes when the Buccos finally do win.
"Oh, man, we strung together a ton of fantastic at-bats," said Joey Votto, whose opposite field wall-grazing home run in the 10th wound up winning this one for the Reds. "For us to come back in the ninth inning – it was the ninth inning, right? We came back and scored three, right? – it's really uncommon for us to do that."
Forgive Votto for remaining unsure of the exact way things played out on this crazy night. By the end, it was a blur.
After Frazier reached base – Mercer's error allowed Ryan Ludwick to score (5-3) and Frazier to move to second – Zack Cozart singled to put Reds on first and third. In came pinch-runner extraordinaire Billy Hamilton, who immediately swiped second. Then, on a nine-pitch at-bat that included four foul balls, Devin Mesoraco knocked a single off of third baseman Pedro Alvarez's glove.
Tie game.
And, insult to injury.
Hurdle had been ejected in the eighth when plate umpire Mark Carlson warned both benches after Andrew McCutchen was drilled by reliever Sam LeCure to start the inning.
Hurdle's point: If the umpires thought LeCure was deliberately throwing at McCutchen, then kick him out then and there. Both of these teams already are jumpy in this department, anyway, as that was the 23rd time a batter has been hit this summer, combined, in Reds-Pirates games. Cincinnati lost second baseman Brandon Phillips for four games in June when he was hit in the left forearm by Tony Watson. Phillips initially thought his arm was broken.
It would have been one thing had Hurdle lost that battle but the Pirates won Friday night's war. Instead, the Pirates lost a second devastating game in three days. Wednesday, they lost a 2-1 lead to the Padres in the ninth inning.
"Who said this was going to be easy?" Hurdle said.
But nobody said it could get this gut-wrenching.
And to think, there was a pause in the buzz when the Reds took a 1-0 lead in the top of the first.
But just when those 37,940 were chewing their nails over that, Jose Tabata whacked Mat Latos' third pitch of the game into the seats and Walker stepped up and slammed Latos' very next pitch into the seats.
It was only the fourth time in franchise history that the first two Pirates to hit in a game slugged homers.
It was the kind of night the Pirates have been waiting for … oh, for a couple of decades.
"I just  finished up a conversation along those lines," Hurdle was saying earlier Friday afternoon. "They looked me in the eye and said, 'So this is why you came here?' And I said 'Absolutely.'
"I've envisioned this. Did I know when? No. Did I believe it would happen? Yes. I needed to play my part, and we still have parts to play. It's good to get better. It's good on so many levels."
The buzz from a fundraiser at the Roberto Clemente Museum here Thursday night stuck with the manager into Friday.
"I can't tell you how many people said, 'This hasn't happened since --," Hurdle said. "And they could tie it to another thing. They're 50 now. They're 30 now. I was 10. I was 20. I had just gotten married and now I've got six kids. I'm a grandfather.
"I mean, it's crazy. It's life. So from that part of it, that's what humbles you about being in a small group of people that's bringing a lot of different joys for many people in different ways. We're not finished. We're heading in the right direction."
Lots of things have been the Most Important This or the Most Important That for the Pirates this year. And they keep stacking up, never more so after Friday's gut-wrencher than Saturday night's game.
"This is the most important game we'll play all season," Hurdle was saying Friday afternoon. "And then there's another one tomorrow."
Do the Pirates ever need it. The Reds, too. Isn't this fun?
The former Braves star served as a race official for the Daytona 500

He'd be a good fit in the Bronx, but can they make it work and still stay under the luxury...

The slugger had shoulder surgery in November
Tebow reported to spring training with Mets position players on Sunday

Santa Clara senior Jake Brodt did the honors Saturday

Eric Hosmer's eight-year contract with San Diego has wide-ranging ramifications