Please stop: Chris Davis' big season is not 'evidence' of PED use
Chris Davis is having a huge season. This is not, in and of itself, 'evidence' that he's juicing. Here's proof.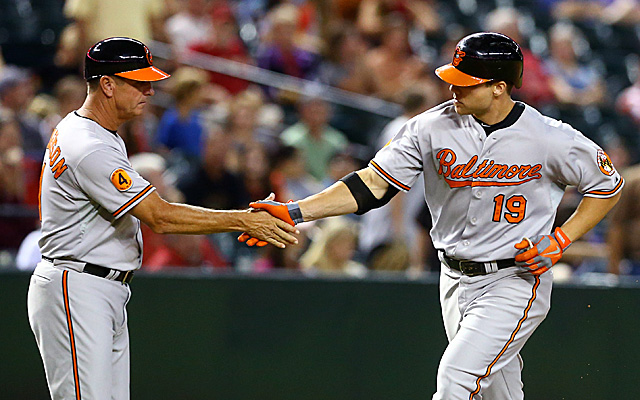 More MLB: Scoreboard | Standings | Probable Pitchers | Sortable Stats | Odds
Allow me to start with a confession: I'm at my absolute limit with PED talk. I'm tired of covering it, I'm tired of the double standard -- which I've written about before -- I'm tired of Pete Rose being an apples vs. oranges part of the arguments and I'm tired of players being accused of juicing just because they are having a good season.
And the latter issue is my jumping off point with Orioles slugger Chris Davis. We can't tweet a single item about Davis from our Eye on Baseball account (click to follow! We're awesome!) without getting multiple mentions back accusing him of use. Check out a comments section sometime of any article on the 'net where Davis is the main subject. Listen to callers on radio shows when he gets brought up. It's rampant among fans and media alike. Sometimes it's not an overt accusation so much as just a subtle jab, but it's there.
It's all done without a shred of actual evidence, other than "He's having a great season like he has never had before." And guess what? That's not evidence. It's not even remotely in the ballpark of being evidence. I'm here to prove as much.
Guys coming into their own or having fluky seasons is as much a part of baseball history as the seventh-inning stretch.
For example, did you know Davey Johnson hit 43 homers in 1973 at the age of 30? His career high before the season was 18 and he had only hit five homers in 118 games in the previous season. He would never hit more than 15 in a season the rest of his career.
Imagine if that happened today.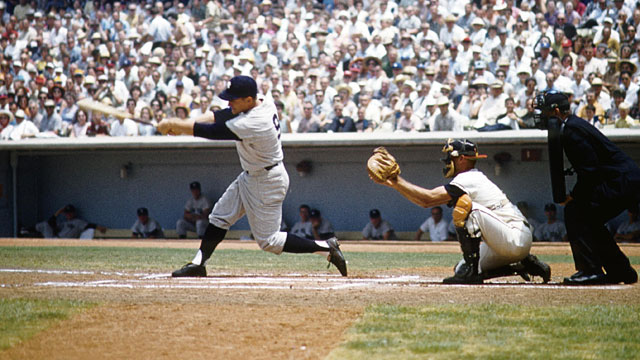 What about Roger Maris? He only had three seasons with at least 30 homers in his career. He went from 16 to 39 to 61 to 33 to 23 in the span of five seasons.
How did Darrell Evans hit 41 homers when he was 26 and then never more than 30 in a season again until 1985 -- at 38 years old -- when he hit 40?
Imagine if that happened today.
Ever heard of Cy Williams? He had a career-high 18 homers in 1921 at age 33. Then he hit 26 in 1922. And then he hit 41 in 1923. At age 35, mind you. Tillie Walker went from 10 to 17 to 23 to 37 -- at age 34 -- in 1922. Hall of Famer Rogers Hornsby went from nine to 21 to 42 homers in the span of three seasons around that same time frame. Some might want to throw those out because home runs as a whole skyrocketed in those early 1920s.
I included those but am still fine with their exclusion for two reasons. One is that this is a perfect illustration of how there can be other factors at play than simply seeing an elevated home-run total and screaming "steroids!" The second is that I have plenty more examples from points in time where home runs league-wide weren't the reason for the spike. Because there are several more fluky spikes throughout history.
How about Bob Cerv? He never got close to full playing time until 1957 at the age of 32 and hit 11 homers in 124 games. In 1958, he hit 38 homers before regressing to 20 the following season and never again being a full-time player.
Imagine if that happened today.
Willard Marshall hit only 13 homers in 1946, but then went all the way up to 36 in 1947. He would never hit more than 14 again. Rico Petrocelli entered 1969 -- his fifth full season in the majors -- with a career high of 18 homers. He would hit 40 in his age-26 season, followed by 29, 28 and then never more than 15 again.
Imagine if that happened today.
Sometimes the huge spike is just a matter of a player coming into his own. Chris Davis is 27 right now, has always displayed huge power and was a highly touted power-hitting prospect in the minors. He hit 33 homers in 139 games last year and showed improved plate discipline. This year he's even better, crushing his previous career high in walks, for example.
Have we ever seen others take a giant leap around this point in their respective careers?
Hmmm ...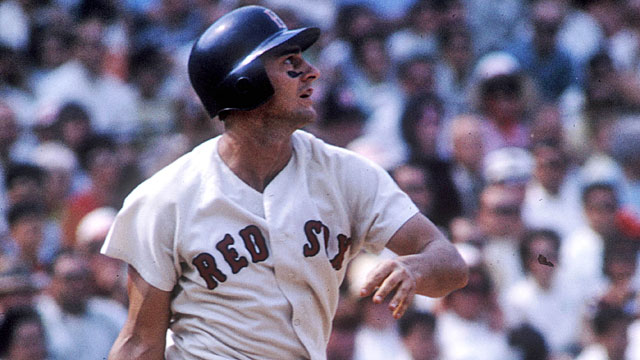 What about Carl Yastrzemski? He was a three-time All-Star entering his age-27 season, but his career high in homers was only 20. He hit 44 that season, winning the Triple Crown. He would have two more 40-homer seasons.
Hack Wilson went through the Roaring Twenties as a good power hitter, with 21, 30, 31 and 39 homers from 1926-29 before leaping all the way to 56 in 1930. He would follow that up with 13 in the following season.
Imagine if that happened today.
Maybe you don't like me using Hall of Famers, since Davis probably isn't headed that way. OK, fine. Let's ignore Yaz and Hack.
Ted Kluszewski went for 25, 13 and 16 home runs from 1950-52 before clubbing 40 homers in 1953. He would follow it up with 49, 47 and 35 before his decline.
George Foster hit 23 homers in 1975 and 29 in '76 before going all the way to 52 in '77. He would hit 40 the following season but afterward never again hit more than 30 in a season. 
Imagine if that happened today.
These guys aren't the only examples. Just a grouping of examples I found simply by using the free Internet to research a topic instead of mindlessly hurling mud in the direction of a guy having a monster season. I left out guys like Brady Anderson, Luis Gonzalez and Andre Dawson due to the era where everyone questions everything -- and several more. This isn't to say that those three are dirty. Far from it. I just wanted to avoid anything post mid-1980s and instead delve back into the supposed good ol' days.
It's a real shame that the juicers have ruined it for everyone, but I would rather enjoy and celebrate a huge season instead of screaming "STEROIDS!" every time someone works hard and comes into his own as a legitimate star.
I don't know Chris Davis is clean any more than the naysayers know he's dirty. I do know this, however: The evidence to this point is on my side. This isn't the 1998 home run chase when it was the wild west. There's a strong testing system in place and MLB has just gotten done with an unprecedented investigation into a hidden PED ring. Chris Davis has never been connected to anything illegal, other than by people who are too simple-minded to believe that a player can have a big season either A) Out of nowhere, as shown above with several examples or B) With hard work and entering his prime, as shown with several examples above.
On the latter, I keep going back to my conversation with Davis' teammate, Adam Jones, at Citi Field before the All-Star Game. He was adamant that Davis is the hardest worker on the team. He was angry that people question Davis. Not that this necessarily sells me on Davis being clean, but every little piece of the puzzle matters. Jones could have just said, "I think he's clean," instead of going on a three-minute diatribe about how hard Davis works.
This is about the point in time that the Internet Tough Guys call me naive. That's OK. I would rather be called naive by the cynics than deprive myself of enjoying baseball. Chris Davis is having a season worthy of celebration. Enjoy it. That's what I'm doing.
And if you think he's juicing with no evidence other than that he's having a great season, please shut up. You are making a fool of yourself.