Please stop with selective morality on Pete Rose and Hall of Fame
Pete Rose cheated the game when he gambled on baseball. So why do supporters of his use PED use ("cheating") as evidence he should get into the Hall of Fame?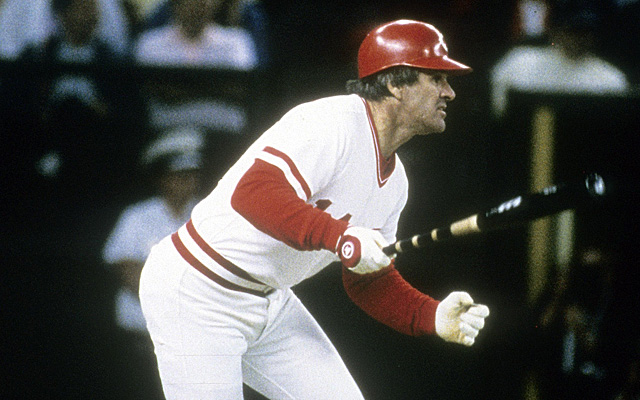 More Pete Rose: Perry: Rose was great, but not among the greatest
The BBWAA Hall of Fame vote was revealed earlier this week, and invariably when the Hall of Fame is mentioned, the name of the Hit King, Peter Edward Rose, is mentioned.
Specifically, that Pete Rose should be in the Hall of Fame. I agree with the sentiment. He is a Hall of Fame player and one day there will surely be a plaque immortalizing what Rose did on the field as a player.
Legions of hard-core Rose fans, however, take things too far and the result is a bunch of misguided arguing.
We'll hear comments like "He's the best hitter ever!" and "Just shut the Hall of Fame down since it doesn't have Pete Rose."
Well, he has the most hits, yes, but he's not the best hitter ever. I'll name five off the top of my head who were far better hitters than Rose: Babe Ruth, Ted Williams, Willie Mays, Hank Aaron and Stan Musial. I could go about 20 more, too.
The second quoted statement is just as stupid, because there are hundreds of worthy players in Cooperstown's Hall of Fame. Not having Rose does nothing to detract from seeing plaques of baseball greats who didn't cheat the game, such as the aforementioned five hitters.
Relatively speaking, though, those statements are more emotional cries in support of Rose by his fans than anything else. On the whole, that makes them relatively harmless.
Where I start to have a serious problem, though, is the selective morality when it comes to supporting Rose while kicking and screaming about the PED era -- calling any suspected users, even those who haven't had any evidence presented against them, a bunch of immoral cheaters. Again, in the same breath as supporting Rose. It's sheer lunacy.
Pete Rose isn't in the Hall of Fame because he's banned from baseball for gambling on Reds games while a manager of the Reds. That was explicitly illegal at the time and he did it anyway, knowing such an offense carried a lifetime ban. And he still did it.
Here's the rule:
Rule 21 MISCONDUCT, (d) BETTING ON BALL GAMES, Any player, umpire, or club or league official or employee, who shall bet any sum whatsoever upon any baseball game in connection with which the bettor has a duty to perform shall be declared permanently ineligible.
Rose violated that rule, has admitted as much, and he has been declared permanently ineligible. 
Put simply: Rose made his bed. He's now lying in it.
It doesn't matter that lots of players were using and abusing PEDs before there was a Joint Drug Agreement in place and that Rose's ban has nothing to do with players who are busted for PED use nowadays.
In fact, it doesn't matter what anyone else does in baseball in any aspect. Nothing happening with the Hall of Fame or in baseball in the years following Rose's ban and leading up to the present day changes anything with Rose's situation.
He very clearly violated an explicit rule that was in place and is serving his time. That's it. Actually, wait, that's not it -- things get worse for Rose here.
Rose actually made a deal with then-commissioner Bart Giamatti that he would voluntarily accept a lifetime ban and in return, MLB would drop its investigation and not move forward with formal findings. We'll never know what more the investigation would have found and revealed, but we do know Rose wanted badly enough for it to stop that he cut the deal and volunteered to be banned from baseball for life.
You see, players using steroids doesn't all of a sudden make Rose a saint. He was gambling on baseball -- and we might not even know the half of the extent to which he was doing so -- which is absolutely cheating the integrity of the game.
Think about it. People supporting Rose are also attacking the morality of players who took PEDs.
So we have people supporting a man who cheated the integrity of the game angry about cheaters. On what planet does that make any semblance of sense?
Being angry about players for cheating the game by using banned substances is fine. Hoping any players who might have used PEDs don't get into the Hall of Fame is fine, too. Wanting Pete Rose in the Hall of Fame is most certainly OK.
But tying these issues together is contradictory. An immoral cheater is an immoral cheater. You can't have it both ways.
The superstar is one year away from free agency

The Angels knew about it and still wanted to sign the potential ace, of course

The Tigers asking price is supposedly very high, though
Your one-stop shop for all things MLB Winter Meetings-related

Bryan Mitchell also heads to San Diego in the reported deal

The super agent is aiming high for free-agent starting pitcher Jake Arrieta's payday