Portly Pablo is trying hard, Bochy says, but still needs to reduce weight
World Series hero Pablo Sandoval made his first weight, but he's still well north of his listed weight of 242 pounds.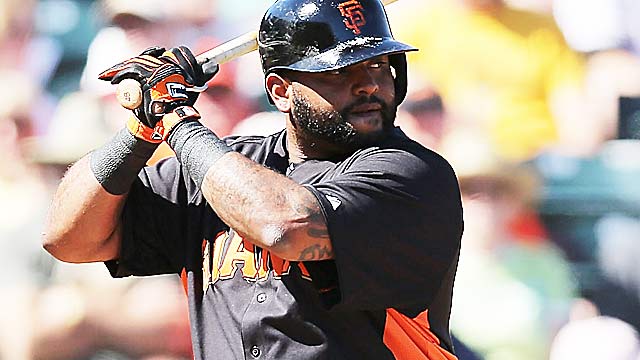 Pablo Sandoval has a new weigh-in and a new weight to meet this weekend, his manager says.
(Getty Images)
SCOTTSDALE, Ariz. -- Pablo Sandoval, World Series hero and bulge battler, seemed to surprise some Giants people by making his weight to play in spring games.
But he has another challenge. Giants manager Bruce Bochy said he has a new weigh-in and a new weight to meet this weekend.
"He's not quite where we wanted,'' Bochy said. "He had a weight to get to before playing, and he did that. We have another weight to get to this weekend.''
It might be another upset if Sandoval makes his weight again, but Sandoval has been known to surprise folks, though usually on the baseball field. After the first weigh-in, Giants people were pleased to learn he had made it. "To his credit, he did,'' Bochy told Andrew Baggarly of CSNBayArea.com and other Giants writers. "Although to be honest, I'm not sure how.''
Bochy doesn't reveal Sandoval's exact weight. But suffice it to say, it's not within shouting distance of the 242 he's listed at in the spring guide. Baggarly wrote that it's believed he's at his highest weight since the end of the 2010 season, when he lost part of his starting job because of weight issues and was said to be up to 278 pounds.
Sandoval, 5-feet-11, talked openly about the high-protein, low-fat diet that helped him shed 38 pounds and get down to 240 two springs ago, but this spring he hasn't been of a mind to address the situation publicly. He answered "no'' when asked if Bochy addressed the weight issue to him and "yeah'' when asked if he's at a good weight.
Meanwhile, he's taking ribbing over his unseen ribs when he's out of the Scottsdale comfort zone. In Tempe the other day, a fan, seeming shocked by Sandoval's girth, shouted to him, "Here's a cheeseburger'' as he walked to the dugout from the bus. (It's doubtful he heard the fan, as he wore a headset.) Anyway, he was quoted this spring as saying, "Who cares what other people say?''
Sandoval, the MVP of the World Series after a startling three home runs in Game 1 and a star in the Venezuelan League this winter, can obviously play a little heavier than most (if not all). So for now it's not surprising the Giants aren't acting too concerned.
"He's working hard. He's here early in the morning,'' Bochy noted.
The manager also said, despite Sandoval's brief comments, that Sandoval understands it's an issue. "He knows it,'' Bochy asserted.
Bochy doesn't discuss exact figures, but the team is being realistic. Asked if 235 pounds might be ideal, Bochy said, "I don't know if we'll ever get him back to 235.''
Perhaps not, but at the least they're keeping a close eye on him in hopes of getting him much closer to the listed weight of 242.
Plus the Indians are now 27-1 in their last 28 games. Here is everything you need to know from...

The soon-to-be 43-year-old Dickey said he wants to spend more time with his family

The two NL Central rivals opened a four-game series at Miller Park on Thursday night
The ballparks in Cincinnati, San Diego and Seattle will have expanded netting in place by Opening...

Mondesi spent six years as the mayor of San Cristobal in the Dominican Republic after reti...

The veteran skipper has been Mets manager since the start of the 2011 season