Possible landing spots for top MLB trade candidates
Where might trade targets David Price, Brandon Phillips, Andre Ethier, Mark Trumbo, Max Scherzer and Dan Uggla land if traded?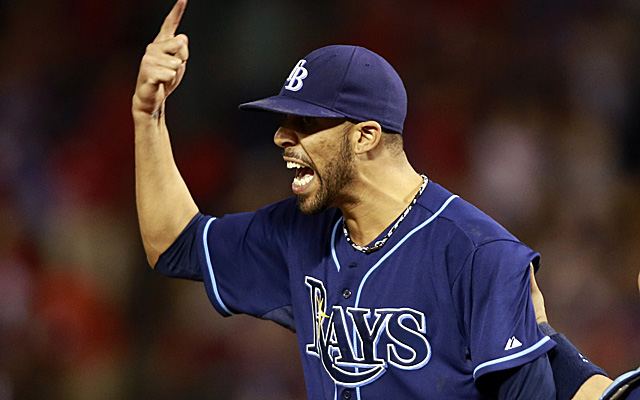 The 2013 Hot Stove Season is still more like the lukewarm stove season at this point, but there are still plenty of trade rumors. Here are some of the biggest names seemingly on the board so far and where they might land.
David Price : Much like Matt Garza and James Shields before him, it appears this is Price's time to be dealt. The lefty is two years away from free agency. He had a down year following his Cy Young season in 2012, however, he led the AL in complete games, walk rate and strikeout-to-walk ratio. He averaged seven innings per start while posting a 3.33 ERA (114 OPS+) and 1.10 WHIP. And let us recall that after he returned from injury, he was 9-4 with a 2.53 ERA, including a huge complete-game victory in Game 163, effectively putting the Tampa Bay Rays on his back and getting them to the playoffs.
So pretty much every team would love to have him. Who can land him?
The Philadelphia Phillies have been said to be interested, but they don't have a ton to offer without including Dominic Brown, and they can't really afford to deal him. The Los Angeles Dodgers have some pieces that could be dealt and probably have the resources available to extend him in two years, as they seem to be printing their own money. The Texas Rangers need offense, but are targeting it via the free agency market. Adding Price alongside Yu Darvish would make a stellar 1-2 righty-lefty punch at the top. Might they spare Jurickson Profar to do so?
What about the St. Louis Cardinals ? They have lots of young pitching, several with lots of years left under team control -- the types of guys the Rays love. I don't think they'll be involved, but you never know. They have the resources.
The Arizona Diamondbacks would qualify as another team that could flip young starters (Tyler Skaggs and Archie Bradley, for example) for Price.
The Pittsburgh Pirates could make a big splash, too, as they have tons of upper-level talent in the minors.
Also, for the Los Angeles Angels , scroll down to Trumbo ...
Brandon Phillips : From the sounds of things, the Cincinnati Reds are dead set on trading the All-Star second baseman and he's as good as gone. His contract is pretty bad, but Phillips' still has a big reputation as an All-Star second baseman, so the Reds may not have to eat the overwhelming majority of the contract -- just a sizeable chunk. Thus far in the offseason, the Atlanta Braves and New York Yankees have been connected to Phillips -- but the latter has to be only as Plan B to losing Robinson Cano , otherwise Phillips is redundant to the Yankees roster.
The Detroit Tigers and Baltimore Orioles are contenders who need a second baseman, too. What about the Dodgers? They currently have a hole at second as it appears Cuban defector Alex Guerrero is ticketed for Double-A. Phillips would likely still be under contract when Guerrero is ready to take over, but who knows with prospects? If he does take over and the Dodgers have to bench a large contract in Phillips, it's not like they don't have the money.
Andre Ethier : All three non-Puig outfielders are on the block for the Dodgers this offseason, per multiple reports, but I feel like Ethier is the most likely to go due to his contract being the least cumbersome -- which is hilarious since his six-year, $95.95 million deal runs through 2017.
The New York Mets have been connected to Ethier in rumors and that makes sense, given their need for corner outfielders.
Other teams that might need a corner outfield bat: Pirates (if Marlon Byrd walks), Tigers (shifting Ethier to LF), Yankees and Phillies.
Mark Trumbo : The Angels need to find pitching somehow. They'll have three outfielders ( Josh Hamilton , Mike Trout and Peter Bourjos ) and a first baseman ( Albert Pujols ) heading into next year with any number of other players being available to DH. So moving Trumbo would make sense if getting pitching in return.
The Pirates could use a first baseman with power and have quality upper-level, minor-league pitching. This would be a great fit. The Rays need an impact bat, will have an opening at first base and could definitely come into play in the Price sweepstakes if the Angels can throw in a top prospect or two.
The Seattle Mariners , Kansas City Royals and San Diego Padres have all been connected to Trumbo in rumors and are desperate for an impact bat to varying degrees.
Max Scherzer : I actually don't think the Tigers will deal Scherzer, but the possibility is at least being bandied about. Being that he's an ace and (soon-to-be) Cy Young winner, his market is very similar to Price's. So see above for possible suitors. Also throw in the Nationals, as they've been connected to Scherzer in reasonable speculation.
Dan Uggla : A Phillips-for-Uggla deal has been reportedly discussed, but I don't understand why the Reds would do this. Billy Hamilton could be a natural in-house fit at second base. But still, it's out there.
The second base market was mentioned above in the Phillips section, but it's hard to see a contender looking to trade for Uggla. This one would be a pure unload by the Braves. So virtually every team could be named here. It seems rather doubtful Uggla has a starting job heading into next season.
The clubs breaks ground on Globe Life Field next week

The fan struck at Wednesday's Twins-Yankees game was hospitalized

The Yankees are almost certainly headed to the postseason as a real threat to win the World...
They still would much rather grab the AL East, however

Sale becomes the first AL pitcher to reach 300 strikeouts since 1999

Steve Balboni's long-standing record of 36 has finally fallen