Potomac Nationals promotion to include 'beard-tasting'
Here's the latest example that minor-league teams do promotions better than the big guys.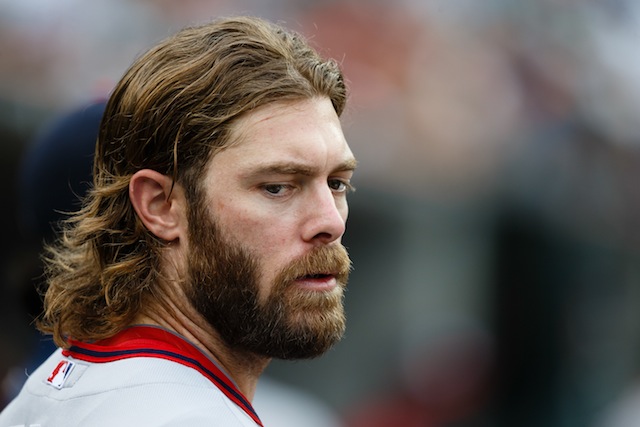 MORE: Video: Rays' Alex Cobb proposes with help of dolphin
Via the DC Sports Bog, we learn that the Potomac Nationals, Carolina League affiliate of the Washington Nationals, has planned a "Beard-a-Palooza Weekend" starting June 13 of this year. 
To be sure, it was widely believed that the excesses of the 2013 Red Sox rendered beards a thing no longer interesting or funny, but the Potomac Nationals are here to rescue the timeless facial accessory. How's that? Consider that they they plan to give away a Jayson Werth "bobblebeard" that includes actual fake beard hair (yes, I said "actual fake" and something called a Jayson Werth Wolf-a-rine. 
The pièce de résistance, though, is a ritual of indeterminate origins known as a "beard-tasting." Here's how Potomac Nats spokesman Bryan Holland explained the concept to Dan Steinberg of the Bog:
"A beard tasting is when fans sign up to be blindfolded and sample different substances right off of the beards to win cash. You've never seen this before anywhere."
I suppose that's not quite as "all-in" as having people actually eat beards, but it's close enough to perfect for me and mine.
At this point, my hope is that the foodstuffs in question are not something that will remain disappointingly segregated from the beard hair, like a donut or a slice of pizza. May I strongly suggest something that will, by dint of its texture and components, necessarily absorb the beard as part of its flavor profile -- for instance, a ladle of chowder or some steamy beans. 
Steamy beans. 
Get 15 percent off any order of more than $75 at CBS Sports Shop

The Twins need help in the rotation, and they may look to the trade market to find arms

Here are the bullet-points of what went down Tuesday regarding MLB and the Braves' punishm...
The owners need to ratify on the new system in place, but the takeaway here is Ohtani is coming...

A preliminary report National Transportation Safety Board has shined some light on details...

John Coppolella was placed on the permanently ineligible list by MLB on Tuesday