Powerful Red Sox on ridiculous offensive surge
The Red Sox just scored 54 runs in the past four games, the most ever in a Red Sox four-game stretch in which they scored nine runs in each game.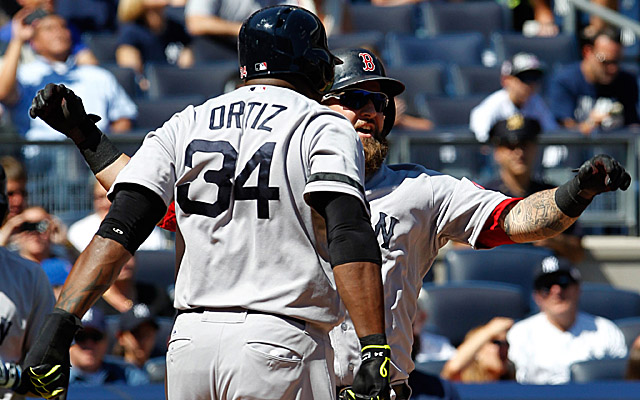 More MLB: Scoreboard | Standings | Probable Pitchers | Sortable Stats | Odds
Yankees starter Hiroki Kuroda is set to get the ball against the Red Sox on Sunday. If he's been paying any attention lately, he might have a few nightmares Saturday night.
Look, we already knew the Red Sox could mash, but this is downright ridiculous. After scoring 13 runs against the Yankees on Saturday, they've now plated a whopping 54 runs in the past four games (13.5 per game), scoring at least nine runs in each. 
It's gone 20, nine, 12 and 13, respectively.
This marks the ninth time in franchise history the Red Sox have scored at least nine runs in four straight games and the first time since 2007. The previous high total of those four-game streaks was 51 runs, so from this lens -- that is, in consecutive games where the Red Sox scored at least nine runs in each game -- we just witnessed the most prolific four-game offensive stretch in Red Sox history.
In terms of all 30 teams this season, the most runs in a four-game stretch before this one was 44, put up by the Cardinals from Aug. 1-Aug. 4, so 54 blows it out of the water. Only five times this season has a team even scored at least 40 in four consecutive games -- and one of those cases would be the Red Sox's previous four games before Saturday, with a total of 43.
Also, as noted by my colleague Danny Knobler, the Red Sox in the past three days became the first road team to score nine runs in three consecutive games against the Yankees since 1912.
So this is quite a stretch. Not that the Red Sox were lacking firepower before it.
Boston entered Saturday leading the majors in runs scored, doubles, slugging percentage and OPS. They were second to the Tigers in hits, batting average, total bases and on-base percentage. And this was all before scoring 13 runs on 14 hits with four homers Saturday.
In addition to being good, they're deep and well-rounded. Assuming Jacoby Ellsbury can return soon, there is speed in Ellsbury, Shane Victorino and Dustin Pedroia. There is obvious power in David Ortiz and Mike Napoli, but eight players are in double digits in homers. Will Middlebrooks is back on track. Youngster Xander Bogaerts is already flashing some of his immense potential. And on and on. Again, this ballclub is a pitcher's nightmare.
The eyes naturally start to wander to October, due to the Red Sox having such a huge lead in baseball's best division here in September. With a rotation that ranks third in the AL in ERA, a stellar back-end of the bullpen and this ridiculous offense, many folks will be predicting the Red Sox to win it all heading into October.
Because while the last four games by the Red Sox provided some incredibly offensive numbers, it has only been an exclamation point for what has been one of baseball's most dangerous offenses all season.
The free-agent market has been slow and one player is bracing for an even longer wait

The Mets didn't want to trade a young outfielder for an older one

Josh Harrison doesn't sound pleased Gerrit Cole and Andrew McCutchen have been traded away
The team's media contracts expire following the 2019 season

San Francisco could use more help in the outfield and at the back of the rotation

The White Sox, Athletics, Orioles and Marlins are the holdouts after the Blue Jays and Angels...