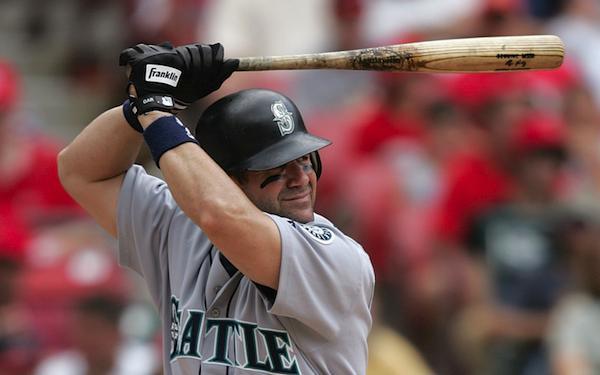 The Hall of Fame welcomed four new players on Tuesday, as Craig Biggio, John Smoltz, Randy Johnson and Pedro Martinez were all elected to Cooperstown by the Baseball Writers Association of America.
The other 30 players on the the ballot fell short of induction, one of whom was longtime Mariners DH Edgar Martinez. He received only 27.0 percent of the vote, up slightly from 25.2 percent last year but down overall from his 36.5 percent peak in 2012. Martinez has four more years on the ballot has been well short of the 75.0 percent threshold thus far.
Although he didn't get into the Hall of Fame this year, Edgar Martinez did receive plenty of praise from former opponent Pedro Martinez. Here's what Pedro told the MLB Network crew (video link) on Tuesday when asked about the toughest hitter he faced:
"Believe it or not, the guy that I hated facing the most wasn't a guy that really did well against me. It was actually a guy that didn't do that well ... The toughest guy I faced I think -- with all due respect to all the players in the league -- was Edgar Martinez. He had to make me throw at least 13 fastballs above 95 (each time we faced). I was hard-breathing after that. Edgar was a guy that had the ability to foul off pitches, and it pissed me off because I couldn't get the guy out."
The two Martinezes faced 33 times and Pedro was right, Edgar didn't have much success. He went 3-for-25 against him with no extra-base hits, seven walks and 11 strikeouts. That's a .120/.133/.120 batting line. But still, Pedro clearly did not like facing Edgar.
That was not the only praise Martinez received on Tuesday. Johnson, his former teammate with the Mariners, also went out of his way to tell reporters how great of a hitter Edgar was. From Ryan Divish of the Seattle Times:
"Edgar Martinez is, hands down, the best hitter that I've ever seen," Johnson said. "I'm glad I didn't have to face him too much. Having seen him play from '89 to all the way when I left, I got to see him a lot against great pitchers. Like I said, hands down, he is the best pure hitter that I got to see on a nightly basis. And I hope that his time comes soon, that he gets a phone all stating that he's a Hall of Fame player, because he is."
Because they were teammates in Seattle so long, Martinez faced Johnson only four times in his career, going 2-for-4 with two singles and a strikeout.
Johnson and Pedro Martinez aren't the only Hall of Famers to call Edgar Martinez the best hitter they've seen/toughest hitter they've faced either. Here's what future Hall of Famer Mariano Rivera said to Christian Red of the New York Daily News in April 2013 when asked about the toughest hitter he's ever faced:
"The toughest – and thank God he retired – (former Mariners DH) Edgar Martinez. Oh my God. I think every pitcher will say that, because this man was tough. Great man, though – respected the game, did what he had to do for his team. That's what you appreciate about players, when a player come and do what is right for the game of baseball, for his team and teammates."
Martinez faced Rivera 19 times in his career and went -- now this is just silly -- 11-for-19 with three doubles, two home runs, three walks and four strikeouts. That's a .579/.652/1.053 batting line against the greatest closer in the history of the universe.
At this point, Edgar Martinez hasn't come particularly close to being elected to the Hall of Fame despite being a .312/.418/.515 (147 OPS+) career hitter with 514 doubles and 309 home runs. His peers recognize his greatness, however, and the universal praise from Johnson, Martinez and Rivera is the kind of thing that could make voters take notice and rethink their ballot in the future.