Price has a Cy Young case, but it's not as clear-cut as the Rays believe
The Rays think David Price locked up the American League Cy Young Award Sunday, when he beat the White Sox to become the first 20-game winner in Rays history. Price will end up leading the league in ERA, and he has a strong Cy case, but it's not as clear-cut as the Rays believe.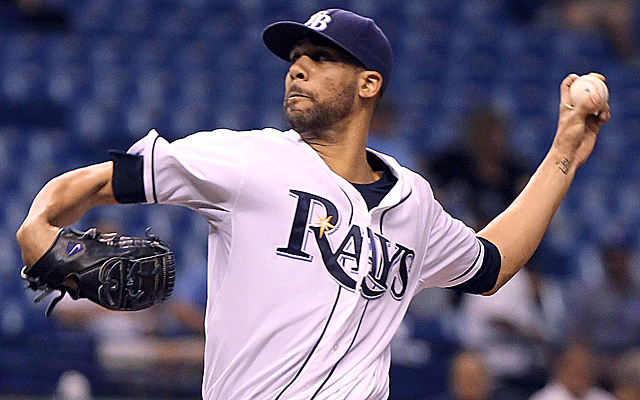 David Price will finish the season leading Justin Verlander, another AL Cy Young candidate, in wins and ERA.
(US Presswire)
CHICAGO -- The American League Cy Young call is a closer one than the Rays think.

That doesn't mean their guy won't get it. That doesn't mean their guy doesn't deserve it.

The way the Rays see it, it's clear-cut. David Price is a 20-game winner, and David Price leads the American League in ERA. David Price pitches in the American League East, and David Price pitches for a team that has serious trouble scoring runs.

"He should have like 25 wins," manager Joe Maddon said Sunday, after Price became the first-ever Rays 20-game winner, by beating the White Sox 6-2.

A Cy Young season?

"100 percent," Price said.

The clear-cut, obvious choice for Cy Young?

"From where I sit, [he] is," Maddon said.

From where I sit, it's not so clear-cut. If I had a vote (and this year, I don't), I'd likely cast it for Price, but only after also giving serious consideration to Justin Verlander.

Price will end up leading Verlander in wins (20-17) and ERA (2.56 to 2.64). Verlander leads in innings and strikeouts, and has allowed fewer baserunners per nine innings.

Price pitches in a tougher division. Verlander has a weaker bullpen.

Price has been more consistent (only three games where he allowed five runs, compared to six for Verlander). Verlander has a big lead in complete games (6-2).

"Tough choice," said White Sox catcher A.J. Pierzynski, whose team lost twice to Verlander and lost Sunday to Price. "They're both real good. [Verlander] is still probably the best pitcher going, but it's six of one, half-dozen of the other.

"Justin's dominant. David's dominant. They both are very deserving candidates."

It's interesting to see the new-school Rays arguing that Price's 20-win season should figure into the discussion. I actually agree with them, but I'll bet some who love the Rays for their acceptance (or reliance on) so-called advanced stats will cringe to hear them talking about it (and celebrating a 20th win as a significant accomplishment).

"That's the old-school component of me," Maddon said.

Price isn't the only 20-game winner in the American League. The Angels' Jered Weaver also got to 20, and also has an ERA under 3.00. But because Weaver missed time with an injury, he won't get to 200 innings.

It's probably a two-man race between Price and Verlander -- unless you believe, as the Rays do, that it's really a one-man race.

"I just know what our guy has done, and it's highly impressive," Maddon said. "I haven't seen [Verlander] as much, but I really think overall, David's had the better year."

I think he's right on that. But clear-cut? No, I don't think it's clear-cut.


Pawol is expected to umpire in the minors again come the regular season

No. 3 Texas Christian is looking to ruin Long Beach State's return home

Martinez's physical isn't taking much longer than usual
The Rangers have a lot riding on Mike Minor and Matt Bush

Though the process is far from complete, taxpayers got good news Thursday

Dickerson had been designated for assignment by the Rays last week