Price is the standout starter, but so far no one will pay the right price
A source says the Mariners will not give up star prospect Taijuan Walker in a Price trade, and other teams seem surprisingly reluctant to dive in for the former Cy Young winner, as well.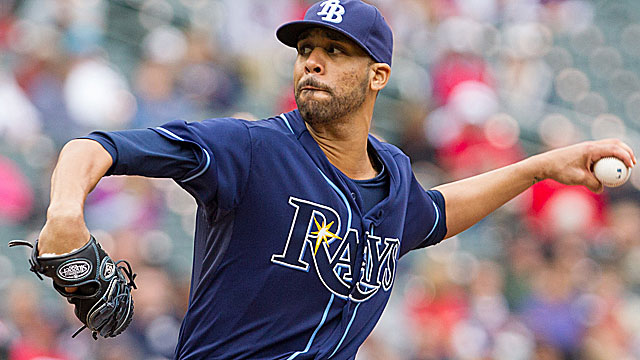 In a trade/free-agent market with some very good starting pitchers but only one ace, unless you really think Chris Sale, Cliff Lee or Cole Hamels will be traded (I don't) or Japanese superstar Masahiro Tanaka will post (that's apparently pretty iffy, at least at the moment), you'd have to think teams would be making a big push for that one big available ace, David Price, the former Cy Young winner who could be had.
You'd have to believe the interest is strong. But oddly enough, so far it doesn't seem like anything's especially hot.
A couple teams have seemed to pull back in Price talks. And there are very few reports of teams diving in. Some interested parties haven't become public, no doubt. But you'd still have to think there'd be much more buzz than this. So what gives?
The Rays, a veritable assembly line of good-to-great starting pitchers, always have been able to deal starters for satisfactory (and usually a lot better than that) packages. Yet somewhat surprisingly, so far they seem wholly unimpressed by what they've heard from the "five or six" teams said to be serious in pursuit of the 2012 Cy Young winner.
The Mariners are saying "no" on Taijuan Walker (see the very definitive quote on that big issue below) and other teams also seem to be balking at very top talent even though Price is 71-39 lifetime with a 3.19 ERA and has that 2012 Cy Young trophy. He stands out in a less-than-overwhelming field of available starting pitchers, a field that may be getting even weaker. If Rakuten denies Tanaka the opportunity to post, as some reports are now suggesting is likely, Price may stand as the only bona fide No. 1 pitcher on the market.
Normally, that would create a feeding frenzy. But if there is one, we haven't heard of it to date.
Specifically, some of the most prominently mentioned teams don't appear to be involved in very active talks at the moment. Dodgers and Rangers people painted pessimistic pictures of their chances for Price as the Winter Meetings closed , and there is said to be "nothing happening" on that front with the Dodgers at the moment, and nothing hot with the Rangers.
So far both those teams, and apparently others, including the Mariners, aren't easily relenting on top prospects, even with the increasing value of top starting pitching. Meanwhile, Rays people seem unhappy enough with the offers that they're occasionally now speaking aloud about the possibility of keeping Price into the season, and possibly even through the season, assuming they contend again this year. His salary, expected to be about $13 million through arbitration, would represent an outsized number in their meager budget, so keeping him still seems like the less likely option.  But it's an option now.
With a strong resolve to break their four-year losing streak, a quick start to this winter highlighted by the $240 million signing of superstar Robinson Cano and importantly a stash of very good prospects, including the wunderkind right-hander Walker, the Mariners have seemed like a logical landing spot. And they still may be. But Seattle has thus far refused to part with Walker, who has six years before free agency, including three very cheap ones, not to mention that big right arm. And a person familiar with the Mariners' thinking told CBSSports.com on Thursday, "Taijuan Walker will be on our roster come Opening Day." (That of course assumes he passes the spring-training test in Peoria, Ariz.)
Walker was included in a proposed trade for outfield star Justin Upton last winter that was ultimately killed by Upton, who invoked his no-trade clause to block Seattle. However, Walker's stock rose with a couple impressive outings in September. One rival GM opined, "I wouldn't trade Walker straight-up for Price." That seems a tad strong, but that prospect-protective mindset is getting to be pervasive in the game.
A person with connection to the Rays, meanwhile, says Seattle still has enough pieces to form a package for Price, even without Walker included. While that person didn't mention any names, it's likely left-handed starter James Paxton would be a person of interest, as might catcher Mike Zunino, a University of Florida prospect with big offensive potential. A Mariners person suggested they'd prefer not to deal Paxton, either, and build a deal around positional prospects.
Thanks to Seattle's recent signings and trades, Mariners youngsters Nick Franklin, Dustin Ackley and Justin Smoak are believed to be available. However, Tampa Bay's position is that they need one huge prospect or at least a trio of very good ones, so it's hard to see them taking the Mariners' extra players -- even good extras -- for Price, who's 28 and has two years to go before free agency,  just as James Shields did last winter when Tampa traded him and got back an elite positional prospect, Wil Myers, who wound up winning the Rookie of the Year award, in a highly-praised package.
The Royals took hits, many of them from the sabermetric set, for giving up such a high-end prospect, but the reality is, the value of starting pitching is starting to skyrocket. For all the criticism of the trade, the Royals are quite happy with Shields, who helped Kansas City to an 86-win season, their most successful campaign in many years. If they wanted to, the Royals could become a factor with Price, too, though to this point those two teams haven't had meaningful dialogue on the subject.
While Kansas City hasn't been mentioned as a possible suitor for Price, they have the potential to pull off a Price trade, with their very good prospects like shortstop Raul Adalberto Mondesi, pitchers Kyle Zimmer, Yordano Ventura and others. The Royals, who've had mostly just internal talks on Price, already have made two surprisingly bold moves this winter, signing pitcher Jason Vargas and second baseman Omar Infante while coming up just short with a $43.5 million, three-year bid to bring back Carlos Beltran. But a Price trade could solidify them as playoff favorites.
The salary, though, stands as an impediment in the case of Kansas City. They liked Shields because he fit the budget, whereas Price may be a stretch for them. One person familiar with the Royals' situation called it a "tall order" from a financial standpoint.
The Yankees would be interested, but the suspicion is they don't have the prospects. The Red Sox have the prospects. But would Tampa deal its ace within its division? One person involved said it's "not ideal,'' but didn't quite rule it out entirely.
For Price, Tampa Bay seeks at least similar value to what Shields brought, no surprise considering Price is a bit more accomplished, left-handed and slightly younger, though he's expected to make about $10 million more over his two remaining seasons before free agency, with salaries likely to be in the $13 million range for 2014 and about $18 million in '15 (depending on his '14 season). Another factor in the minds of Rays people is that they still had an ace in Price when they traded Shields while a Price trade would leave them with only several potential aces, including Matt Moore, but no proven ones.
In any case, the Rays seem slightly shocked that the offers haven't been better for one of the game's very best left-handers, one whose likely financial guarantee of about $31 million may be less than half what less-accomplished free-agent pitchers Matt Garza, Ervin Santana and Ubaldo Jimenez may command. Last year wasn't Price's best, but he still went 10-8 with a 3.33 ERA and pitched Tampa into the playoffs with a brilliant gem at Texas, as tough a spot for a visiting pitcher as there is. Some have pointed to slightly decreased velocity in '13, but he was still near the very top in that category among starting pitchers.
It's much more likely the price than Price himself. But shouldn't the price be high in this extraordinary case?
Rays general manager Andrew Friedman has gotten the better of his share of trades in the past, and maybe that's discouraging a team or two -- though that couldn't possibly explain any reluctance on the part of experienced, accomplished traders like the Dodgers' Ned Colletti and the Rangers' Jon Daniels.
At his expected salary, Price would seem like a great bargain for all but the smallest of markets. But why isn't anyone biting so far?
Jones, who was recently elected to the Baseball Hall of Fame, isn't your typical gun-control...

Martinez had agreed to a deal with Boston last week

Venters threw a scoreless inning for the Rays on Sunday
The contract includes a second year vesting option

Keep tabs on the top 50 free agents on the market right here

New York has been looking for rotation depth all offseason