Prospect spotlight: Cardinals RHP Jordan Swagerty rehabbing from Tommy John
Cardinals right-hander Jordan Swagerty underwent Tommy John surgery this spring and is working his way back to baseball, dealing with the absence of baseball with reality TV and business books.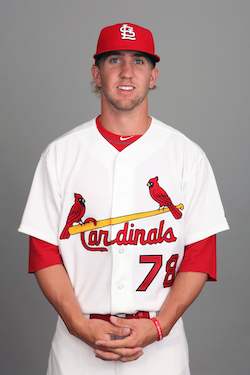 Wednesday night was a big night for
Jordan Swagerty
, but instead of warming up in the bullpen in San Antonio or Tucson, Swagerty was warming up his TiVo for the season finales of
The Middle
,
Modern Family
,
Revenge
and
Duck Dynasty
.
Rated the
Cardinals
' No. 10 prospect by Baseball America headed into the 2012 season, Swagerty entered the spring with eyes on making it to St. Louis this season. Instead, the former Arizona State closer is in Arizona rehabbing from Tommy John surgery. For the first time in his life, he's spending a summer away from baseball, away from teammates and away from his normal routine. So what's left is three hours of rehab work and the rest of the day, which has left the 22-year-old right-hander with a full day of time and little on his schedule.
One of the toughest parts of Tommy John surgery is doing exactly what is prescribed -- nothing more, nothing less. For professional baseball players who have had drilled into their head all their life that extra practice, extra running and extra lifting are what it takes, dialing back rehab to just what is expected -- and nothing more -- is quite difficult. It also leaves 21 hours a day unused.
"I'm trying to find other hobbies, something to pass the time. I go to rehab for three hours a day and then you have the morning and the rest of the day to hang out and not have a lot to do," Swagarty said Wednesday afternoon. "I'm trying to find different areas of interest, so I don't go lift again or do anything. I tried fishing left-handed. I've started reading more. That's a good way to pass time. I've watched a lot of TV. I have a lot of new TV shows. I know the TV schedule."
A second-round pick by the Cardinals in 2010 out of Arizona State, Swagerty pitched at three different levels in 2010, his first year of pro baseball. At low-Class A, high-Class A and Double-A, Swagerty was 5-3 with a 1.83 ERA in 36 games and 12 starts, earning eight saves. He struck out 89 batters in 93 2/3 innings, while putting up a 0.972 WHIP. He, rightly, went into spring training expecting another big year, likely starting in Double-A Springfield or even if everything fell right, Triple-A Memphis. From there, a shot at pitching in St. Louis sometime this season wasn't completely out of the question.
All that was shot when he was diagnosed with bone spurs and told that Tommy John surgery may be a possibility.
"I remember sitting in the trainer's office, talking with the doc and hearing it, and I couldn't believe it. I didn't feel anything in my elbow. It was tough to take because I didn't feel anything," Swagerty said. "I literally had zero pain, tightness, anything in my elbow. The only thing was bothering me was the bone spurs. I remember thinking, 'You need to find someone else,' because I didn't feel anything in my elbow."
At that point there was a decision to be made -- either he could just have the bone spurs removed and return for the last month of the minor-league season and likely have to have Tommy John surgery at some point in the future, or proactively have the ulnar collateral ligament in his right elbow replaced. After the surgery, performed by Dr. Lewis Yocum, Swagerty was told he made the right decision because there was damage to the ulnar collateral ligament. That revelation helped Swagerty's confidence, but that was quickly dashed when he had trouble brushing his own teeth.
After the surgery, there were doubts -- it's only natural for someone to wonder if surgery was successful and wondering if the nearly year-long process will go as planned, with Swagerty returning to form.
"When I first had it, I was in a cast for 10 days, and at that point in time I had some question -- and then I got out of the cast and I couldn't bend my elbow, I had never experienced anything like this," he said. "In the early stages it's definitely there. But the more you go to rehab, the more you get your range of motion back, the doubt goes away. Right now my arm feels completely normal. There's no pain. I'm obviously not lifting heavy weights or trying to throw a baseball, but I'm just doing what they tell me to do, and it feels nice and strong. You realize it's not as bad as you thought right after the surgery."
He also was helped before surgery by talking to his fellow Cardinals pitchers -- at one time in spring, all five of the team's starters had undergone Tommy John surgery.
Adam Wainwright
talked to him extensively to let him know what he'd be going through. That helped ease his concerns.
Now, roughly two months after the surgery, it's just the time presenting challenges. In addition to TV, he's also reading more, especially business books, and making sure he does what he needs to do to eat healthily and live healthily while he can't work out quite like he'd like. He also keeps up on his baseball friends, watching some on TV, as well as keeping up with games on the internet and using his Twitter account (
@JordanSwagerty
) to keep up with his friends in baseball.
"I'm pretty close with [
Reds
starter]
Mike Leake
and watched him pitch [Monday] night and he gave up just one run and hit a home run -- that's when it gets to you," he said. "Your family's not there from surgery and you're alone and you're watching your buddies play, that's when it hits home for you. It takes a little bit to set in. But I'm getting as much joy from watching my friends when they do well as they do.
Matt Adams
got called up and I was pumped -- it was like I was called up. It's not fun not playing, but I keep up with all the guys and talk to them. They're good friends and even if you're not in the same place, you're still friends and you want them to do well."
That can be difficult, though, seeing their successes. But as difficult as that is, Swagerty is sure to keep a positive attitude, and the fact that Tommy John surgery has become so commonplace and there are so many success stories out there is reassuring. So while days are now filled with Duck Dynasty, there hopefully won't be time for that this time next year.
"It's not always going to be how I want it to be, it's not always my decision," Swagerty said. "Sometimes I have to take a step back and realize how lucky I am to play pro ball, have a year under my belt, did great in that year and now I have a new challenge in my life. We're going to get through this and next year I still get to play baseball and I hopefully won't have to do this again.
"I know I'm going to get through this, I know it's not the most convenient thing or how I'd want it to be, because I firmly believe I was going to be in St. Louis by the end of the season, but there's more seasons to come. It wasn't the only shot I'm ever going to have. I'll get to play again, and I'll go from there."
PROSPECT TALK
• 
Royals
outfielder
Wil Myers
has a week under his belt in Triple-A, and he's continued to do what he did in Double-A -- mash. In his first seven games for Omaha, he's hitting .417/.500/.792 with two homers, a double and a triple in 24 at-bats. The 21-year-old also hit what is believed to be the longest homer ever hit in the short two-year history of Omaha's stadium. Watch the blast here (or watch the kids in the crowd run after it, at least):
• 
Cubs
first baseman
Anthony Rizzo
is hitting .353/.417/.705 with 16 homers, including two in his last three games. On Tuesday, he went 3 for 5 with five runs scored. The left-handed hitter is hitting .314/.364/.569 with four homers against left-handers. There are two things standing in his way to the big leagues -- one is
Bryan LaHair
playing well for the Cubs, and the other is service time. If he's on the big-league roster for 104 days this year, he would qualify for free agency in 2017 instead of 2018. Is getting help in a lost season for the Cubs worth sacrificing one year of a player in his prime? Doubtful. Even though the Cubs deny that's the reason Rizzo is still in Triple-A, it'd be foolish not to consider it. Rizzo accrued 68 days of service time with the Padres last summer, and the team needs to keep his total under 172 days that mark a full year of big-league service time.
• Rockies third baseman
Nolan Arenado
has a 12-game hitting streak headed into Thursday. Overall, he's hitting .308/.355/.438 with three home runs.
• Giants outfielder
Roger Kieschnick
has been beset by injuries over the last couple of seasons, but the third-round pick in the 2008 draft is putting up big numbers for Triple-A Fresno. In 46 games, he's hitting .333/.407/.656 with 13 homers, 12 doubles and four triples. On Wednesday, he had two homers, driving in six in a 4 for 5 game.
• While Dylan Bundy has gotten a lot of attention for his performance this season, it's easy to forget he wasn't the first pick. Right-hander
Gerrit Cole
, who was taken first overall by the Pirates, is 3-1 with a 2.60 ERA at high-Class A Bradenton. He threw five scoreless innings on Wednesday, allowing four hits. He has 46 strikeouts in 45 innings with just 13 walks.

CBS Sports HQ Daily Newsletter
Get the best highlights and stories - yeah, just the good stuff handpicked by our team to start your day.
Please check the opt-in box to acknowledge that you would like to subscribe.
Thanks for signing up!
Keep an eye on your inbox for the latest sports news.
Sorry!
There was an error processing your subscription.
He's adamant that there was no interference on the play

Ryan Brasier and Matt Barnes have been dominant in the ALDS and ALCS

The Red Sox have reversed the old cliche in the ALCS
It was a costly interference committed by one of Houston's own

The ball Benintendi caught had a 79 percent chance of being a hit

The Red Sox came out on top of a back-and-forth Game 4 in Houston on Wednesday