Prospect Spotlight: Cardinals RHP Shelby Miller
Cardinals right-hander Shelby Miller got off to a rough start at Triple-A Memphis, but in his last seven starts he has 50 strikeouts and just one walk.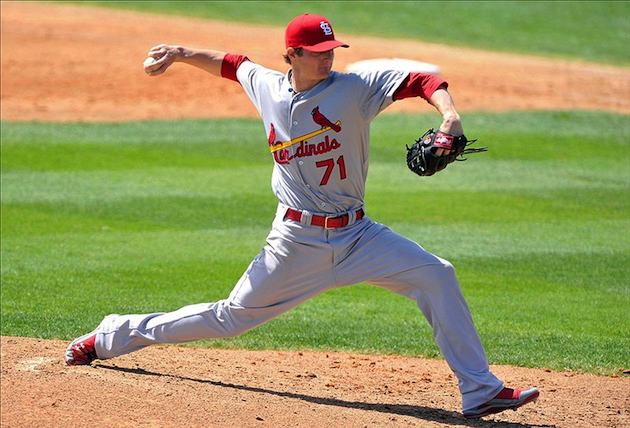 Shelby Miller has 50 strikeouts and just one walk in his last seven starts at Triple-A Memphis. (Getty Images)
It wasn't the hair -- that much Shelby Miller knew. He knew because he checked. 
The Cardinals right-hander struggled in the early part of 2012, so he did some soul searching and looking at everything he may have done differently, and one of the most obvious was that instead of the shaggy hair he'd sported the last couple of years, he'd cut it short before coming to spring training. And while searching for answers for his poor start, he went through everything -- including his hair.
"For a second I wondered and started growing it back out, but then I cut it back off again," Miller said on Thursday. "I was going through everything, I looked at what I was doing in the past and growing my hair out was one of those things, so I tried it. I had another bad start, so I just said I was done with it, it was getting hot."
Miller, 21, came into the 2012 season one of the game's most heralded prospects, just a step away from joining the World Series champions and their vaunted rotation. At some point he was expected to join the team in 2012 and aid St. Louis in another playoff run. Except it just didn't work out that way.
Through the first half of this season, Miller went from the can't-miss prospect to sports talk radio fodder. In the first half of the season, Miller was 4-8 with a 6.17 ERA in 17 starts, raising the questions about his future. Since then, though, he's helped silence those questions and critics, going 5-2 with a 3.21 ERA in eight starts in the second half. Over his last seven starts he's struck out 50 and walked just one and once again people are wondering how soon he could be called up.
"You know, I wasn't pitching too bad, it's kind of like I'd throw three shutout innings and then go out in the fourth and I'd give up four runs," Miller said. "I guess I was trying to do too much and I've given up a lot of home runs. I'd give up hits with runners in scoring position. It wasn't going my way. I was throwing a lot of fastballs. That's pretty much it. I guess. I just didn't feel like the pitcher I've always been."
Along the way, the Cardinals gave him a break from pitching, trying to get him back to his old form. Miller said he concentrated on some mechanical adjustments and found some of his lost velocity on his fastball. The team also instituted a no-shake rule in order to get him away from throwing his fastball as much as he had been.
"I made some mechanical changes here and there," Miller said. "I've been getting stronger, getting my velocity back and the fastball I've always had back. You can tell by the way batters are responding to my fastball now as opposed to how they were earlier in the year. I don't know how or why, but I've been back to the pitcher I've always been. It makes me a better pitcher when I have my best pitch, which is my fastball and I can command it. I'm also throwing off-speed pitches for strikes."
Many have pointed to not just his loss of hair in the offseason, but also some body mass. Miller came in skinnier than in years past and seemed to lose some of the zip on his fastball. 
"I was lighter and a little skinnier, I could tell when I looked at old photos, but I felt like I had the same strength, but I don't know if I did or I didn't. It's hard to tell. I don't want to say that's the reason why, because the reason I got so skinny was I worked so hard in the offseason, I busted my butt and ate really healthy and lost body fat. I cut all the fat off my body, which is why I looked so skinny. … I guess it wouldn't have been as big of a deal if I had been pitching good early in the year. Some may think that's why I wasn't pitching well, but I don't know."
The Cardinals certainly hope that even if he hasn't figured it out, he can maintain his performance come spring training, when he's expected to battle for a spot in the rotation. And for Miller, he's a little upset that he's just now finding his groove as the minor-league season is coming to a close.
"I wish I was doing this all year and it's tough knowing you only have a few games left and you're pitching well, but at the same time it's got to end at some point," Miller said. "Not pitching very good in the first half and coming around is going to make me a better pitcher in the end."
PROSPECT NOTES
• There's rightfully been a lot of talk about the Reds' Billy Hamilton breaking Vince Coleman's single-season stolen base record, but Hamilton's not the only speedster looking to bring back the stolen base. Houston's Delino DeShields Jr. entered Thursday's game with 92 steals on the season and 12 games left in the season. Last year Hamilton was the first player in a decade to record 100 steals, but this season he may not be the only one.
• Pirates right-hander Jamison Tailion made his Double-A debut on Tuesday, striking out six and allowing just four hits and no walks in five innings of work. Taillon, the second overall pick in the 2010 draft, was 6-8 with a 3.82 ERA in 23 starts at high-Class A.
• Texas shortstop Jurickson Profar snapped a 1-for-16 slump with five hits on Wednesday. The 19-year-old is hitting .285/.366/.463 at Double-A Frisco.
• This year's top pick, shortstop Carlos Correa, has made a quick transition to pro ball. In eight games in the Astros' Rookie Appalachian League affiliate, he has 11 hits in 27 at-bats, good for a .407/.484/.667 line.
• Milwaukee's Hunter Morris is battling for the Southern League (Double-A) triple crown. He's currently second in the league in home runs (23) and RBI (99) and fourth in batting average (.296). 
For more baseball news, rumors and analysis, follow @EyeOnBaseball on Twitter, subscribe to the RSS feed and "like" us on Facebook.
A beardless Wilson says that he tried to outrun the police on the second day he had his driver's...

The Diamondbacks outfielder was not impaired, he was just going way too fast

MLB can unilaterally implement rule changes, which will also include limits on mound visit...
If the MLBPA wants to repair MLB's salary structure, it should push for more money for young...

Fans aren't happy Gerrit Cole and Andrew McCutchen have been traded away

Acuna is arguably the best prospect in baseball