Prospect spotlight: Outfielder Wil Myers pushing his way toward K.C.
Things are going good for Royals outfielder Wil Myers, his 27 homers are tied for the most in the minors, he had three RBI in the Futures Game and was the MVP of the Triple-A All-Star Game, just about the only thing left for him is a call to the big leagues.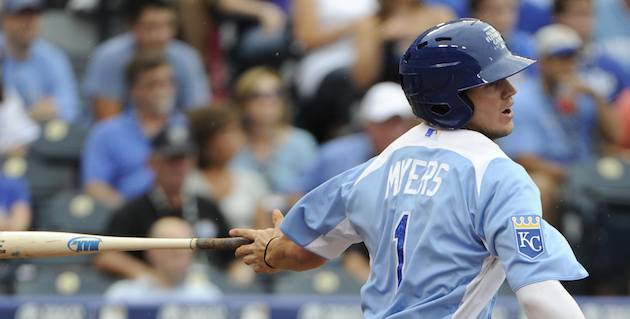 Royals outfielder Wil Myers was 2 for 4 with 3 RBI in the All-Star Futures Game in Kansas City. (Getty Images)
KANSAS CITY -- Like Royals fans, Wil Myers is getting impatient about when he'll get the call to the big leagues. After struggling in his move up to Double-A last season, the 21-year-old outfielder had no such problem in Triple-A. Through the Triple-A All-Star break, Myers has 27 home runs at Double-A and Triple-A. That, coupled with Jeff Franceour's struggles with the Royals, have many wondering if it's time for Myers to be called up.

"I'd be lying if I said I wasn't thinking about it every day about coming up," Myers said before the Futures Game earlier this week. "But it's whatever the Royals want me to do, I'll do."

The Royals may want him in Omaha, but Royals fans were definitely happy to see him in Kauffman Stadium this past weekend. The sold-out crowd at the Futures Game gave him standing ovations and you could buy T-shirts of his Futures Game jersey at the game. He went 2 for 4 with three RBI and also made a nice diving catch in center field.

"It's going to be cool to put on the blue, have the Royals patch -- hopefully this is my home field for a time to come," Myers said before the game.

Statistically -- which is never why prospects are called up -- it'd be tough to top what Myers is doing so far this season. After tearing up Double-A, he's spent 48 games in Triple-A and made an immediate impact, hitting .315/.395/.636 with 14 home runs for Omaha. That's a little different than this time last year, when people were wondering what was wrong with Myers, considered by some a better hitting prospect than either the Royals' Mike Moustakas or Eric Hosmer.

But after tearing up Class A, the Royals moved Myers out from behind the plate to the outfield, something that would be expected to be a boon to the bat. Instead, an offseason knee injury slowed the right-handed hitter. Although his defense wasn't a problem, his bat didn't live up to expectations. At Double-A Northwest Arkansas, he hit .254/.353/.393 with just eight home runs. He played in the Futures Game in Arizona but still saw his stock drop, if only a little. After being ranked the No. 10 prospect in baseball by Baseball America for 2011, he dropped to No. 28 in this offseason's rankings. Nobody really thought Myers wasn't going to hit, but for the first time, there was some doubt.

The Royals put him back in Double-A to start the season and the old Myers seemed to be back, getting a hit in each of his first 13 games of the season. After his first game without a hit, Myers hit in 16 straight. He had 11 home runs in those first 30 games. In all, he had at least one hit in 32 of his 35 games before being moved up to Triple-A.

"The biggest difference to me is confidence. I feel a lot more confidence every time I go up to the plate to hit, I feel like I'm going to hit something hard," Myers said. "With the injury, I never had anything going. I couldn't get anything rolling. I got out of the swing of things and lost the confidence I had the previous year."

It's safe to say that confidence in back -- and it should be considering his 27 homers are tied for the most in the minors. On Wednesday, Myers went 2 for 3 with a double and a run scored to pick up the MVP of the Triple-A All-Star Game in Buffalo, N.Y.

"I feel like I'm big-league ready right now. But the Royals still want me to work on things in Omaha, so that's what I'm doing," Myers said.

Like what?

"I still have a few holes in my swing that I'm trying to fix right now, so I don't want to give up that information," he said.

PROSPECT NOTES

• The Mariners are flush with pitching prospects, with Danny Hultzen and Taiuan Walker representing the team at the Futures Game, and lefty James Paxton could have been (he's 3-3 with a 3.46 ERA at Double-A Jackson), and another, left-hander Jordan Shipers, threw a no-hitter on Wednesday. Pitching for the low-Class A Clinton LumberKings, Shipers walked two and struck out two.

• Mets third baseman Eric Campbell was named the MVP of the Double-A Eastern League All-Star Game after his two-out single in the ninth broke a tie and gave the home Eastern Division team a 5-4 victory in Reading, Pa. He finished the game 2 for 3 with a double in addition to his game-winning single. At Binghampton this season, the 25-year-old from Boston College is hitting .328/.432/.487 with six home runs.

Check it out:



• Rays shortstop Hak-Ju Lee, a principle in the Matt Garza trade with the Cubs, set a Montgomery Biscuits record on Wednesday with a hit in his 21st consecutive game. Lee didn't get a hit until the ninth inning on Wednesday, hitting an RBI double in the victory. During the streak, Lee has raised his slash line to .264/.327/.348 from /240/.312/.302. He is considered the Rays' top position prospect.

• Cincinnati's Billy Hamilton made his Double-A debut Wednesday in Pensacola, Fla., but he didn't sneak up on anyone. According to game reports, when he reached base for the first time for the Blue Wahoos, on a fielder's choice in the sixth inning, Chattanooga pitcher Matt Magill threw over to first three straight times after a first-pitch strike. After the three pickoff attempts, the Lookouts called a pitchout with Hamilton running. It didn't matter, as he stole second base. Overall, he was 1 or 5, with his one hit an RBI triple.
For more baseball news, rumors and analysis, follow @EyeOnBaseball on Twitter, subscribe to the RSS feed and "like" us on Facebook.
Does the Jackson signing mean the Giants are out on Lorenzo Cain?

Acuna edged out Shohei Ohtani and Vladimir Guerrero Jr.

There's no reason to run over the cases for and against Bonds, so let's have fun instead
The coveted right-hander would certainly be a fit in Milwaukee

We rate the best mustaches from random baseball cards because, why not?

Colon wants to break a Dennis Martinez record