Prospect Watch: Mets' Herrera standing out after Byrd trade
This week's Prospect Watch highlights Mets infielder Dilson Herrera, who was acquired from the Pirates in last summer's Marlin Byrd trade.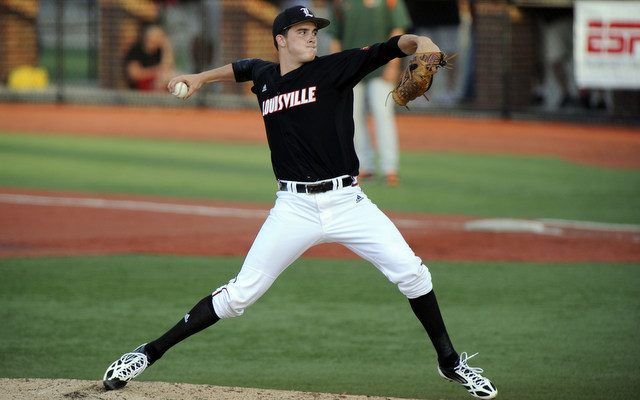 More MLB: Power Rankings | Expert Picks | Latest news & notes | Fantasy news
Approximately one month from now, teams will be able to start calling up their top prospects after pushing their future arbitration eligibility (i.e. Super Two status) back a year. Usually they wait another week or two just to be safe. Pirates OF Gregory Polanco and Astros 1B Jonathan Singleton are among those who could get the call up late next month.
As usual, this week's Prospect Watch looks at three prospects whose stock is on the rise and three whose stock is falling. We'll also look at two draft prospects now that the draft itself is less than two weeks away.
THREE UP
RHP Jose Berrios, Twins: Berrios, 19, was the highest drafted pitcher ever to come out of Puerto Rico when Minnesota selected him 32nd overall in the 2012 draft. The Twinkies have a reputation for targeting "safe" and polished pitchers, but Berrios has big stuff -- low-to-mid-90s fastball with an excellent changeup and a good slider -- and a Josh Beckett-esque brashness on the mound. After a strong full season debut in Low Class-A last summer (3.99 ERA with a 100/40 in 103 2/3 innings), Berrios has a 2.70 ERA with a 45/16 K/BB in 43 1/3 High-A innings this year. He struck out 10 in seven innings in his last start and has a 36/13 K/BB in his last 29 1/3 innings. The Twins have brought in a lot of pitching over the last few months, both via free agency and trades, but Berrios has the look of a good ol' fashioned homegrown stud. Given his age and level, he is still several years away from the show.
IF Dilson Herrera, Mets: Acquired from the Pirates as the player to be named later in last August's Marlin Byrd/John Buck trade, the 20-year-old Herrera went into Friday's game leading the minor leagues with 67 hits. He is hitting .328/.368/.436 with three home runs and 11 stolen bases at High Class-A this season, showing off his ability to hit to all fields and an advanced approach at the plate. Herrera played second base exclusively while with the Pirates, but the Mets have given him some time at shortstop and the early returns are positive. Most players to be named later are fringe prospects. Herrera is legit and his excellent start to the season as well as the continued development of his skills have him climbing the prospect ranks this year. He is still two years away from helping the Mets, give or take.
LHP Julio Urias, Dodgers: I'm not sure there's a more fascinating pitching prospect in the minors than Urias. The Dodgers signed him out of Mexico two years ago -- he had a tumor removed from his left eye as a child, which left him with a droopy eyelid (ptosis) and scared some teams away even though his vision is fine -- and felt he was so advanced that they sent him to Low Class-A as a 16-year-old last summer. The result: a 2.48 ERA and a 67/16 K/BB in 54 1/3 innings. The now 17-year-old Urias has a 4.11 ERA with a 34/15 K/BB in 30 2/3 High Class-A innings this season, but he has come on extremely strong over the last month, pitching to a 2.25 ERA with a 21/3 K/BB in his last 20 innings. That's in the very hitter friendly California League as well. Urias has touched 98 mph with his fastball and he backs it up with both a changeup and a curveball, both of which have the look of being future out pitches. He also draws high marks for his makeup and pitching aptitude. A sore shoulder sidelined him for a week last month, but Urias has bounced back well and he has a legitimate chance to pitch in the big leagues as a teenager.
THREE DOWN
RHP Matt Barnes, Red Sox: Barnes, 23, struck out 42 and walked four in 26 2/3 Low Class-A innings to start 2012 after being the 19th overall pick in the 2011 draft. The higher levels have not gone as smoothly. Last year he posted a solid 4.13 ERA with a 142/48 K/BB in 113 1/3 innings split between Double-A and Triple-A, and this year it's a 4.35 ERA and a 25/13 K/BB in 31 Triple-A innings. In his last two starts he's allowed a combined nine runs on 15 hits in only eight innings. Barnes has a big mid-90s fastball and a good changeup, but his lack of a consistent breaking ball makes him more hittable than the raw stuff suggests (146 hits in 144 1/3 innings from 2013-14). There was some question about whether he fit best as a starter or a reliever long-term, and the lack of whiffs at Triple-A these last few weeks hint at a future as a short reliever who doesn't have to worry about turning a lineup over multiple times.
3B Colin Moran, Marlins: A case could be made that Moran was the best all-around hitting prospect in the draft class last year. The Marlins took him sixth overall out of UNC, payed him $3.5 million, then watched him tear up Low Class-A to the tune of .299/.354/.442 in 42 games. His encore this year has been less than impressive. Moran, 21, went into Friday's game hitting .261/.310/.330 with zero home runs and only eight doubles in 29 High Class-A games, and was recently mired in a 2-for-26 (.077) slump. He isn't having trouble making contact (13.5 percent strikeout rate), it's just that the contact he is making isn't high quality. Moran looked like a player who could reach the big leagues a year after being drafted, but his development has hit a speed bump at a level where most elite college hitters rake.
C Gary Sanchez, Yankees: The Yankees hoard catching prospects, and the 21-year-old Sanchez was the best of the bunch coming into the season. He led all minor league catchers with 18 home runs in 2012 and followed up with 15 in 2013, but this year he has only hit .224/.301/.361 with four homers in his first 39 games at Double-A. Sanchez has been stuck in a prolonged slump that dates back perfectly to the start of May, during which time he went 9-for-71 (.127) with 17 strikeouts. Although his defense is improving and his chances of staying behind the plate are far better than predecessor Jesus Montero's, Sanchez is a bat-first prospect who has not hit much at Double-A, a level that is often a separator between legit prospects and wannabes.
2014 DRAFT STOCK UP
LHP Kyle Freeland, Evansville: Several high-profile college pitchers have gotten hurt in recent weeks -- ECU RHP Jeff Hoffman (Tommy John surgery), UNLV RHP Erick Fedde (Tommy John surgery), TCU LHP Brandon Finnegan (shoulder) -- which has moved the 21-year-old Freeland up draft boards. He had an off the charts 128/13 K/BB to go along with his 1.90 ERA in 99 2/3 innings this spring, but that performance won't necessarily be the reason he gets drafted within the first 10 picks. Freeland has a low-to-mid-90s fastball and a legitimate put-away pitch in his mid-80s slider. He also throws a changeup and a curveball. As a tall and lanky southpaw (listed at 6-foot-3 and 170 lbs.) with something of a less than picture perfect delivery (video) and a wipeout slider, the Chris Sale comparisons are inevitable. They are unfair though. Freeland was a no-doubt first rounder coming into the spring, but he since climbed into the top 10 with a chance to go in the top five.
2014 DRAFT STOCK DOWN
RHP Nick Burdi, Louisville: Burdi, 21, is arguably the hardest thrower in the draft class, sitting in the upper-90s with his fastball and regularly topping 100 mph. His hard slider comes in right around 90 mph and is devastating when it's on. So why is Burdi in the stock down section? Because he's a pure reliever and relievers aren't being drafted as highly as they were even five years ago, when the top college closers regularly came off the board in the first round. Burdi has a 0.54 ERA with a 54/8 K/BB in 31 innings this spring, and there's a non-zero chance he could pitch in the big leagues in August or September. If not, he should debut no later than next season. Burdi could be the first 2014 draftee to reach MLB, yet he'll likely have to wait until the second round to hear his name called. I'd love to see a contender with extra picks (Red Sox? Cardinals?) grab him in the supplemental first round and bring him up as a bullpen shot in the arm when rosters expand in September.
The 2014 amateur draft will be held from June 5-7. The full draft order can be found at River Ave. Blues and is still subject to change pending the free agency of Kendrys Morales.
The Rockies are clinging to the second NL wild card spot at the moment

Plus Matt Olson and Kevin Kiermaier heroics, a look at Zack Greinke's dominance and more

Plus the Indians are now 27-1 in their last 28 games. Here is everything you need to know from...
The soon-to-be 43-year-old Dickey said he wants to spend more time with his family

The two NL Central rivals opened a four-game series at Miller Park on Thursday night

The ballparks in Cincinnati, San Diego and Seattle will have expanded netting in place by Opening...