Prospect Watch: Rafael Montero among hot starters in minors
Here are three prospects off to strong starts to the minor league season, and three others who are off to not so great starts.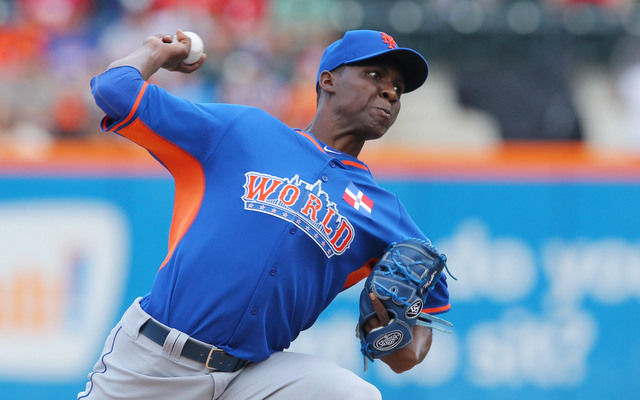 More MLB: Scoreboard | Standings | Probable Pitchers | Sortable Stats | Odds
The minor league season started last Thursday, so in the second edition of our weekly prospect status report, we're going to look at three youngsters off the great starts and three others who are on the other end of the spectrum. And, of course, we'll check in some draft prospects who are moving up and down the board.
Prospects Off To Great Starts
RHP Rafael Montero, Mets: The Triple-A Pacific Coast League is a tough place to pitch in general, and that is especially true of Las Vegas, where the Montero plays his home games. The 23-year-old was an unheralded international signing a few years ago but he has since developed into one of the game's top pitching prospects. In his first two starts for Las Vegas, Montero allowed three runs in 11 innings, striking out 14 against only one walk. He has always been a big strike-thrower (career 1.7 BB/9) with an effortless delivery, throwing low-90s fastballs, low-80s sliders and low-80s changeups like they are a walk in the park. All of the attention is on Noah Syndergaard and rightfully so, but Montero is an excellent pitching prospect in his own right and he should make his MLB debut hit summer.
OF Joc Pederson, Dodgers: The Dodgers already have a glut of outfielders at the big league level, especially now that Matt Kemp is healthy, so that means Pederson is blocked. The 21-year-old is doing his best to raise his trade value in Triple-A, going 8-for-17 (.471) with a double, three home runs, two steals and more walks (four) than strikeouts (three) in the team's first five games. Pederson does almost everything on the field, including hit for power, steal bases and play strong center field defense, so he is a prime piece of trade bait. Unless Los Angeles finds a way to unload Carl Crawford and/or Andre Ethier, they figure to swap Pederson to help fill a need elsewhere. Teams should be lining up for this two-way, power-speed threat.
1B Ernesto Mejia, Braves: At 28 years old, Mejia is not your typical prospect. He is more of a Quad-A masher, someone who has hit 30+ doubles and 24+ home runs in each of the last three minor league seasons. Mejia hit five homers in his first five games of the season, out-homering 10 of the other 13 Triple-A International League teams by himself. The Braves signed Freddie Freeman long-term this winter and have no obvious need at first base, so Mejia will have to settle for being a right-handed bench bat for Atlanta or hope he gets traded elsewhere with more opportunity. Power is too hard to find these days and it feels like only a matter of time before some teams rolls the dice on Mejia.
Prospects Off To Not So Great Starts
SS Franchy Cordero, Padres: Cordero, 19, was the talk of the spring training backfields this year, showing off electric bat speed and big power potential. San Diego pushed the 2011 international signee to Low Class-A to start 2014, and through his first five games he was 1-for-21 (.048) with 13 strikeouts. Ouch. Franchy is still loaded with tools and his prospect stock won't take a hit with one awful week, but this is a harsh reminder he is still in need of refinement and years away from the big leagues.
3B Eric Jagielo, Yankees: Jagielo, 21, was the 26th overall pick in the 2013 draft, and he came out of Notre Dame with a reputation for being a polished left-handed hitter. While he hit two home runs in his first five High Class-A games, he has also struck out in 10 of his first 20 at-bats. That's pretty much the exact opposite of what you'd expect from a polished college bat. Jagielo is an adequate defender, but his bat is his calling card. I'm sure he and the Yankees were hoping for a better first week.
RHP Nate Karns, Nationals: Acquired from the Nationals in the Jose Lobaton trade, the 26-year-old Karns has allowed 12 runs on 11 hits and 10 walks in 7.1 innings across his first two starts. He did strike out 10, so I guess that's good. Karns is primarily a mid-90s sinker/low-80s curveball pitcher, but right now neither is working. Matt Moore recently landed on the DL, but Karns took himself out of consideration for a big league job with his early performance. Tampa Bay's pitching depth has taken a big hit this year already.
2014 Draft Stock Up
LHP Sean Newcomb, Hartford: Newcomb, 20, has the size (listed at 6-foot-5 and 240 lbs.) and stuff (low-to-mid-90s fastball and hard mid-80s slider) scouts love, though his command still needs some work. The southpaw has gone 3-1 with a 0.78 ERA in seven starts in 46 innings this spring, striking out 54 and walking 22. Newcomb's last start was his worst (four runs in 6 1/3 innings vs. Maine), but he chucked seven hitless innings against Stony Brook before that and has generally been great all spring for the Hawks. He really jumped onto the prospect map while pitching in the Cape Cod League last summer, and he's reinforced his standing this year. Newcomb has pitched his way into middle of the first round consideration.
2014 Draft Stock Down
SS Trea Turner, NC State: There was some belief a few weeks ago that Turner and teammate LHP Carlos Rodon would be the first two picks in this summer's draft. Rodon has had a disappointing spring but remains a lock to be selected in the top 10, but the 20-year-old Turner has not hit as expected and has been erratic defensively. He finished last weekend hitting .306/.380/.452 with four home runs and 10 steals in 31 games, good production but a far cry from what you'd expect from elite college position players. Dustin Ackley hit .417/.517/.763 during his final college season, for example. Turner is crazy fast, but there are big questions about whether he'll be anything more than a utility player. He was once a likely top five pick, and now he's looking more like a middle of the first round guy.
The 2014 amateur draft will be held from June 5-7. The full draft order can be found at River Ave. Blues and is still subject to change pending the free agencies of Stephen Drew and Kendrys Morales.
The team's media contracts expire following the 2019 season

San Francisco could use more help in the outfield and at the back of the rotation

The White Sox, Athletics, Orioles and Marlins are the holdouts after the Blue Jays and Angels...
Molina's deal expires after the 2020 season

Sheffield has the numbers to make it to Cooperstown, but he has received very little suppo...

Granderson heads north of the border for his age-37 season