Puig-mania is back at its best -- though maybe a little less manic now
Yasiel Puig appears to be maturing quickly in his second season.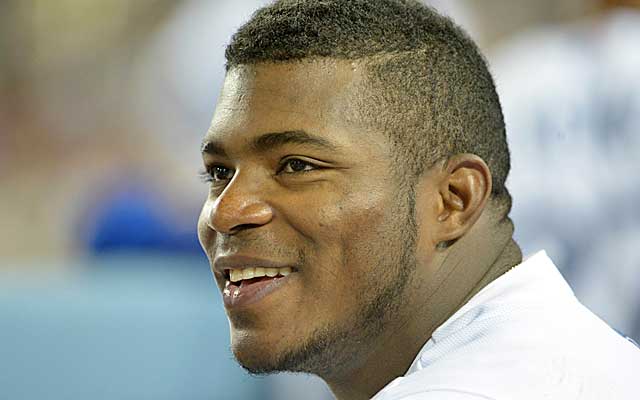 More MLB: Power Rankings | Expert Picks | Latest news & notes | Fantasy news
Dodgers mega star Yasiel Puig is showing uncommon patience for a 23-year-old, which is a great thing. Meantime, he is no longer testing his team's patience with miscues on or off the field, which is even better.
He is a 23-year-old kid who endured a well-documented harrowing trip from Cuba to the major leagues, so there could still be a slip-up here or there. But even before he became the hottest hitter in the National League in recent days, you were starting to hear better things about the decorum of Puig, the Bo Jackson-like speed/power combo who leads his team of superstars in most important offensive categories and hasn't been reported to be late even once since his memorable tardiness on Opening Day at Dodger Stadium.
There have been theories as to how he's matured so much so fast. Two high-ranking Dodgers people, noting that he really got going after the revelations of two printed stories about his difficult journey that included threats on his life, wondered if those articles actually might have triggered the changes. "It may just be a relief that it's out in the open," one team higherup speculated. "Others got a better understanding of the pressures and craziness he faced. That had to be a relief."
Between on-field heroics (and memorable slip-ups) plus occasional off-field wackiness during his rookie season, Puig seemed almost out of control at times. And the issues continued early this season, between the late arrival on a special day for the Dodgers to some notable baserunning misadventures befitting a baseball neophyte. But things seem to have corrected themselves quickly. The revelation of the dangerous trek may have helped, but the change is so stark it could be a number of things.
In recent weeks, the worst anyone's seen or noted has been the occasionally dramatic bat flip (and there's been plenty of chances to execute those considering how hot he's been, with a .417 batting average, .729 slugging percentage and .1238 OPS in May). His stats stand out, but a team-leading 18 walks is especially noteworthy in light of the fact he had only twice that total last year when he usually played like his pants were ablaze.
The ultra-talented Dodgers team has frustrated team officials this year with a league-high errors total, and league-high walk totals by the bullpen and pitching staff. Meanwhile, Puig miscues are suddenly spaced out pretty well.
While Puig last year seemed distant to a media he didn't get (once he even ended an interview by blurting out a curse, which may be attributable to frustration over the language difference), some Dodgers people say it helps that he is actually likable and bright, hidden traits during a indisputably wild rookie campaign. They also all note his desire to be among the best in the game.
But truth be told, they all may have a hand in it. The help has come from manager Don Mattingly's tough love (one notable Dodgers exec wondered early this year whether it was actually too tough, but it appears to have been needed), to the support of a close-knit group on and around the team that looks after him, including veteran players Juan Uribe and Hanley Ramirez, executive Vance Lovelace, special assistant Jose Vizcaino, hitting coach Tim Wallach and others, or perhaps even a change in agents to the veteran team of Adam Katz and Andy Mota, who are at most every game, a change from the mostly absentee agent he had last year.
Katz and others say Puig really took it to heart when he was rung up for being late for the warm-ups before the Dodger opener, when luminaries like Sandy Koufax, Vin Scully and other Dodger greats were on field for the annual ceremony. Mattingly benched him the next day, partly because the other players wouldn't have stood for anything else, but also because Puig needed to learn from his mistake. He is said now to get that there is a right way to do things, and a wrong way, and his batting average in that regard has risen precipitously.
"He's been terrific -- responsive, reasonable and respectful," Katz said. "Yasiel is a guy who has a desire to be an All-Star. He started figuring it out. He's a Dodger, and he wants to do right by his teammates."
The off-field changes have manifested in numbers that are now even better than last year, when he started like a lightning bolt. He's hitting .326 with seven homers and 30 RBI, and he leads the Dodgers with a .417 on-base percentage, .563 slugging percentage and .980 OPS. The percentages are all up from last year.
If there were numbers to demonstrate on-field and other decorum, the improvement there might be even greater.
It's almost that time of the year again, time for the Tebow madness to return

Walker was a tremendous all-around player, but Coors Field undoubtedly inflated his career...

A beardless Wilson says that he tried to outrun the police on the second day he had his driver's...
The Diamondbacks outfielder was not impaired, he was just going way too fast

MLB can unilaterally implement rule changes, which will also include limits on mound visit...

If the MLBPA wants to repair MLB's salary structure, it should push for more money for young...