Puigmania steals show on big stage of Dodgers-Yankees doubleheader
Dodgers rookie Yasiel Puig flashed all of his great strengths over two games, and made Don Mattingly's return to Yankee Stadium memorable.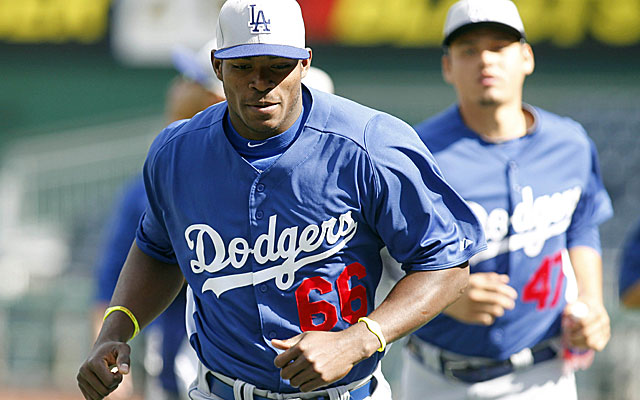 NEW YORK -- Memorably, this was the first time the rival Dodgers made it back to Yankee Stadium since the 1981 World Series.
And this was Don Mattingly's first time back in the Bronx since his illustrious career in pinstripes ended when his first storied team eschewed the legendary and beloved first baseman after 2007 and picked the more experienced and less interesting Joe Girardi to replace Joe Torre as Yankees manager.
No matter, the new guy, Yasiel Puig, is the one who stole the show on the big stage.
Puig, the Dodgers' wunderkind rookie, made the gigantic stadium look very small indeed.
He popped one into the right-field bleachers by just flicking his crazy-powerful wrists.
He nearly gunned down makeshift Yankee Thomas Neal at first base on what looking like a routine single to right field.
And he turned a hard-hit groundball to center field into a double by beating Brett Gardner's throw to second. (Puig actually tried that stunt twice, but the first time Gardner gunned him down at second.)
It was an amazing display.
"It's been like this every day,'' Dodgers pitcher Zack Greinke said.
It's a sight to behold, and Hollywood is eating it up. Why not? He has more tools than an Ace superstore.
"There's an awful lot to like about this kid,'' Girardi said in his understated way.
Yeah, like there's a lot to like about the way Barbra Streisand sings and Clint Eastwood acts.
Being that Puig is currently the greatest show in the game, there's some misguided movement now to get Puig into the home-run derby eight miles from here at the All-Star game next month, as if that trick show should make his day. Really, such a nomination would diminish this guy's massive all-around abilities.
At first, most folks around baseball thought the Dodgers ranged somewhere from uninformed to nuts to commit $42 million to what others saw as The Invisible Man, a player who played a little bit in Cuba but was rarely seen by American scouts. But the Dodgers -- the team that gave us Hideo Nomo, Fernando Valenzuela, Hyun-Jin Ryu (who pitched Wednesday), Hiroki Kuroda (who also pitched Wednesday but for the Yankees) and many others from foreign lands -- have been ahead of the curve on the international scouting scene for years.
And so, they are again.
Puig likely has the strongest outfield arm in baseball (now that Rick Ankiel is out of a job, there isn't much doubt about this actually), he is one of the fastest players in the game, one of the most powerful and also undoubtedly the most aggressive. The Dodgers scouted him correctly, it turns out. He's worth $42 million, and then some.
The only thing the Dodgers did wrong was send him back to the minors after he hit .517 in spring training. Sure, they had three star outfielders and a star first baseman, but this kid is the best thing they have going for them. No way, no how, is he going back anytime soon.
He may slump. But teammates have already seen pitchers adjust, and Puig adjust back He beat reliever Adam Warren on a breaking ball, drilling it for his fifth homer in the Dodgers' split-saving 6-0 victory in the nightcap.
Puig may not have propelled the Dodgers out of last place yet, but he's changed the story quite a bit, which is what they needed second most. The dumb public debate over firing Mattingly seems to be done -- for now at least. The unproductive discussion over misspent bucks has been relegated to the backburner.  The discussion about the litany of injuries, which is unending, is tabled for now. And even the revelation about hated Frankie McCourt getting the parking receipts is made a little more tolerable.
Puigmania had made life as a Dodger worth living.
"He's energized the team -- not just his play but his personality,'' catcher A.J. Ellis said. "It's something we needed, and are feeding off right now.''
He's a lively one, that's sure. After providing a few fairly mundane answers -- "it's an honor to play here'' – Puig abruptly ended the interview session with a loud noise that sounded a lot like "Boom.''
Which may fairly summarize his entrance into big-league ball.
Though Mattingly looks a tad worn while enduring the idiosyncrasies of his team -- the topper Wednesday was Ronald Belisario purposely letting Vernon Wells' short pop drop with runners at first and second, only to see the ball sneak through his legs, then misfire it into center field in a desperate attempt not to look like the biggest fool on a ballfield -- at least Mattingly's status isn't Topic A around baseball's most storied West Coast team.
Puig has spared Mattingly some heartache. But no doubt, Puig's aggressiveness may give him a speck of agita every now and then.
Puig ran into an out early in game one of the split doubleheader on his hard-hit grounder into center and was easily gunned down at second, though that didn't deter him from trying the gambit again a few innings later. Speed that has helped draw overall comparisons to Bo Jackson enabled him to sneak in the second time, down 6-2.
"I don't have any trouble with him doing it in the right situation. But not when he hits it right at Gardner who doesn't play around getting the ball back in. To me the percentages just aren't there,'' Mattingly said. "He could be out easy. We want him to be aggressive but with a good percentage at making it. Just running into outs like that … we have a lot of guys who can do that.''
As far as that goes, do they ever.
The real worry about Puig, at least as far as one Dodgers person is concerned, isn't the aggressiveness on the basepaths or LA's crazy freeway system (Puig was nabbed going 97 mph, and that was in the minors). Like with any other kid (he's 22), the real worry is that he'll be built up so big that he'll start to feel he doesn't need to work.
This is Hollywood, after all. The buildup is bigger than at Disneyland. (And I'm not helping, sorry.)
What the Dodgers don't have, at least not while Matt Kemp diminished/injured/out, is a guy who can change a game with his arm, bat, speed and strength like Puig can. He is every bit the 6-foot-3, 245 pounds he's listed at, but it's 245 pounds of fast-twitching muscle. In uniform, his upper torso looks twice as big as his lower torso.
His stat sheet looks even better. Puig is at .474 following two more two-hit games, his ninth and 10thmulti-hit games -- not too bad for a guy who was just called up.
Puig managed to cram all his great strengths into one long day in the Bronx. He even bunted for a hit. But the day wouldn't have been complete without his first faceoff (and likely last) with the great Mariano Rivera, who whiffed Puig with ease. Puig looked confused on two swings at a cutter, the likes of which he's never seen.
Someone asked Mattingly if he'd ever seen Puig looked so overmatched, and Mattingly responded, "It was one time. He'll be all right.''
Indeed, he's quite a bit better than all right.
He is the man who may save their strangest of seasons.
Keep tabs on the top 50 free agents right here

Your one-stop shop for all things MLB Winter Meetings-related

The Angels knew about the first-degree sprain and still wanted to sign the potential ace, of...
The run on relievers continues with two more signings

The Yankees added Giancarlo Stanton in a blockbuster trade, though they now have openings at...

Smyly is currently on the mend from Tommy John surgery