Putting together an actual USA dream team for WBC
The championship round for the World Baseball Classic starts Sunday night in San Francisco, and conspicuously absent from the festivities -- as usual -- is Team USA. But what if USA used an actual 'Dream Team?' Here's what it might look like.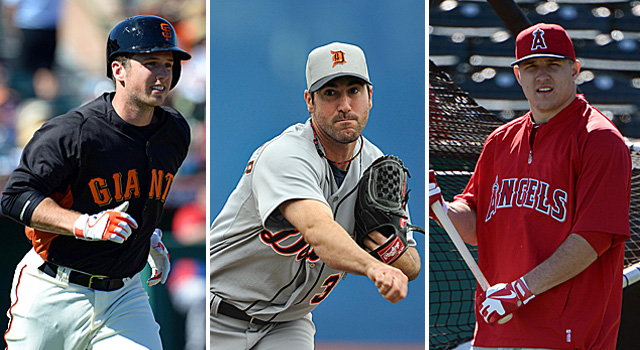 Related: What might the 2017 USA roster for WBC look like?
The championship round for the World Baseball Classic starts Sunday night in San Francisco, and conspicuously absent from the festivities -- as usual -- is Team USA.
While others are drawing sweeping conclusions on what small-sample series like the first two rounds mean about baseball in the United States -- hint: It couldn't possibly mean less -- I'm left wondering just how good a team that USA could put together if everyone actually participated.
No, this isn't a whiny exercise to point out we're better than everyone else in light of Friday's elimination. First of all, we are better. Second of all, great players from several other countries declined to participate. I just want to see what baseball's "Dream Team" would look like. And after working it up, it's damn impressive.
Here are my subjective picks. Feel free to disagree, as there's no wrong answer with this much talent.
Catcher: Buster Posey
An MVP with two World Series rings in his only two non-injury ruined seasons? Check.
First base: Prince Fielder
Injured Mark Teixeira, Eric Hosmer, Paul Konerko or Prince? Seems pretty easy to me. I've mentioned it before, but I want to again bring up my favorite thing about the big fella: He never sits. Since coming up full time, he has averaged 160 games per season and has played 162, 161, 162 and 162 games in the past four seasons, respectively.
Second base: Dustin Pedroia
He hit .290/.347/.449 with 39 doubles, 15 homers and great defense last season in a down year. He's a tad bit worse on defense than actual Team USA second baseman Brandon Phillips, but he's a much better hitter most seasons.
Shortstop: Troy Tulowitzki
As long as we can get him healthy -- a big question with Tulo -- there's no question here. The closest competition was either Derek Jeter or Jimmy Rollins.
Third base: Evan Longoria
Close call here over David Wright, but I didn't consider Wright's WBC performance because I'm trying to figure the Dream Team that we would have put together before the competition. Such a scorching hot performance from Wright was unpredictable. And when Longoria is healthy, he's better both offensively and defensively.
Left field: Ryan Braun
One of the few areas where the actual Team USA had its Dream Team player.
Center field: Mike Trout
Wanna avoid WAR? OK, fine. Trout had 30 homers, 49 steals and hit .326 last season in 139 games.
Right field: Giancarlo Stanton
MLB-best .608 slugging percentage, plus 37 homers in just 449 at-bats last season. And he was only 22.
Designated hitter: Andrew McCutchen
This was an unbelievably tough decision, but ultimately I went with Cutch. He hit .327/.400/.553 last season. His power-speed combo (31 homers, 20 steals) and on-base ability make him a very attractive option to bat second in this powerful batting order.
Bench: Joe Mauer , David Wright , Josh Hamilton , Matt Kemp
Again, I can't stress how tough this decision was. Included on the list of guys who didn't make the cut were Justin Upton, Alex Gordon, Matt Holliday, Adam Jones, Austin Jackson, Jason Heyward, Bryce Harper, Jay Bruce, Ian Kinsler, Matt Wieters and many other All-Star-caliber players. I needed a backup catcher (Mauer), infielder (Wright), an outfielder and then just took the highest-upside hitter. My toughest omissions were Heyward, Harper and Upton. 
Starting rotation: Justin Verlander , Clayton Kershaw , David Price , Jered Weaver , Stephen Strasburg
No explanation needed as to why those five are worthy. Instead, to show how impressive USA pitchers are, here's a rotation of pitchers who weren't good enough: CC Sabathia, Matt Cain, Gio Gonzalez, Cole Hamels and Chris Sale.
Relievers: Craig Kimbrel , Jason Motte , Jonathan Papelbon , Joe Nathan , David Robertson , Sean Marshall , Luke Gregerson
I decided to go with four closers and three non-closer types just in case we'd need to bring in someone mid-inning. It's probably unnecessary, but Robertson, Marshall and Gregerson are diverse enough a group to handle pretty much any situation necessary. And then we bring four of the game's premier closers.
Here's our batting order:
1. Mike Trout, CF
2. Andrew McCutchen, DH
3. Ryan Braun, LF
4. Prince Fielder, 1B
5. Giancarlo Stanton, RF
6. Evan Longoria, 3B
7. Buster Posey, C
8. Troy Tulowitzki, SS
9. Dustin Pedroia, 2B
I challenge any country to beat that lineup with that rotation with that bullpen. Bring it.
Also, we will never bunt. Ever.
For more baseball news, rumors and analysis, follow @EyeOnBaseball on Twitter, subscribe to the RSS feed and "like" us on Facebook. Also, individually interact with us on Twitter: @MattSnyder27, @daynperry and @mikeaxisa.

L.A. manager Dave Roberts indicated that Puig's benching was related to more than one inci...

Manager Torey Lovullo said so on Monday
Let's see how SportsLine forecasts the race for MLB's 10 playoff spots

Monday kicks off the final week of MLB action. Let's take a look at everything that went d...

No other rookie in baseball history has hit more home runs than Judge has this year