Putting together the worst possible All-Star ballot
What would the worst possible filled-out All-Star ballot look like? We gave it a shot.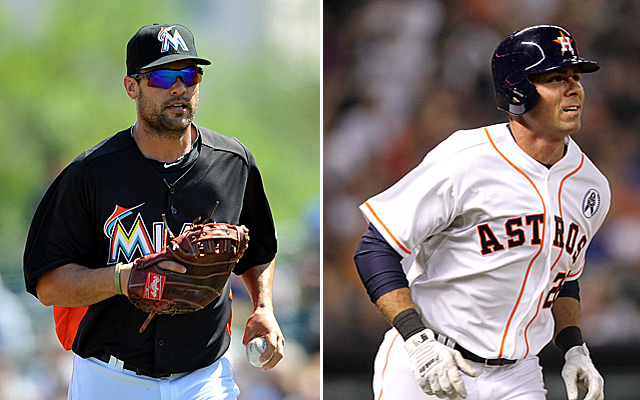 More MLB: Scoreboard | Standings | Probable Pitchers | Sortable Stats | Odds
Major League Baseball released its All-Star ballot Wednesday afternoon, and, as usual, there are some pretty laughable entries on it. Logistically speaking, some of these things can't be avoided, so it's bound to happen every year.
And in the name of comedy, why not see what the worst possible filled-out ballot could look like? I'm gonna give it a shot.
Now, some caveats. This isn't necessarily going to be the player having the worst 2013 season, because we're trying to think ahead to the All-Star Game in July. Rickie Weeks, for example, has been awful so far but obviously has enough talent to get hot and not be an embarrassing selection. In fact, he may end up being a rather good pick. With that in mind, high-upside guys off to a bad start were passed over if I could help it.
Also, players that are injured and out until the All-Star break won't be picked, because if they were indeed the top vote-getter, they'd be replaced in the starting lineup with a good player. So, no, Derek Jeter isn't my pick at shortstop. We're shooting for a hypothetical situation where the leagues were stuck with pathetic starting lineups -- also known as the highest level of comedy.
Here's what I've got.
American League
Catcher: Alex Avila has probably been the worst here, but he's been an All-Star before and is capable of putting things together before we get there. I'm gonna go with Jason Castro of the Astros and his .278 on-base percentage.
First base: Justin Smoak is a good option, but Brett Wallace of the Astros was far worse before being demoted to Triple-A. Here's the question, though: What if a player in the minors gets elected? Obviously that's never come up and I couldn't find the answer. Let's be safe and go Smoak, lest a minor-league be elected and we get stuck with someone awesome like Prince Fielder -- which would totally ruin our team concept.
Second base: Some decent names to choose from here, but one we're not going with is Scott Sizemore, as he's out for the season. See above. I don't need Robinson Cano as an injury replacement messing things up. Maicer Izturis has been awful for the Blue Jays and Jamey Carroll's upside is badly limited -- just as Chris Getz's is. It's one of these three. I think I'm going Carroll, but I'd accept arguments for any of the three.
Shortstop: Stephen Drew has badly struggled since coming back from injury, Brendan Ryan is a great defender but an abysmal hitter and Ronny Cedeno is pretty terrible at everything yet is somehow hitting .333 in the small sample he's played this year (it was .269 before he went 3-for-4 Wednesday, for example). Drew's upside -- even if far more limited than we once thought it might be -- and Ryan's defense mean we're going Ronny. I'm incredibly confident his numbers are going way down.
Third base: Mike Moustakas is hitting .148/.212/.180 and looks pretty bad in the field, too. Jeff Keppinger is hitting .188/.183/.200. This is a tough one. On one hand, Moustakas has a lot of talent, evidenced by how hyped he was a prospect. On the other, Keppinger has a track record that shows he'll bounce back and at least be adequate. Meanwhile Moustakas had a sub-.300 OBP last season. I'm gonna go Keppinger due to Moustakas' power potential, but it's very close.
Outfielders: Rick Ankiel has 26 strikeouts and no walks in 42 plate appearances. Even with his five homers, he's a great selection here. Kelly Johnson being listed as an outfielder this year helps us out, so he's the second selection. For the third pick, I'm gonna go with Chris Parmelee, who is hitting .224/.328/.306.
Designated hitter: Adam Dunn has been horrifyingly bad, but he's liable to hit like 10 homers in a week -- plus he was an actual All-Star last season. Luke Scott hasn't played yet due to injury, but he'll likely be back before the break. I'm left choosing between him and Ryan Doumit (.203/.288/.305). I'm gonna go Doumit by a nose.
National League
Catcher: Ryan Hanigan has gotten off to a brutal offensive start and is now hurt, but he's excellent at working with pitching staffs so I'd like to avoid him. The next best option is Rob Brantly of the Marlins, who is hitting .236/.295/.345. "Good" enough for me.
First base: Corey Hart is hurt, so he's out. Some of the options based upon poor hitting starts, to varying extents, are high-upside guys like Ryan Howard, Ike Davis and Anthony Rizzo. Todd Helton isn't very good any more, but he has starpower, so he doesn't work. Calling my name here is Casey Kotchman. He's hurt, but he'll likely be back in time. I'm gonna gamble on him. 
Second base: As I said above, Weeks is gonna get better. He's been an actual All-Star before. We're left choosing between Josh Rutledge and Donovan Solano, and I like Rutledge's upside much better. Solano is the pick. That means we have three Marlins so far. Uh oh.
Shortstop: It won't be an all Marlins lineup. Clint Barmes of the Pirates is hitting .148/.179/.185 so far this season and considering he hit .229 with a .272 OBP last year, I think we're safe.
Third base: Another pretty easy one here. Luis Cruz of the Dodgers is hitting .087/.122/.087 on the year.
Outfielders: Juan Pierre is pretty bad, but he's at least an established major leaguer. Kirk Nieuwenhuis is down in the minors. Chris Coghlan is awful, but he's a former Rookie of the Year. Cameron Maybin is badly struggling, but has long been said to have lots of talent. Then again, when are we gonna see that? And Delmon Young is on the DL but should be back soon -- and the Phillies are planning on using him in right field, which has comedic gold written all over it. I like Coghlan, Maybin and Delmon here -- avoiding Nieuwenhuis for the same reason I avoided Wallace as AL first baseman. We can't chance a Justin Upton or Ryan Braun getting thrown in here.
Starting lineups
American League
1. Jeff Keppinger, 3B
2. Ronny Cedeno, SS
3. Ryan Doumit, DH
4. Rick Ankiel, RF
5. Chris Parmelee, LF
6. Justin Smoak, 1B
7. Kelly Johnson, CF
8. Jason Castro, C
9. Jamey Carroll, 2B
National League
1. Cameron Maybin, CF
2. Chris Coghlan, LF
3. Casey Kotchman, 1B
4. Delmon Young, RF
5. Luis Cruz, 3B
6. Rob Brantly, C
7. Donovan Solano, 2B
8. Clint Barmes, SS
Yuck. Please don't vote this way.
Feel free to argue on any of the above selections, but it might be more fun to try and construct a worse lineup. Challenge extended ...
Mark Appel was one of the players being moved about on Monday night

Garrett Cooper is the answer to a trivia question

We still don't know if Ohtani will be jumping to the majors yet
Kinsler is a free agent next winter

Opening Day will be Thursday, March 29 -- the earliest opening day in MLB history

The World Series champion and big-time wrestling fan was on hand Sunday night