QB Wilson flashes leather at Rangers camp; scouts offer opinions
Russell Wilson looked good with the glove as a one-day Rangers player but really came to bring a message of hard work.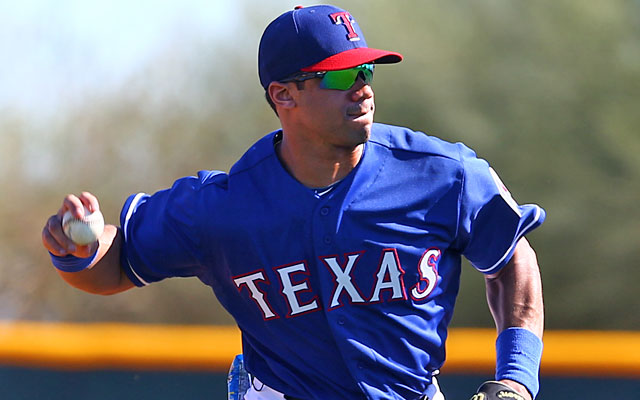 More MLB: Spring training | Scoreboard | FA: Position players | FA: Pitchers
SURPRISE, Ariz. -- The Rangers imported $344 million worth of contracts in Prince Fielder and Shin-Soo Choo this winter, but there was little doubt about who the star of the day was here Monday: a former Single A second baseman who batted .229 in the Sally League and other minor-league outposts.
"We love you Russell," shouted one of many fans on the back field there to witness Super Bowl-winning quarterback Russell Wilson, a Rule 5 Rangers pickup, stretch and work out with Fielder, Choo, Adrian Beltre, Elvis Andrus and the rest of the World Series hopefuls. It's a brief feel-good story (Wilson is in camp only for a day) centering around a player who was once very serious about his baseball playing, and maybe never got it completely out of his system.
Even when the Rangers made the surprise selection of Wilson this winter, general manager Jon Daniels said he held "maybe a one percent" thought that he could possibly one day appear in a game as a Texas Ranger. This wasn't that day.
The fans who showed up in Seahawks jerseys and other Seattle garb and various assorted football followers had to be satisfied with infield practice, which Wilson performed ably. When he came in to make a barehanded play, the fans let out a big cheer. When he called off Fielder for a pop fly, the other infielders happily mocked Prince.
"He looked good, he looked real good," Rangers manager Ron Washington said. "It's in him, it's in him. Baseball is definitely in him."
Wilson agitated to pinch run in the game vs. the Indians, but the Rangers, appreciative of the Seahawks' approval to borrow their superstar, said no. Andrus teased Wilson for not taking up Washington's invite to "take some hacks." (That also was not part of the deal.) And Hall of Famer Greg Maddux, here to assist Rangers pitchers, gently tried to coax him to throw a few off the mound.
"You're too smart to be a position player," Maddux told him.
Wilson is smart, all right, but the biggest reason he's here to is to bring a message of how far attitude and work ethic can take a person. As a baseball player, his makeup was "off the charts," said Joe Mikulik, who managed him at with the Rockies' Single A club in Asheville, NC, and is now managing in the Rangers' system.
"The guy is a champion," Washington declared. "Anybody who is a champion has something to offer to every walk of life."
In this case, Wilson once walked this difficult walk. While Wilson batted just .229 his two seasons of A ball with the Rockies, everyone involved now believed he would have found a way to the big leagues. Somehow, some way.
Wilson is recalled by scouts as someone who was an extraordinary person and leader, a great athlete (big surprise there, huh?), someone with good but not blazing speed ("he wasn't a burner," one scout said), a decent arm but not stellar (baseball throws are different than football, but while one scout said his arm was "nothing special," another called it "solid to average-plus") and a bat that needed developing.
In 315 minor-league at-bats, Wilson had five home runs but 118 strikeouts, not shocking considering his short baseball résumé. Beyond all that time spent honing his football ability, the right-handed hitter only played against lefty pitchers his final season playing at North Carolina State. One scout recalled that he needed work with pitch recognition, no surprise since most of his days were spent throwing a football and learning to run an offense, first at North Carolina State then at Wisconsin.
"He had a chance, but it was going to take a lot of at-bats, maybe 1,500 to 2,000 at-bats," one scout said. "Ultimately, he didn't have the time."
Given more time, many have little doubt he would have made it. He could play all over the diamond, and his desire would have carried him to the bigs, many believe.
"He would have found a way," Mikulik said. "The last two, three weeks, he was showing more quality at-bats, driving the ball into gaps, cutting down on strikeouts to the point where you would say, 'OK man, he's getting it.'"
At one point Wilson went to the Rockies and asked what his chances were, and they told him they would have a better idea after three or four more years of swings. But Wilson was on a faster track in football. Though he was only a third-round pick of Seattle, he won the starting job as a rookie, then quickly became a star, then a Super Bowl winner.
"I could tell he was on a mission," recalled Mikulik.
Wilson once seemed similarly focused on baseball. Rockies executive Bill Geivett recalled Wilson coming at 11 a.m. before night games to work on his bunting.
"He's probably the hardest working kid I've ever seen," Geivett said.
Even when he was struggling at the plate, Mikulik recalls he was the one shouting encouragement toward others from the bench.
Baseball was once a great love of Wilson's, and even today, he will slip in a sly suggestion that it isn't completely out of his blood, even after establishing himself as an NFL star at age 25. He told a gathering of Rangers ownership Sunday night regarding his baseball career, "It's probably never going to happen," before adding, with a smile, "... but you never know."
Wilson is believed to have been kidding about that. But as for the Rangers, they got more than their $12,500 (the price of a Rule 5 pick) worth in terms of encouragement and advice for their minor leaguers (Wilson was slated to talk to them Monday afternoon) and publicity.
"We wanted to be associated with the best," Daniels said.
We probably never will know whether this former fourth-round pick of the Colorado Rockies ever could have been good enough to play among the best in baseball. But there was no one here daring to bet against it.
Kinsler will slot in at second base for the Angels

The Marlins got a better return for Ozuna than Stanton or Gordon

The two teams are going about things in very different ways
The Marlins are indeed in teardown mode under new ownership

The Marlins still have more attractive pieces

The A's need outfield help, and the Cardinals have a glut