Quick Hits: Dodgers open 2014 with 3-1 win over D-Backs in Australia
The 2014 regular season opened in Australia on Saturday. The Dodgers beat the Diamondbacks 3-1 behind Clayton Kershaw and Scott Van Slyke.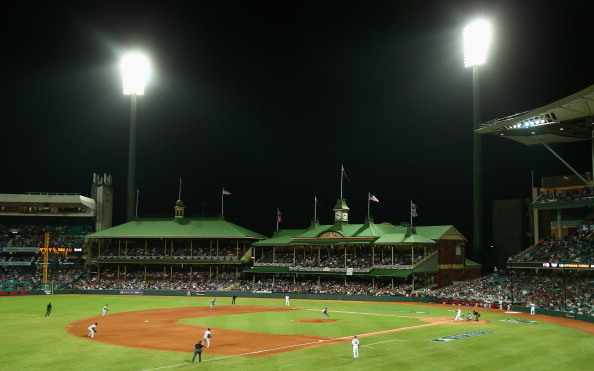 MORE: Spring Training | Scoreboard | Team previews
One down, 2,429 more to go. The first game of the 2014 regular season is in the books, as the Dodgers beat the Diamondbacks 3-1 at Sydney Cricket Ground in Australia on Saturday night (local time). The game started after a 14-minute delay due to thunder and lightning, but no actual rain. Better safe than sorry, I suppose. Let's recap the first game of the new season, quick hits style.
Hero: It would be easy to go with Clayton Kershaw, who allowed one run in 6 2/3 innings of work. It was the first and so far only run he's allowed in four career opening day starts. I'll instead go with outfielder Scott Van Slyke, who set up the Dodgers' first run with a double and drove in their other two runs with a two-run homer. He is in the lineup because of his potential to do damage against lefties, and he made D-Backs southpaw Wade Miley pay twice.
Goat: Mark Trumbo. He grounded out to end the first inning with two men on base, blowing a prime opportunity to jump on Kershaw early. A half-inning later, he badly misplayed a fly ball that turned into Van Slyke's double and led to the game's first run. He also missed a diving catch in the eighth inning, though that did not lead to any runs. Trumbo went 0-for-4 with two defensive miscues in his first official game with the D-Backs. To be fair, he did drive in their only run with a ground out.
Turning point: Since there is no obvious turning point in a game like this, I'll go with Van Slyke's two-run homer. A one-run deficit is nothing, but going down three runs to Kershaw is close to insurmountable. The Dodgers really took control of the game at this point.
It was over when: The final out was made. I know it's a cop-out, but the D-Backs did bring the tying run to the plate in the ninth inning against Kenley Jansen. Gerardo Parra could not extend the game by getting on base though, grounding out weakly right back to Jansen for the final out.
Up next: These same two teams will play the second and final game of their season-opening series at 10pm ET on Saturday, or 1pm on Sunday in Sydney. Lefty Hyun-Jin Ryu and righty Trevor Cahill will be the starting pitchers for the Dodgers and D-Backs, respectively.
deGrom is set to become a free agent after the 2020 season

Perkins missed most of the last two seasons due to injury

Jonathan Singleton was suspended after a third positive test for a drug of abuse
Rodriguez will join Jessica Mendoza and Matt Vasgersian on the "Sunday Night Baseball" boo...

Jeff Wilpon talked about payroll on Tuesday, and it won't make any Mets fan happy

Yelich's agent recently asked the Marlins to trade him before the spring