Quick hits: USA tops Puerto Rico to open second round of WBC
Team USA defeated Puerto Rico in their first game of the second round of the World Baseball Classic. The American squad will face the powerhouse Dominican Republic team on Thursday.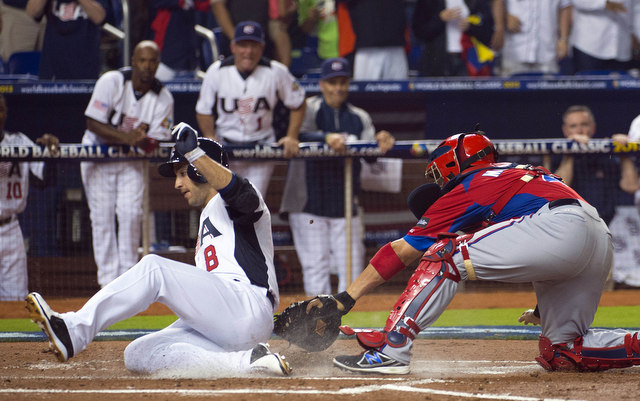 Full World Baseball Classic coverage
Team USA opened the second round of the World Baseball Classic with a stress-free 7-1 win over Puerto Rico on Tuesday night. Joe Mauer gave his team the lead with a two-out double in the bottom of the first, and Team USA never looked back. Puerto Rico kept the game close until the bullpen melted down in the bottom of the eighth, but ultimately the USA pitching staff was just too much to overcome.
Hero: I had originally planned to go with left-hander Gio Gonzalez, who was dominant for the first five innings, but it has to be David Wright. He drove in five of USA's seven runs thanks to three at-bats with the bases loaded, the last of which ended with a bases-clearing double. It helped that the two batters ahead of him -- Ryan Braun (two hits and a walk) and Mauer (hit and three walks) -- were on-base all night, but the Mets third baseman certainly did his part as well.
Thanks in part to Saturday's go-ahead grand slam against Italy, Wright now has 10 RBI in five WBC games. That ties Ken Griffey Jr. and Korea's Seung Yeop-Lee (both 2006) for the most RBI in a single WBC, and Wright has at least two more games to play.
Goat: Eh, there's no real goat here. None of the Puerto Rico pitchers were especially terrible -- starter Mario Santiago was far better than his pitching line (4.1 IP, 5 H, 3 R, 3 ER, 2 BB, 3 K) indicates -- until their final half-inning, nor did the offense have many opportunities to squander. I guess we could single out Alex Rios, Carlos Beltran and Yadier Molina, who went a combined 2-for-12 as Puerto Rico's 3-4-5 hitters. Those guys had to hit if they wanted to have a chance to win.
Turning point: The turning point was Mauer's double to score Braun in the first. Santiago retired the first two batters he faced before walking Braun, and he had Mauer down in the count 0-2 before giving up the double. Rather than skirt through the inning unscathed to match Gonzalez's zero, Puerto Rico was fighting an uphill battle four batters into the game.
It was over when: Puerto Rico scored just one run in the top of the eighth after having runners on second and third with no outs and the top of the order due up. Angel Pagan drove in a run with an RBI ground out, but Rios popped up to end the inning two batters later despite getting ahead in the count, 3-0. Had he reached base, Beltran -- who doubled earlier in the game -- would have been up as the tying run.
Next: Team USA will play the Dominican Republic at 7 p.m. ET on Thursday while Puerto Rico faces Italy in an elimination game at 7 p.m. ET on Wednesday. The Italy-PR winner will play the Dominican Republic-USA loser in an elimination game at 7 p.m. ET Friday. The winner of that game will then face the winner of Dominican Republic-USA at 1 p.m. ET on Saturday for a spot in the championship round. Got it? Good.
For more baseball news, rumors and analysis, follow @EyeOnBaseball on Twitter, subscribe to the RSS feed and "like" us on Facebook. Also, individually interact with us on Twitter: @MattSnyder27, @daynperry and @mikeaxisa.

Where might the Orioles third baseman land?

Kinsler will slot in at second base for the Angels

The Marlins got a better return for Ozuna than Stanton or Gordon
The two teams are going about things in very different ways

The Marlins are indeed in teardown mode under new ownership

The Marlins still have more attractive pieces