Quote of the Day: Adam Jones puts Red Sox fans on notice
Remember the days when Red Sox fans would take over Camden Yards? Adam Jones wants you to know those days are over.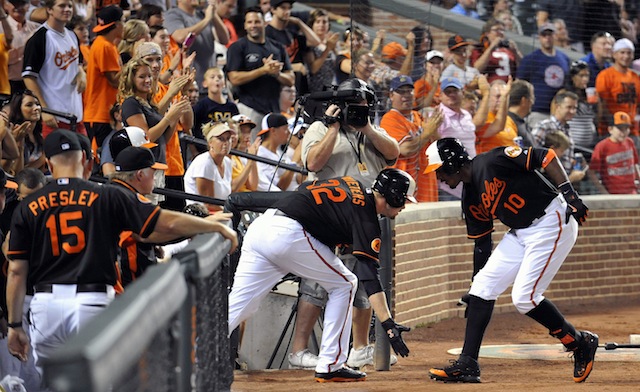 More MLB: Scoreboard | Standings | Probable Pitchers | Sortable Stats | Odds
A number of teams with fan "diasporas" and a strong national identity -- for instance, the Yankees and Red Sox and, to a somewhat lesser extent, the Dodgers, Phillies and Cardinals -- are more than capable of taking over a visiting ballpark, especially when the host team isn't particularly good. To say the least, that typically doesn't sit too well with those hometown fans who are in attendance.
This has certainly been the case in Baltimore in recent years. The Red Sox's success and overflowing bandwagon duing that same period led to Camden Yards being informally known as "Fenway South." That is, when the Orioles would host the Red Sox, Boston fans would outnumber -- or at least out-cheer -- O's partisans.
Well, the Orioles these days are a darn good team and may be headed for a second straight berth in the postseason. They're also one game into a big home series with those Red Sox. On those topics, Orioles outfielder Adam Jones gave David Ortiz a message to pass along to Red Sox Nation ...
Adam Jones: "I told Big Papi, this isn't Fenway south anymore. This is Camden Yards."

— Steve Melewski (@masnSteve) July 27, 2013
Jones, I'm sure, would be the first to tell you there's no excuse for harrassing visiting fans. What he's talking about, though -- and what's going on in 2013 -- is that in Camden Yards, the orange shall smother all other colors.
And that's as it should be.
(Wink of CBS eye: BBTF)
Collins has been Mets manager since the start of the 2011 season

The Cincinnati ballpark will have expanded netting in place by Opening Day 2018

The Baltimore third baseman is eligible for free agency following the 2018 season
The clubs breaks ground on Globe Life Field next week

The fan struck at Wednesday's Twins-Yankees game was hospitalized

The Yankees are almost certainly headed to the postseason as a real threat to win the World...