Quote of the day: Braves' Freddie Freeman has confidence to spare
Braves first baseman Freddie Freeman thinks he's got the upper hand on pitchers, or at least that's what he tells Chipper Jones.
More MLB: Scoreboard | Standings | Probable Pitchers | Sortable Stats | Odds
Braves first baseman Freddie Freeman is 24 years old, coming off a 2013 in which he made the All-Star team and finished fifth in the NL MVP balloting, batting .407/.515/.704 on the young season and set to make $135 million over the next eight years. Given all those facts, it's not surprising that Freeman would be rather confident about his ability to conduct business at the plate -- cocksure, even. 
If the following tweet by David O'Brien is any guide, then, yes, young Freddie is not wanting for self-regard ... 
Chipper said Freeman came by his house after game last night talked hitting for hour. Oozing confidence "they got nothin to get me out with"

— David O'Brien (@ajcbraves) April 10, 2014
That's the confidence of a man who starts each day with a fresh haircut and Barbasol shave!
Insofar as pitchers lacking anything whatsoever with which to extinguish Freddie Flames is concerned, that's not precisely the case. Have a look at these data courtesy of Brooks Baseball, which show how Freeman has fared against various same-side pitches (i.e., pitches from lefties) from the start of the start of the 2013 season until now ...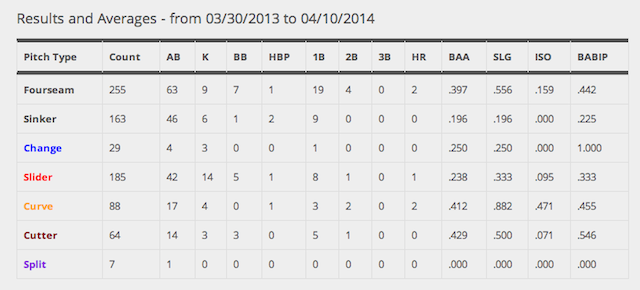 Truth be told, pitchers have nothing with which to get Freeman out ... except same-side sinkers, changeups, sliders and splitters. You could also throw right-handed curves (not pictured!) into that category. 
Sure, that's all pretty pedantic on my part, as, yes, Freeman is pretty much hitting everything these days. As baseball teaches us, though, things tend to change. 
The real takeaway, though, is that sometimes Freddie Freeman goes over to Chipper Jones's house to discuss craft and artifice.