Quote of the Day: Ron Roenicke on throwing at hitters
Brewers manager Ron Roenicke may be old school, but he's not old school when it comes to hitting batters intentionally.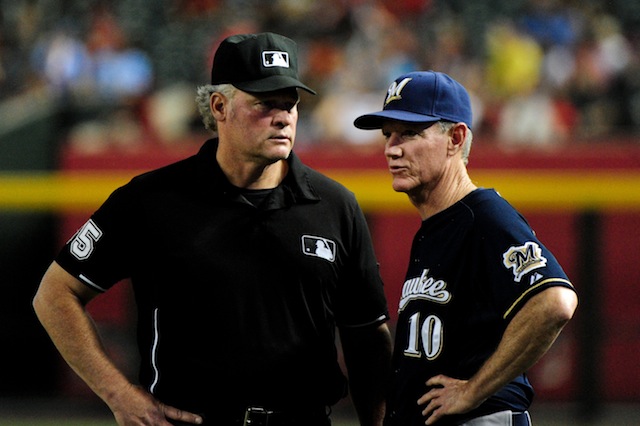 More MLB: Power Rankings | Expert Picks | Latest news & notes | Fantasy news
You'll recall that the Brewers were recently involved in some high-and-tight/beanball back-and-forth with the Diamondbacks. Now, Milwaukee skipper Ron Roenicke has shared his thoughts on the semi-sanctioned practice of throwing at batters. Via MLB.com's Adam McCalvy:
"We try to pitch the way we should pitch. We don't throw at people. There's a time you have to pitch inside to get people out. Good hitters you have to pitch inside. So that's what happens. ... I've seen teams get hurt by it, yes. But I don't think it's part of the game. Just pitch. Get people out."
The obvious question is how the Brewers grade out under Roenicke when it comes to handing out HBPs relative to being the recipients of HBPs. Let's just say the answer backs up Roenicke's stance. 
Anyhow, Roenicke's 57 years old, and he spent parts of eight seasons as a player in the majors before working his way up the managerial ladder. Bear that in mind before you malign him as having no understanding of how things are supposed to work in baseball or whatever the usual boilerplate response is. 
(Wink of CBS eye: Hardball Talk)
Despite a seven-game ALCS, the Houston rotation lines up nicely for the World Series

Sabathia and the Yankees are a perfect fit for each other

Bregman threw out Greg Bird at the plate to preserve the Astros' lead
The 2017 World Series begins Oct. 24

The Yankees returned to contention even quicker than their front office expected

The Dodgers have the better defense, rotation, and bullpen, in our estimation