R.A. Dickey and the day-after effect
Data shows the Mets may have lost two Cy Young-caliber pitchers this offseason.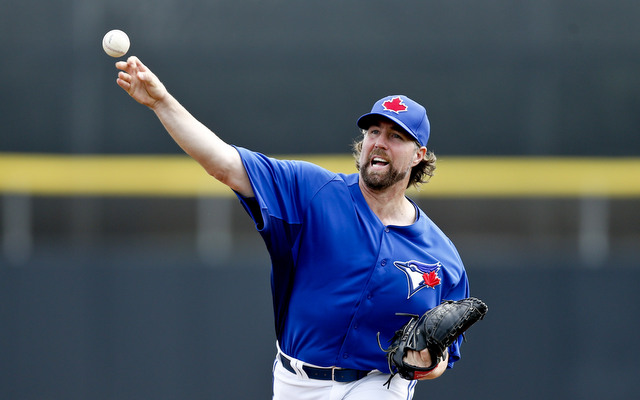 The Mets traded reigning NL Cy Young Award winner R.A. Dickey to the Blue Jays this offseason, but as Michael Salfino of the Wall Street Journal writes, the team actually had two Cy Young-caliber starters in their rotation in 2012: Dickey and whoever pitched the next day.
Dickey, a 38-year-old who throws an unusually hard knuckleball, pitched to a 2.38 ERA while the pitchers who started the next day posted a collective 2.73 ERA. Salfino provides a table showing the team's individual starters pitched to a very low ERA when they followed Dickey but something higher on other days, and surmises "opposing hitters were left so off-balance, confused and out of sync that the Mets starters facing the same team the next day seemed to take advantage."
The data is eye-opening but there are some caveats. Salfino only looked at starts when Dickey and the next day's pitcher faced the same team, meaning the sample is just 21 starts. Only one pitcher -- left-hander Jon Niese, who is pretty darn good himself -- threw more than 35 innings the day after Dickey, so there is a sample size issue. Salfino also notes this hangover phenomenon didn't exist in 2010 or 2011, though Dickey hadn't yet found his Cy Young form those years.
It stands to reason that the hangover effect would be most evident within an individual game -- not necessarily across two games -- meaning the reliever who took over for Dickey would see a boost in his stats. A regular 90 mph fastball in relief of a dancing knuckler probably looks more like 100+. Salfino notes Mets relievers had a 3.41 ERA in relief of Dickey last year compared to 4.78 for other starters. That starter-reliever hangover effect existed in both 2010 and 2011 as well, unlike the hangover effect for the next day's starter.
Big league managers have a tendency to do weird things like split up the lefties in their rotation or not use a fastball-slider reliever after a fastball-slider starter, but for the most part that stuff has little actual impact. Knuckleballers are a little different because they're so unique, and it's not shocking to see that regular non-knuckleball relievers tend to perform better when they follow someone like Dickey. The hitters are off-balance from one at-bat to the next. The day-after effect is a bit of a stretch though, especially since it only happened in a limited number of starts this year and not the previous two years. Still interesting though.
For more baseball news, rumors and analysis, follow @EyeOnBaseball on Twitter, subscribe to the RSS feed and "like" us on Facebook. Also, individually interact with us on Twitter: @MattSnyder27, @daynperry and @mikeaxisa.

Gonzalez was reportedly killed in a car crash in Cuba

Our Black Friday FA shopping guide includes a starting pitcher, slugger, super sub, and re...

Get 15 percent off any order of more than $75 at CBS Sports Shop
Need a gift for someone who loves baseball? We're here to help as the holidays approach

Several prominent Japanese-born Mariners and ex-Mariners have said they will help as well

Get your sports fans something that they'll wear all year