R.A. Dickey performed one amazin' feat this year, and it should win him the Cy Young award
There's strong competition for the Cy Young, but I like Dickey for one very big reason.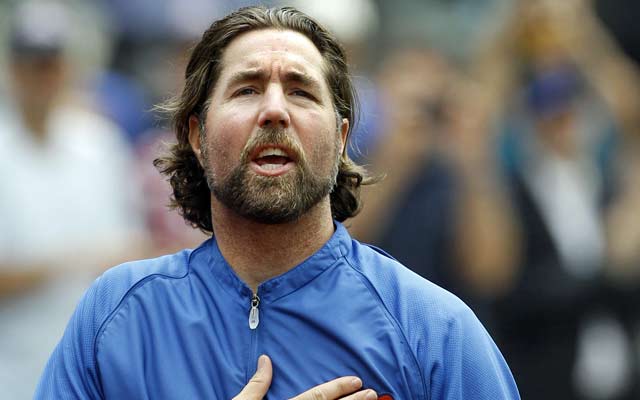 R.A. Dickey won 20 games for the Mets. Give him his NL Cy Young award.
(AP)
R.A. Dickey has to win the Cy Young award in the National League, and the reason is very simple.
He won 20 games and lost only six games, and he did it for the New York Mets.
I know people, wins aren't supposed to count for anything anymore. The hardcore stat guys say wins shouldn't matter for individual pitchers.
They say it's too dependent on outside factors, factors the pitchers can't control, like a player's team, and luck.
Precisely my point.
How lucky can he be? He's pitching for the New York Mets.
The Mets, who would be buried in last place if not for Dickey, who is 5-0 with a 1.38 ERA against the one team below them in the N.L. East, the Miami Marlins. If not for those five victories over the Marlins by Dickey, the Mets would be the ones in last place.
Of course you can't give a guy a Cy Young award totally based on his win total or his record – though that was 20 wins, again, for the New York Mets . Just consider now for a second his other numbers, which alone may very well place him at the top.
Looking at the six man candidates among the starting pitchers, Dickey ranks first in innings and strikeouts, second to Gio Gonzalez in wins, third by a point to Clayton Kershaw and Matt Cain in WHIP (1.05 to 1.04), second by a point to Kershaw in ERA (2.69 to 2.68) and third in WAR to Johnny Cueto and Kershaw (5.3 to 5.7 and 5.4).
So in the seven categories mentioned here (including wins), he has two firsts, two second and two thirds. He's the only one in the top half in all seen categories.
How's that for numbers?
Dickey shouldn't win the award because he's a great story. And he shouldn't win it or lose it because he did it with the knuckleball. That's a pitch eligible for anyone to throw. He just happens to throw is expertly.
The biggest reason Dickey should win is he managed to win 20 of 26 decision pitching for the Mets, a team that finished in the bottom half of every single offensive category except doubles (they were eighth in doubles), a team that regularly fielded an entire outfield of players that would be bench players elsewhere, a team that ran out of gas in July, just before the All-Star break.
Sure, Dickey's 12-1 first half was more remarkable. But to come home 8-5 for a team that had all but given up is pretty darned telling, too.
Yes, I understand the stat guys will say wins don't matter. But until wins stop determining who finishes first in the standings, they'll count here.
If someone wants to throw in a curveball and say the Braves' wonderful closer Craig Kimbrel, who saved 38 out of 41, struck out 111 in 60 1/3 innings and posted a 0.66 WHIP, I get it. As for me, in years where there is at least one starting pitcher deserving of the award, I try to reward the starter, the pitcher who carries the load. And in this case, pitching for the Mets, Dickey indeed had a heavy load to carry.
In this case, there is at one starting pitcher that stands out in the National League.
That would be one Robert Allen Dickey.    
Also, how much did the Cubs increase their chances?

Los Angeles will have another chance to close the series out on the road

They're alive in the NLCS after their Game 4 win over the Dodgers
You never know what you might get from Arrieta, but what we got was brilliance in Game 4

The 2017 World Series begins Oct. 24

There will be a Game 5 after all on Thursday night