R.A. Dickey's autobiography to be made into a movie
R.A. Dickey wrote a book about his life a few years ago, and now it's going to be made into a movie. Buzz Bissinger ("Friday Night Lights") is writing the script.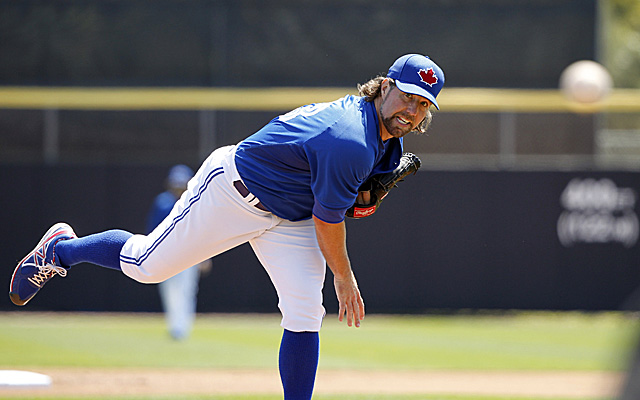 MORE: Predictions | Spring Training | Scoreboard | Team previews
Blue Jays starting pitcher R.A. Dickey was one of the subjects of the documentary "Knuckleball," which was released in 2012. Now he's set to see his autobiography be made into a Hollywood movie, with the script written by Buzz Bissinger of "Friday Night Lights" fame.
The details, via deadline.com:
Actors Ben McKenzie and Logan Marshall-Green have joined forces to launch the shingle A Thing Or Two Productions. They come to the table in a big way. Tom Rothman's TriStar Pictures has made a deal on a baseball memoir which the duo will produce with Michael De Luca. TriStar has optioned Wherever I Wind Up, the memoir by pitcher R.A. Dickey about his unusual life journey. Buzz Bissinger has been set to write the script. It becomes another eclectic project for Rothman's upstart division.
Among other things, Dickey's book includes the revelation that he suffered sexual abuse as a child -- among several other hardships -- and also that he struggled through suicidal thoughts as an adult. It goes through his 14 years in the minors, too.
On the flip-side, Dickey climbed Mount Kilimanjaro before going out and winning the 2012 NL Cy Young award -- becoming the first knuckleballer ever to accomplish the feat. He actually put his 2012 salary on the line in order to climb the mountain while raising awareness for human trafficking in India.
Though the latter two events aren't in the book -- as it had already been written -- it seems like two things that would make a nice conclusion to Dickey's long journey in the movie.
Regardless, it's in capable hands and the movie sounds like a must-see.
There have been several racially charged incidents at Fenway Park this year

Washington's right fielders have sputtered offensively since Harper went down

Keep it locked right here for everything you need to know about the world of baseball Tues...
The good news? Wichita still has a chance to win the series Tuesday night

The 2017 season is going to shatter the all-time collective home run record

Ferrell somehow avoided going to the ground