Rafael Soriano likely to use opt-out clause to better his situation
Rafael Soriano can walk away from his Yankees deal after this season. The Yankees aren't certain he would walk away from a substantial $14 million 2013 salary, but after saving 37 games in 40 tries as Mariano Rivera's replacement, there's a real chance he uses his opt-out clause to solidify a longer deal elsewhere.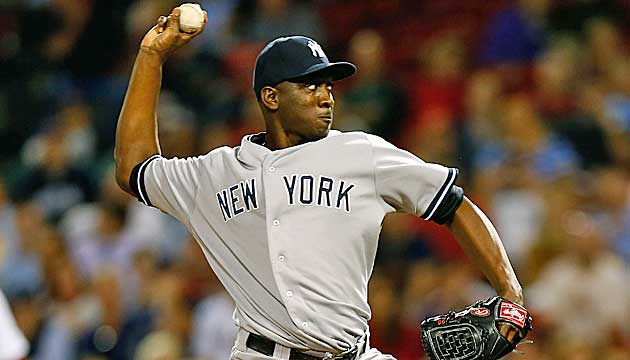 Soriano has been clutch for the Yankees since Mariano Rivera went down. (Getty Images)
There is a good chance Rafael Soriano will invoke his opt-out clause following a season in which he has been a savior for the Yankees, people familiar with the situation say.
Soriano has a clause that allows him to walk away from the Yankees after this season rather than stay and make $14 million for 2013, and opting out would enable him to try to obtain a multi-year deal to close elsewhere or possibly lengthen his Yankees commitment. If he opts out, he receives a $1.5 million buyout, making the difference between staying and going $12.5 million.
Soriano would be a setup man with David Robertson to all-time great closer Mariano Rivera if he returns next year. After saving 37 games in 40 opportunities, presumably he would  be a hot player as a free agent, as Jose Valverde is the only comparable closer due to become a free agent. However, the closer market has been somewhat inconsistent lately.
Yankees people believe they have a very solid relationship with the quirky Soriano and aren't convinced he would exercise the opt-out clause when $14 million is a significant salary. It's also possible the sides could work out a multi-year deal, in which Soriano would set up in 2013 then close after that. However, the Yankees have stated that one of their great goals is to keep their payroll below the luxury-tax threshhold of $189 million in 2014, so that desire could become an impediment to a longer deal.
Before Soriano stepped into the closer role, Robertson had been seen as Rivera's heir apparent. But Soriano, 2-1 with a 2.17 ERA, has become a huge part of why the Yankees even share first place this year.
Soriano's signing with the Yankees was seen as controversial because he had a high salary for a non-closing reliever. Yankees upper management overruled GM Brian Cashman, giving the team a proven closer in the event Rivera got hurt. That move proved prescient when Rivera suffered a season-ending knee injury while shagging flies early this season.
OOTP's team ran some simulations for us on the 2017 World Series

Reddick spent half the 2016 season in L.A. and did not enjoy it

Martinez has spent most of the past decade as Joe Maddon's bench coach, but should be ready...
The Dodgers have acquired more players through trades than by any other means

Surprisingly few current Astros were originally drafted by the team

Dodgers manager Dave Roberts on Sunday announced his World Series rotation for the first four...