Rakuten Golden Eagles officially post Masahiro Tanaka
The Rakuten Golden Eagles have postedpost ace righty Masahiro Tanaka, and he'll now begin negotiating with MLB teams willing to meet the posting fee.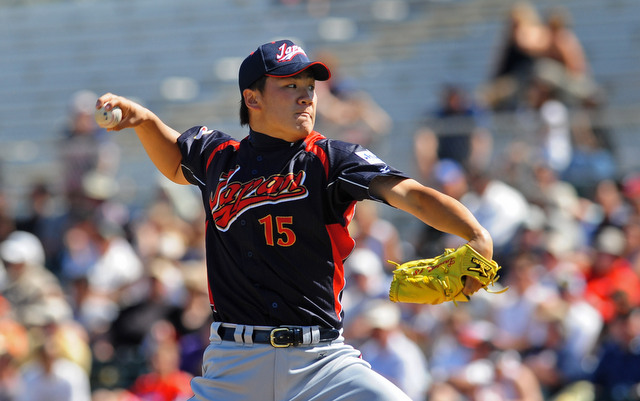 MORE: FA tracker: position players | FA tracker: pitchers
The Rakuten Golden Eagles have officially posted right-hander Masahiro Tanaka, the AP reports. All 30 MLB teams have been notified. 
Tanaka, 25, went 24-0 with a 1.27 ERA and a 5.72 K/BB in 212 innings for Rakuten this past season. He is widely considered the best pitcher on the market this offseason, though it wasn't known until recently whether he would be made available to MLB clubs. The free agent pitching market has been frozen waiting for Rakuten's decision.
MLB and NPB ratified the new posting system recently. It limits posting fees to only $20 million, roughly a third or a quarter of what Rakuten expected to receive for Tanaka under the old system. They considered keeping him for next season and making another title run (the Golden Eagles won the Japan Series a few weeks ago). Any team who meets the $20 million posting fee will be eligible to negotiation with Tanaka, but only the team who signs him will pay the fee to Rakuten. Tanaka has until Jan. 24 to reach an agreement with an MLB club.
The Yankees, Dodgers, Cubs and Mariners are among the teams expected to pursue Tanaka. Other clubs like the Angels and Rangers could get involved as well.
In negotiations, Tanaka will be represented by Excel Sports Managment, whose stable of clients include Derek Jeter and Clayton Kershaw.