Randy Wolf opts out of contract after winning rotation spot
After making the rotation, Randy Wolf was asked to sign a 45-day advanced consent release form by the Mariners. Instead of doing so, he opted out of his deal.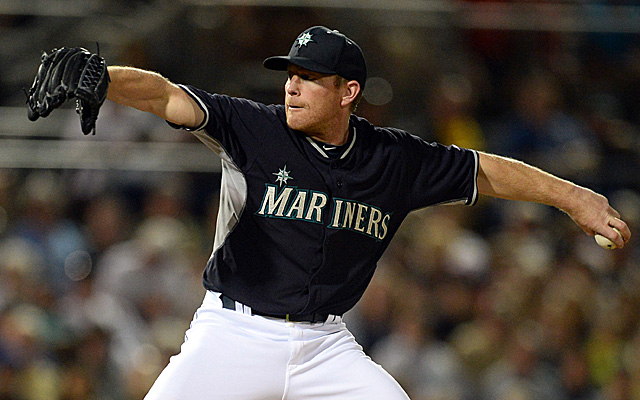 MORE: Spring Training | Scoreboard | Team previews
Potential Mariners starting pitcher Randy Wolf had quite the eventful Tuesday. It began -- at least the interesting parts, as far as baseball is concerned -- with Wolf hearing that he had won a spot in the Seattle opening day starting rotation.
Only it came with a caveat.
Wolf was asked to sign a 45-day advanced consent release form. He refused to sign it and instead opted out of his deal.
Via seattletimes.com, here's some information on the form:
Well basically if a player signs it, the team – the Mariners in this situation – would have 45 days where it could release the player without having to pay the full season's salary  - $1 million in this situation. They would only pay for the service time accrued.  Now if Wolf were to get hurt or stay on the 25-man roster, the team would have to pay the full salary of $1 million.

--snip--

To be clear, the 45-day clause, which was put in place in the collective bargaining agreement, is something that can only be exercised once a player has been told he's made the team. This isn't something that can be stipulated in the original contract negotiations.
As for Wolf's take?
"I was principally objected to that simply because we negotiated in good faith in February on a team friendly contract, if I were to make the team," Wolf said (seattletimes.com). "I felt like I came in amazing shape, I pitched great and I earned a spot on the team. They told me I earned the spot on team. But to me, that advanced consent thing is kind of renegotiating a contract so I told them I wouldn't sign in and I disagreed with it."
Wolf, a 37-year-old lefty, had a 4.26 ERA and 1.32 WHIP with nine strikeouts and seven walks in 19 innings this spring.
With Taijuan Walker and Hisashi Iwakuma injured to open the season, the Mariners now have James Paxton, Erasmo Ramirez, Blake Beavan and Roenis Elias behind Felix Hernandez to open the season in the rotation.
On that note, it's worth mention that the returns of Walker and Iwakuma from injury could have very easily doomed Wolf's spot in the rotation -- and could have played a major role in his decision to refuse signing the release form.
Get 15 percent off any order of more than $75 at CBS Sports Shop

Get your sports fans something that they'll wear all year

No, you're not imagining things. This MLB offseason has been very slow compared to the last...
Francesa will retire from radio next month, so he'll have plenty of free time next summer

The Twins need help in the rotation, and they may look to the trade market to find arms

Here are the bullet-points of what went down Tuesday regarding MLB and the Braves' punishm...