Rangers are focusing on Greinke another sign Hamilton will likely be gone
Texas has joined the fray for the top free-agent pitcher available Zack Greinke. Meanwhile, they have made no offer to Josh Hamilton (nor are they preparing one).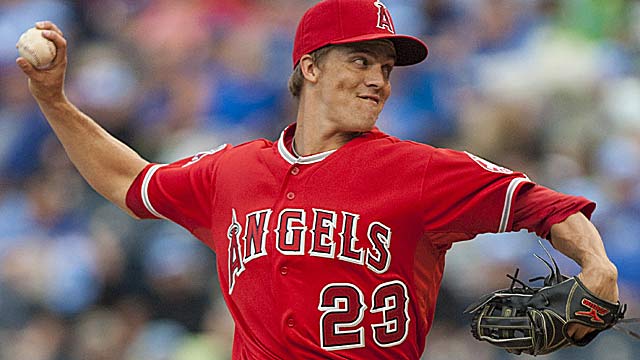 Zack Greinke is getting attention from the Rangers, who are allowing Josh Hamilton to look around.
(US Presswire)
INDIAN WELLS, Calif. -- The Rangers have joined the fray for Zack Greinke in another sign that superstar outfielder Josh Hamilton's days in Texas are numbered.
The incumbent Angels are seen as the favorite for Greinke, but as one GM said here, they are going to get geographic (Dodgers) and divisional (Rangers) competition. The Nationals are one of many others who may make a  play for Greinke, and as Angels GM Jerry Dipoto said, 'I assume all 29 teams have some level of interest.'
Texas has made no offer to Hamilton (no, the Rangers didn't make a three-year offer, as rumored), and while they've held open the possibility of bringing him back, they are concentrating their efforts on Greinke while allowing Hamilton to look elsewhere.
The Rangers' chances to keep Hamilton may now depend on them 1) losing out on Greinke, and 2) Hamilton finding nothing great elsewhere.
Rangers people insist this isn't a C.J. Wilson situation whereby they had basically no intention of bringing Wilson back from the start last winter. But it is clear Hamilton isn't the top priority for them, even among the big names.
The Rangers' chances to trade for Justin Upton, which presumably would have shut the door on Hamilton, appear very remote now that the Diamondbacks have said they only want Jurickson Profar or Elvis Andrus and Texas has said "no'' on both players. However, it appears likely that many, many things would have to break right (or wrong, depending on one's perspective) for Hamilton to wind up back with Texas.
L.A. manager Dave Roberts indicated that Puig's benching was related to more than one inci...

Manager Torey Lovullo said so on Monday

Let's see how SportsLine forecasts the race for MLB's 10 playoff spots
Monday kicks off the final week of MLB action. Let's take a look at everything that went d...

No other rookie in baseball history has hit more home runs than Judge has this year

Jays have said goodbye to Encarnacion and will to Bautista. Should they move on from Donaldson,...