Rangers can't stop their slide
The Rangers haven't homered in a week, and they haven't won in a week. Now they have two weeks to save their season.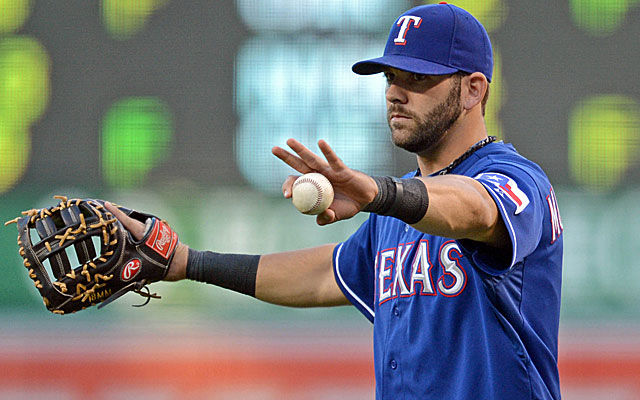 ARLINGTON, Texas -- Hunter Pence homers every day, or twice a day.
The Rangers haven't homered in a week.
They haven't won in a week, either, with an 0-6 homestand (the first in Texas history) basically ending their chances of taking back the American League West and putting even their playoff hopes in serious danger. They lost three straight close games to the A's, after losing three straight close games to the Pirates, and every day they had baserunners and couldn't get a big hit.
"I never would have imagined we'd be in this type of lull," manager Ron Washington said Sunday, before the lull continued with a 5-1 loss to the A's. "It's not us."
But in one way, perhaps it is.
Josh Hamilton and Mike Napoli left as free agents. They combined for 67 home runs last year, power that the Rangers didn't replace.
Nelson Cruz isn't here. He hit 27 home runs, before he was suspended for the final 50 games of the season.
Justin Upton isn't here. The Rangers tried to trade for him last winter.
Pence isn't here. The Rangers tried to trade for him, and other power hitters, this summer.
(Maybe it's piling on to point out that Chris Davis isn't here, either, because the Rangers traded him away two years ago.)
The Rangers eventually traded for Alex Rios, who has four home runs in 32 games since coming over from the White Sox. The fourth came in the first inning last Sunday in Anaheim. The Rangers have played 62 innings since then, with no home runs.
The last time they did that? June 1995.
"We came in knowing we wouldn't have as much power in the lineup," general manager Jon Daniels said. "We knew we'd have to get it done in other ways. At times we have."
The Rangers could have gotten it done in other ways over the past week. They had plenty of runners on base against both the Pirates and the A's. They were never really out of any of the six games.
But getting it done other ways requires longer rallies, and longer rallies require a deeper lineup, and right now the Rangers have too many slumping hitters. Too many of those rallies ended with Mitch Moreland (hitless in 21 at-bats, with 14 strikeouts) or David Murphy (.173 over his last 24 games) at the plate.
Washington gave 28-year-old rookie Jim Adduci two starts against the A's, in what was supposed to be the Rangers' biggest series of the year. He wanted to give ailing Lance Berkman his first start in two weeks on Sunday, but couldn't because the A's switched from right-hander Jarrod Parker to left-hander Tommy Milone, and the switch-hitting Berkman isn't healthy enough to bat right-handed.
"I'm just trying anything," Washington admitted.
For all the losses, the Rangers remain tied with the Rays atop the wild-card standings, with two spots available. The upcoming four-game series at Tampa Bay, which will begin Monday night, now becomes their most important series of the year.
"I'll still bet on our guys," Daniels said. "I expect us to make the playoffs."
If they do, Cruz can return. If they do, they still have a chance to turn this season into a success.
If not, they'll raise more questions about the decisions they made last winter, and the moves they tried to make and couldn't or didn't.
"Trust me, I think about it all the time," Daniels said. "The moves we made, the moves we didn't make."
They still have two weeks, and maybe October, to prove those moves right or wrong.
They still have two weeks to hit another home run.
Granderson heads north of the border for his age-37 season

What did the Pirates get in return for their franchise player?

Rivero could remain in Pittsburgh for some time to come
The White Sox, Angels, Athletics, Orioles and Marlins are the holdouts after Blue Jays fol...

The Pirates have several attractive trade chips if they decide to go into a full rebuild

Gerrit Cole was traded over the weekend and now McCutchen is on the move