Rangers, Hanrahan's home team with a need, also in the mix for RHP
As many 20 teams have shown interest in available reliever Joel Hanrahan.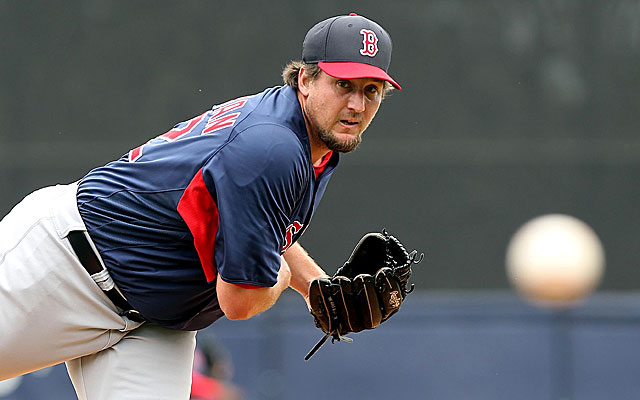 The Rangers are said to be another in the mix for hard-throwing free-agent reliever Joel Hanrahan, which makes sense on a couple levels.
First, and most important, Texas' pitching staff has been in flux since a variety of injuries struck in spring training, with relievers Robbie Ross and Tanner Scheppers currently in the rotation (Ross is doing better than Scheppers), and a bullpen not quite settled yet.
Second, Hanrahan lives in Lewisville Texas, a suburb of Dallas.
Anyway, the Rangers are said to be "in the mix," bringing to 11 the teams known to have some interest. As many as 20 scouted Hanrahan, the recovering two-time All-Star, for his showcase Thursday at the University of Tampa.
The Red Sox, Yankees, Mets, Rockies, Royals and Indians were identified here Thursday as having interest. The Twins were said to be in attendance by Darren Wolfson of 1500 ESPN, the Tigers by Jason Beck of mlb.com and the Blue Jays and Rays by Peter Gammons (@pgammo).
Scouts say he threw at 87-93 mph at his session, impressive for the 11th month after Tommy John surgery.
Maxwell joins a growing movement across sports

The Yankees punched their ticket to the playoffs with a win over the Blue Jays on Saturday

Sabathia's stance seems to be an increasingly popular one among athletes
Plus the A's and Brewers have hope, Giancarlo goes deep again, and much more

Matt Chapman and Matt Olson give the A's hope

Despite an awful month, the Dodgers are again NL West champions