Rangers manager Ron Washington paid a $200 fine with 20,000 pennies
Two years ago, Rangers manager Ron Washington shipped over 100 lbs. of pennies to MLB to pay a fine.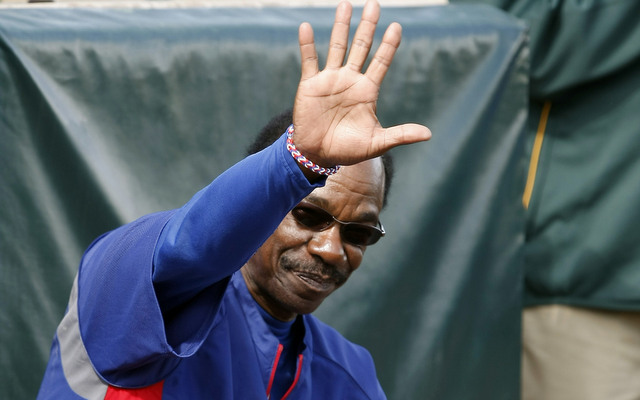 MORE: Spring Training | Scoreboard | FA tracker: hitters | FA tracker: pitchers
This is great.
Two years ago, Rangers manager Ron Washington was ejected from a spring training game and fined $200 by MLB. Third baseman Adrian Beltre got tossed and then Washington got run by the umpire after leaving the dugout to stand up for his player.
How did Washington pay that relatively small fine? He shipped a box of 20,000 pennies to MLB's office in New York. From Stefan Stevenson of the Fort Worth Star-Telegram:
"I lost my mind," Washington recalled. "Beltre was yelling from the dugout, 'It was outside!' And the umpire threw him out of the game because he told Beltre to stop and Beltre didn't stop. And then I went out there and argued with him and I said something I shouldn't have said."

...

 Washington responded by filling a box with $200 in pennies and mailing it to Bob Watson, MLB vice president in charge of discipline. Cost to mail it to New York: About $45.

 Watson called after receiving the box.

 Watson: "And you just had $200 in pennies hanging around? Washington: "Yes. Bob, I didn't have my checkbook. I wasn't trying to be funny. Now go to the bank and put that in the [change] machine and get your $200."
One penny weighs 2.5 grams, so 20,000 pennies weigh about 110 pounds. That was a pretty heavy box. Hopefully Washington tipped his mailman well.
Believe it or not, you can be fined for paying bills with a large quantity of pennies. Where's the fun in that?
(h/t Hardball Talk)
Get your sports fans something that they'll wear all year

Get 15 percent off any order of more than $75 at CBS Sports Shop

The Twins need help in the rotation, and they may look to the trade market to find arms
Here are the bullet-points of what went down Tuesday regarding MLB and the Braves' punishm...

The owners need to ratify on the new system in place, but the takeaway here is Ohtani is coming...

A preliminary report National Transportation Safety Board has shined some light on details...