Rangers manager Ron Washington says Prince Fielder 'blew it' on Friday
Rangers manager Ron Washington called out Prince Fielder for a rally-killing base-running blunder in Friday's game.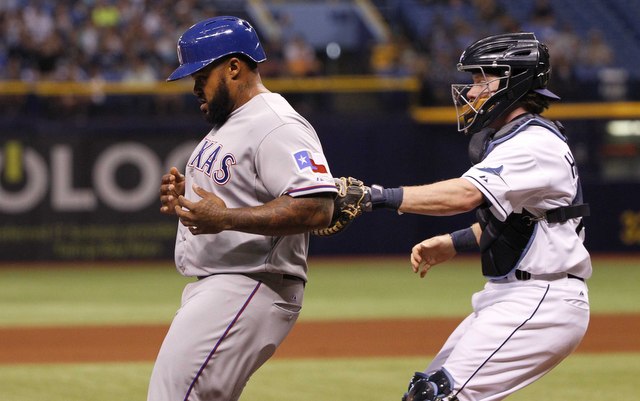 More MLB: Scoreboard | Standings | Probable Pitchers | Sortable Stats | Odds
The Rangers have had a tough start to their three-game series against the Rays, dropping the first two games by a combined score of 13-5. They blew a three-run lead on Saturday, robbing Nick Martinez of his first career win.
Friday's game was a blowout, an 8-1 win for Tampa Bay, but the Rangers had their chances to claw back. They were down 4-0 in the fourth inning but had two men on base with one out, giving them an opportunity to scratch some runs across and change the complexion of the game. Then this happened:
Ugly. Instead of having either the bases loaded with one out or a run in with two on and one out, the Rangers had two on with two outs. Donnie Murphy struck out as the next batter and Texas did not score in the inning. Wasted opportunity.
After the game, Rangers manager Ron Washington put the blame squarely on Prince Fielder while talking to reporters. From Evan Grant of the Dallas Morning News:
"Prince just blew it," Washington said. "(Third base coach Gary Pettis) was winding, but Prince went back to the bag. … It's a different situation with runners on second and third with one out and a run in instead runners on second and third with two. You never know what would have happened. We might have only scored that one run right there, but I would have like to have seen what would have happened."
Fielder said he "didn't get a good jump and I didn't pick up Gary in time," for what it's worth.
Washington does kinda throw Fielder under the bus, but nothing crazy. This feels like a veteran manager calling out a veteran player and hoping to set an example for the rest of the team, not a manager trying to embarrass one of his best players. That's my opinion, anyway.
Still, it's not often you hear a manager say one of his players flat out "blew it." Usually they are very protective and try to avoid headlines.
L.A. manager Dave Roberts indicated that Puig's benching was related to more than one inci...

Manager Torey Lovullo said so on Monday
Let's see how SportsLine forecasts the race for MLB's 10 playoff spots

Monday kicks off the final week of MLB action. Let's take a look at everything that went d...

No other rookie in baseball history has hit more home runs than Judge has this year