Rangers may play for Kendrys, but so may Brewers, Mariners, others
Texas may try for free agent Kendrys Morales, but is shouldn't be assumed that they are the favorite simply because Prince Fielder is out for the year.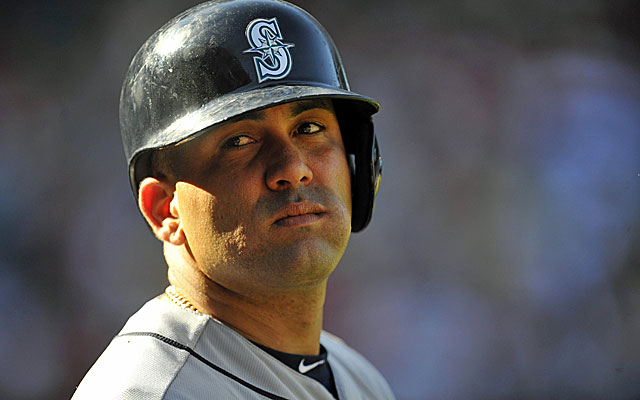 More MLB: Power Rankings | Expert Picks | Latest news & notes | Fantasy news
MIAMI -- The Texas Rangers are said to have been one of several teams to come here to scout free agent Kendrys Morales , and they saw him work out even before their first baseman Prince Fielder went down for the year with a neck injury.
But does that make the Rangers the obvious landing spot for Morales? Maybe, but maybe not.
At least the Milwaukee Brewers and Baltimore Orioles have scouted Morales here at the Scott Boras Training Institute. The incumbent Seattle Mariners , who love Morales, have stayed in touch at times. And others could be interested as well, especially once a draft choice is no longer tied to Morales following the June 5 draft. Injuries and underperformance could affect the field, as well.
Rangers GM Jon Daniels, on a conference call to announce that Fielder's surgery, said that he is still focusing on the current roster and therefore not even thinking yet about Morales. While Morales might logically make sense as a replacement for Fielder, the Rangers may also want to consider how much more money they want to spend on a season that seems almost cursed at this point. Though, they aren't the types to throw in the towel, and Daniels texted, "We are going to be OK. Don't count the guys out."
Here's a rundown of some of the possible destinations for Morales, the one big free agent remaining ...
1. Brewers. With Mark Reynolds and Lyle Overbay manning the position, Brewers first basemen have a slash line of .202/.272/.370/.642, ranking near the bottom of the league. Reynolds, the right-handed portion of the platoon, is providing his usual power, with nine home runs in 129 at-bats, but Overbay is off to a slow start, with just one homer in 85 at-bats. Brewers owner Mark Attanasio scored big two springs ago by signing Kyle Lohse , another Scott Boras holdout, for $33 million over three years, and hit the jackpot again by bringing back Francisco Rodriguez , yet another Boras client, who's done a fabulous job closing. While Attanasio was willing to give up the draft pick for Lohse, the Brewers have been reluctant to do it again, choosing instead to see how Reynolds and Overbay would do first. Milwaukee has dropped four of its last five games after its hot start, scoring only 11 runs in the process. It isn't hard to envision them getting involved after the draft. Decent chance.
2. Mariners. Is it possible that like the Boston Red Sox , the Mariners will act to re-sign their own player once they are convinced they won't be receiving a draft choice by virtue of him signing elsewhere before the draft? Seattle is said to have loved Morales on the field and in the clubhouse, and it is believed the Mariners have maintained occasional contact with Morales, who had 23 homers and 80 RBI for them in 2013. Justin Smoak (.232 batting average, .709 OPS) has been only OK, Logan Morrison has been hurt, and Corey Hart just went on the disabled list with hamstring trouble. The Mariners, with a .670 team OPS (27th best in baseball) could use the offensive boost, especially if they believe they have a chance to contend. They spent more money than anyone but the New York Yankees to give themselves an opportunity to compete. If the Mariners, now 22-23, believe they have a shot at a wild card, they may stretch the budget just a little more. Possible.
3. Rangers. The loss of Fielder, who was affected all year by a power drain from his neck problem, leaves a lineup hole, and that at least makes Morales a logical thought, especially since DH Mitch Moreland hasn't provided much power. While Moreland's hit fine, he has only two home runs. The Rangers have dealt well with Boras, as three-fourths of their infield is comprised of Boras clients, including also Adrian Beltre and Elvis Andrus in addition to Fielder (plus outfielder Shin-Soo Choo , their big free-agent pickup this winter). The question is whether the Rangers want to patch the hole by spending more money at this point. In addition to Fielder's woes, Daniels announced that young second baseman Jurickson Profar would miss another eight to 12 weeks, and that's on top of a decimated pitching staff. It's believable that Daniels isn't sure which way he's going at this point; they may need a couple days just to survey the damage. Maybe.
4. Orioles. While they scouted Morales multiple times, there's no evidence of progress in recent weeks, meaning a big gap likely remains. Baltimore is currently without star catcher Matt Wieters , and Delmon Young (.688 OPS) and David Lough (.458) have provided mixed results, at best, early. They like that Morales is a switch hitter, but barring further casualties they may believe their overall lineup is good enough. Outside chance.
5. Kansas City Royals . They are thought to have showed some early interest, and while their offense has disappointed to date, the presence of Billy Butler , who was on the trade block at points during the winter, seems to make Morales unlikely. Long shot.
6. New York Mets . One reason GM Sandy Alderson didn't make a big push for J.D. Drew was the time away from competition, so he'd likely have the same question here. They seem committed at first base to Lucas Duda , who has done OK so far (.737 OPS). Long shot.
7. Houston Astros . Their first-base production has been practically nonexistent (.581 OPS). They were willing to add a couple veteran players over the winter and were thought to be eyeing first-base alternatives late in spring, but it's still hard to see them making such a bold move now. Long shot.
Sunday's MLB roundup features the D-Backs clinching a postseason spot and the Mariners going...

The 2017 season has been, by far, the worst season of Cabrera's career

The Mariners were eliminated from postseason contention with Sunday's loss
Maxwell became the first MLB player to kneel during the national anthem Saturday

The Blue Jays are not expected to bring Bautista back next season

The Dodgers have already clinched the NL West title, so the D-Backs will be a wild card te...