Rangers' Neftali Feliz to have Tommy John surgery; Roy Oswalt to bullpen
The Rangers' Neftali Feliz will miss the rest of the season after being diagnosed with a torn ulnar collateral ligament in his right elbow.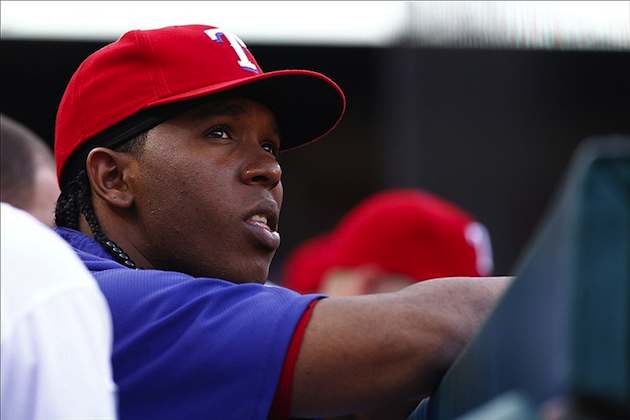 Neftali Feliz won't pitch again this season.. (US Presswire)
If Roy Oswalt's performance on Monday didn't push the Rangers to deal for Ryan Dempster, perhaps the news that right-hander Neftali Feliz will need Tommy John surgery and is out for the rest of the season did.

Rangers GM Jon Daniels said the team has known for a couple of days that Feliz would need the surgery, but kept the news under wraps until after the trade deadline so that other teams wouldn't know just how much the Rangers needed another starter.

"I don't think it played a big role in it," Daniels said of the team's move to acquire Dempster.

It may not have played a big role, but it was a big enough role to keep it under wraps for a couple days so that they didn't hurt their leverage.

The 24-year-old Feliz started just seven games for the Rangers this season, going 3-1 with a 3.16 ERA in those starts and one relief appearance. The converted reliever hasn't pitched for the Rangers since May 18. Feliz had been scheduled to pitch for Triple-A Round Rock on Sunday, but was scratched with what the team called "discomfort in his right elbow," but turned out to be a tear of the ulnar collateral ligament.

With Dempster, Oswalt will be moved to the bullpen, the Rangers announced. Dempster, who was scheduled to start Tuesday for the Cubs, will now start Thursday against the Angels opposite C.J. Wilson.

For more baseball news, rumors and analysis, follow @EyeOnBaseball on Twitter, subscribe to the RSS feed and "like" us on Facebook.
Does the Jackson signing mean the Giants are out on Lorenzo Cain?

Acuna edged out Shohei Ohtani and Vladimir Guerrero Jr.

There's no reason to run over the cases for and against Bonds, so let's have fun instead
The coveted right-hander would certainly be a fit in Milwaukee

We rate the best mustaches from random baseball cards because, why not?

Colon wants to break a Dennis Martinez record