Rangers' Nelson Cruz can't get his story straight on appeal
Nelson Cruz claims it wasn't his decision to not appeal his suspension, but he also notes if he did, he would miss out on big money on free agency.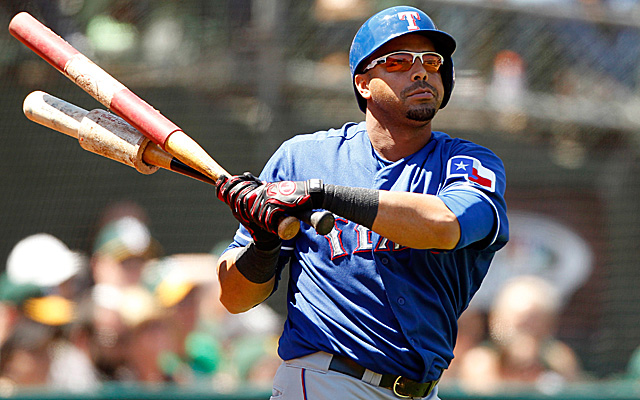 More MLB: Scoreboard | Standings | Probable Pitchers | Sortable Stats | Odds
Rangers slugger Nelson Cruz was suspended for 50 games this season due to his ties to the Biogenesis scandal. He could have appealed the suspension and played -- a la Alex Rodriguez -- but instead took his punishment like several other players.
And, according to Cruz, it wasn't his decision. Via USAToday.com:
"My first thought was to appeal, and right up to the last day I told [the Rangers] my decision was to appeal," Cruz says. "That was my plan. It's hard to explain it, but at the end it wasn't my decision. It wasn't what I wanted to do. It came out of my hands."
So, hold on: Did the Rangers make Cruz accept the punishment? They say no. From the same story:
"We'd be in better shape if he wasn't suspended," Rangers general manager Jon Daniels says. "It's a choice Nelson made."
Later in that same story, Cruz says that he was threatened with a 100-game suspension if he were to appeal. Thus, if he appealed and lost, he would get to help his teammates in 2013 but also miss the first 100 games -- assuming he lost his appeal -- in 2014. And since he's a free agent at the end of this season, the 100-game suspension would absolutely crush his value on the open market, he surmised.
So, putting two and two together -- and taking both Daniels and Cruz at their word -- it seems rather likely that it was Cruz's agent who made sure he did not appeal the suspension. Still, Cruz had to make the decision on his own after being advised. To make a selfish decision like this is never out of your hands. It's personal. And make no mistake about it, this was a selfish decision.
I'm not saying I blame Cruz. This is a business. Baseball players can only make money until around 40 years old -- and that's if they're lucky. They should try to make as much as humanly possible during their respective careers. It's just that quotes like the following ring pretty hollow, under the circumstances:
"It's so hard, you can't explain it in words," Cruz said softly (USAToday.com). "There's nothing worse than seeing your teammates battle knowing you can't help. I'm not even on the bench or even around. I try to text them and stuff and try to motivate the best I can. There's nothing else I can do."
The problem is, if there were truly nothing worse, Cruz would have appealed the suspension and served it next season. No, instead, there actually is something worse: Losing lots of money on the free-agency market.
Again, Cruz chose the money over his teammates, so to sit there and say there is nothing worse is very disingenuous.
Not only that, but by way of Fox Sports' Ken Rosenthal, Cruz's alibi about his ties to Biogenesis doesn't really hold up.
The moment Cruz's name appeared in Biogenesis documents, the Rangers should have been on high alert. As it turns out, his explanation for using PEDs -- that he was trying to recover from a gastro-intestinal infection from Nov. 2011 to Jan. 2012 that caused him to lose 40 pounds -- does not match the dates that appeared on several documents published by the Miami New Times.

Cruz's name, according to the New Times, appeared on a client list from Biogenesis dated June 2012. The personal notebook of Biogenesis founder Anthony Bosch, labeled "2012," included five other references to Cruz.

One entry, under the heading, "5/29," lists Cruz's name along with his statistics -- a .276 batting average, seven homers and 34 RBIs -- through May 28. Another lists his name along with the words, "May 7, Baltimore," a date when the Rangers were indeed visiting the Orioles. Two other documents refer to potential visits that Bosch apparently intended to make to Cruz. And another has Cruz's name next to the number, "4,000," presumably referring to a payment that the player owed or had made to Bosch.
The Rangers are 5-15 this September with a sputtering offense. They appear headed toward missing the playoffs for the first time since 2009. There are several other issues with the ballclub, but Nelson Cruz's selfish behavior -- both the use of PEDs and the non-appeal -- is a big reason for the troubles. As he heads into free agency, one can't help but wonder how much an impact that will have on his next potential contract.
Another team rumored to be interested in Stanton has confirmed their interest

Chris Woodward has spent the last two seasons with the Dodgers

We heard about it being awful for years, but was it?
Then again, three trades in four days might be behind Jerry Dipoto's usual pace

Ohtani is arguably the best hitter and pitcher in Japan

The O's need rotation help, and Cobb is available for hire