Rangers plan no qualifying offer for Nathan; free-agent value is high
Joe Nathan is the top closer on the market.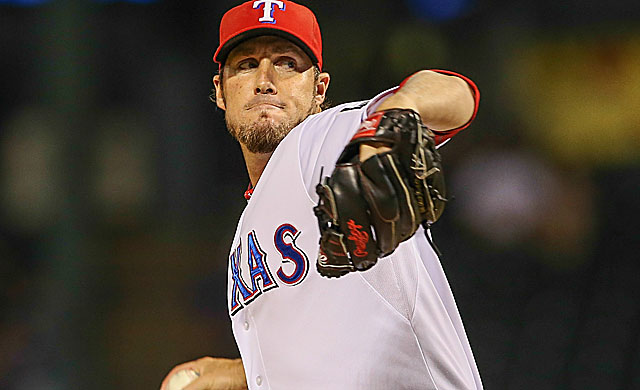 With the Texas Rangers planning not to extend a $14.1 million qualifying offer to Joe Nathan , he should become a unencumbered free agent, providing a new excellent option for teams looking for closers.
Nathan probably can get close to that salary as a free agent now that a draft choice won't be attached to him, but the Rangers have several much cheaper options and haven't been a team that usually seeks big-bucks closers. So it isn't surprising Texas wouldn't want to pay $14.1 million to its closer.
The Detroit Tigers , Los Angeles Angels and Chicago Cubs are among big-market teams that could have interest in Nathan, and the Cleveland Indians are another team that may be looking for a closer. It'll be interesting to see how the New York Yankees replace all-time great closer Mariano Rivera , though David Robertson is seen as the most logical successor.
The Rangers plan not to extend the offer to Nathan but do plan to extend it to outfeielder Nelson Cruz , people familiar with their situation say. Nathan should be the top closer on the market that also includes Fernando Rodney , Brian Wilson and Francisco Rodriguez . With no qualifying offer, no draft choice would be tied to Nathan.
"He's looking to see what the market bears," his attorney Dave Pepe said.
Nathan, 38, could easily be in line for a two-year deal after putting together another excellent season in Texas. He saved 43 of 46 games, and posted a 6-2 record with 1.39 ERA and 0.90 WHIP. His lifetime save percentage is the highest for anyone with 300 career saves, even a bit better than Rivera's (both are a bit above 89 percent).
The Rangers have at least a trio of in-house closer options in Neftali Feliz , Tanner Scheppers and Joakim Soria . Nathan enjoyed his time in Texas. Former club president Nolan Ryan was a big part of the recruiting effort to sign Nathan two years ago. And while in some sense Nathan was probably "sad" to see Ryan leave the team, it wouldn't deter him if the Rangers should still show interest. Pepe said, "he likes the guys on the club very much and he has great respect for [general manager] Jon Daniels."
At present though, it appears much more likely that Nathan lands elsewehere.
Sunday's MLB roundup features the D-Backs clinching a postseason spot and the Mariners going...

The 2017 season has been, by far, the worst season of Cabrera's career

The Mariners were eliminated from postseason contention with Sunday's loss
Maxwell became the first MLB player to kneel during the national anthem Saturday

The Blue Jays are not expected to bring Bautista back next season

The Dodgers have already clinched the NL West title, so the D-Backs will be a wild card te...