Rangers score 11 runs in one inning without a home run
The Rangers needed only six singles and a double to produce 11 runs in the third inning against the Astros Monday night.
The Rangers laid a Texas-sized beating on the Astros Monday night, during which they had an 11-run inning.
The gory details, in play-by-play fashion: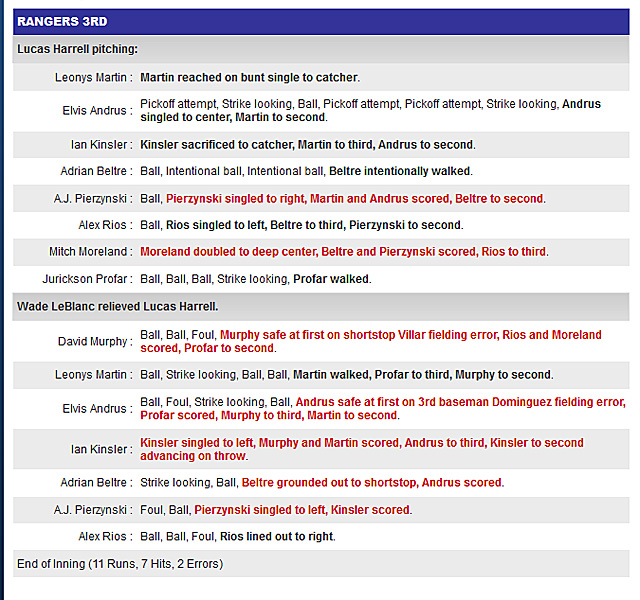 Just think what they could have done if they didn't waste an out bunting.
The tally, in base hit form: Six singles and a double. That's right, they scored 11 runs in an inning without needing a triple, homer or more than one double. There wasn't one proverbial "big blow," it was just a "keep the line moving" situation, with some obvious help -- two errors and three walks -- from the hapless Astros.
The Rangers came one run short of the American League record for runs in the third inning (on Sept. 11, 1949, the Yankees scored 12 in the third against the Senators). Unbelievably, the modern record for most runs in an inning is 17. The Red Sox pulled it off against the Tigers on June 18, 1953.
The Nats will host the All-Star Game in 2018

The Orioles are looking to trade Machado heading into his walk year

The Cardinals have been linked for a while to the Baltimore star
Gallardo spent the first eight years of his career in Milwaukee

MLB revenues are at a record high right now, but teams aren't spending it on players

Chicago added Tyler Chatwood earlier this offseason but might not be done adding to the ro...