Rangers scout Greinke in Cincy, although Brewers have yet to decide if they're selling
Texas looks like it'll be one bidder for Zack Greinke -- assuming he becomes available.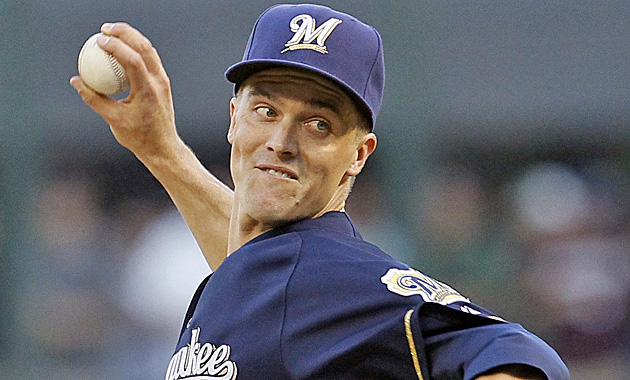 The Rangers look like willing bidders for Greinke, if he becomes available. (AP)
The Texas Rangers are the one team known to have flown in to scout Brewers right-hander Zack Greinke in Cincinnati on Wednesday.
As if the Rangers aren't already plenty strong, they've had interest before in Greinke, who is 9-2 with a 2.82 ERA and 102 strikeouts in 102 innings.
Greinke hasn't been made available yet, as the Brewers are still debating whether to buy or sell. He could be the best pitcher on the trade market, but since he's a free agent after the year his trade value surely is less than that of Matt Garza, who isn't a free agent until after the 2013 season.
A couple teams, such as the Yankees, may be also hesitant to go for Greinke because of the belief he's better suited for a small- or mid-sized market. Though when the Royals were trading him, Greinke told the Yankees he'd go to New York. He declined a deal to the Nationals at that time but only because he believed the Brewers had a better chance to win in the near-term.
The Brewers' chances to re-sign Greinke probably aren't great because of his high value. Contract talks broke off shortly after Matt Cain, a comparable pitcher, re-signed for $112.5 million over five years with the Giants. The Brewers at the time were believed interested in a deal along the lines of Jered Weaver's $85 million, five-year Angels deal.
Now the price has to be much higher.
Piscotty's mother was diagnosed with ALS earlier this year

From the rebuilding Marlins to the aggressive Angels, here's how the most active teams made...

Plenty of other teams are involved, of course
Where might the Orioles third baseman land?

Kinsler will slot in at second base for the Angels

The Marlins got a better return for Ozuna than Stanton or Gordon