Rangers sign Martin Perez to four year deal with three club options
Martin Perez has signed a four-year contract with three club options. The deal buys out two of his arbitration years and could get through two free agency years, if all the options are picked up.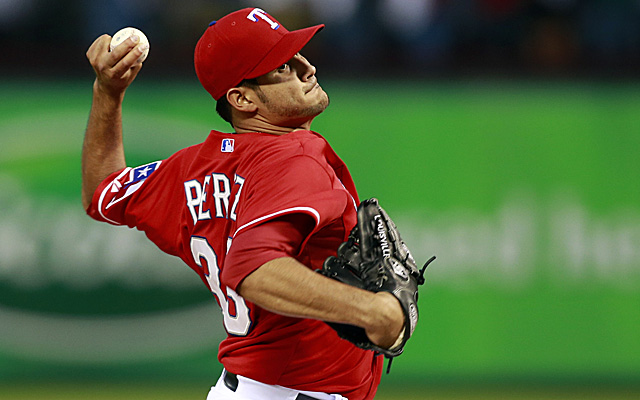 Young Rangers starting pitcher Martin Perez has signed a four-year contract with three option years, the club has announced. Terms of the deal aren't immediately known, but Joel Sherman of the New York Post reports that Perez will make $10 million during the four years and that there's a $2.5 million buyout if the first club option isn't picked up.
Without the club options, this contract doesn't mean a lot other than salary stability and no arbitration for two years. Perez wasn't a free agent. He wasn't even eligible for arbitration until after the 2015 season. So this four-year deal eats up his first two arbitration years.
Perez isn't eligible for free agency until after the 2018 season, so if all three club options are picked up, the Rangers will have controlled his first two seasons of free agency with this contract. If he doesn't perform well, they obviously can refuse to pick up the options and let him walk.
Martin, a 22-year-old lefty, was 10-6 with a 3.62 ERA, 1.34 WHIP and 84 strikeouts in 124 1/3 innings last season. In his last 12 starts, though, he was 7-3 with a 3.19 ERA. He'll enter next season as a part of the Rangers rotation from the get-go.
Harrison has a thing for ending no-hit bids

Hill was close to perfect across regulation but it turned out to be all for nothing in the...

Plus Hank Aaron weighs in on Colin Kaepernick, Trevor Rosenthal hits the DL, and more
Davis should help fortify the Red Sox outfield

Whether or not Mike Matheny will adjust is to be seen

Hammerin' Hank wants to see Kaepernick get another shot in the NFL