Rangers, still seeking a bat, could consider dealing Joe Nathan
The Rangers need to add a hitter, so much so that sources say they may consider trading away All-Star closer Joe Nathan.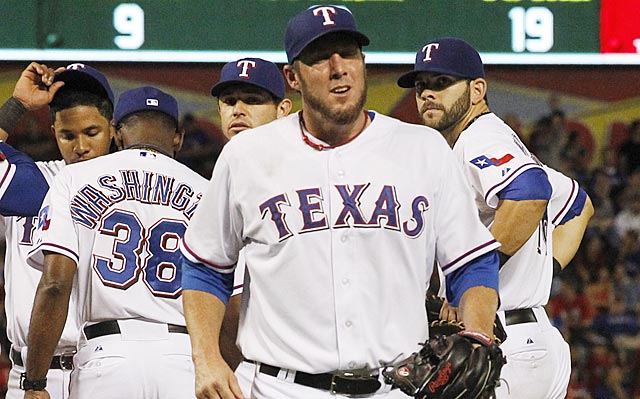 The Rangers are desperate to find an impact hitter on what has become a challenging trade market.
They know they need to be creative. They know they need to consider anything.
And after they were just shut out in back-to-back games for the first time since 2009, they know the need has become urgent.
But would they really consider trading away All-Star closer Joe Nathan?
It's an idea that has been discussed, sources say, confirming a report by Ken Rosenthal of Fox Sports. It's not clear how serious the Rangers are, and also not clear whether trading Nathan could bring back the needed right-handed bat.
What is clear is that the Rangers are serious about landing a hitter, in part because they worry that Nelson Cruz could soon be suspended as a result of the Biogenesis scandal. The Rangers have looked everywhere, but the hitters they like the most (Giancarlo Stanton, Hunter Pence, Michael Cuddyer, Edwin Encarnacion, for example) have not been made available yet, and may not be.
Alex Rios of the White Sox is very available, but while the Rangers have shown interest in him, it appears that they're trying hard to find someone better.
The Rangers are 2-8 since the All-Star break, and they've scored just 25 runs in the 10 games. The Giants and Marlins are the only teams that have scored fewer runs in that time.
Nathan has been outstanding, with 32 saves in 34 chances and a 1.73 ERA. But one-time Royals closer Joakim Soria has also been good in his month back from the disabled list, and could fill in. The Rangers will have another option when Neftali Feliz comes off the DL.
Nathan would have great value on the trade market, but most teams that would want him wouldn't be in position to part with the type of hitter the Rangers need.
Despite a seven-game ALCS, the Houston rotation lines up nicely for the World Series

Sabathia and the Yankees are a perfect fit for each other

Bregman threw out Greg Bird at the plate to preserve the Astros' lead
The 2017 World Series begins Oct. 24

The Yankees returned to contention even quicker than their front office expected

The Dodgers have the better defense, rotation, and bullpen, in our estimation