Ranking the 2013 Hall of Fame candidates: No. 10, Edgar Martinez
The designated hitter has been used in 40 Major League Baseball seasons, yet no player who was primarily a DH has been voted into the Hall of Fame. Does Edgar Martinez have a case to be the first?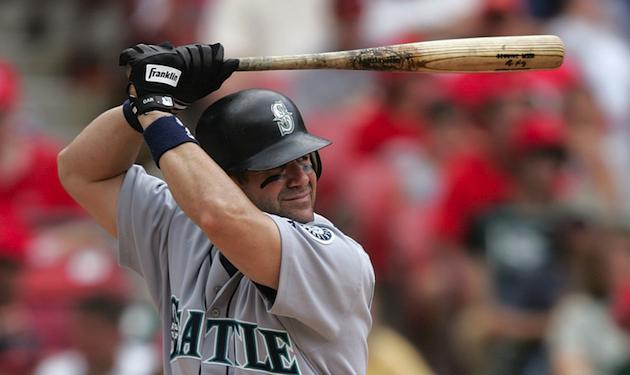 Edgar Martinez is on the ballot for the fourth time. (Getty Images)
We're now into the top 10 of our countdown of the 37 names on the BBWAA Hall of Fame ballot, and with a crowded ballot, the top 10 is quite the honor. BBWAA voters can vote for as many as 10 players on their ballot, but no more, and many would argue there are more than 10 players worthy of a check mark on this year's ballot, including No. 10 on our list.
First, let's remind you of parameters we've included before -- these rankings are based on an average of rankings set forth by the three Eye on Baseball bloggers -- Matt Snyder, Dayn Perry and myself. While the official BBWAA ballot is limited to 10 players per ballot, we did not give ourselves that restriction.
And with that said, we get to No. 10 on our list, one of the game's best hitters for more than a decade.
10. Edgar Martinez; DH; Mariners; 1987-2004
Year on ballot: 4th (got 36.5% of the vote last year)
Career stats: .312/.418/.515, 309 HR, 1,283 RBI, 1,219 R, 514 2B
bWAR, rank among candidates: 64.4, 10th
JAWS, rank among candidates: 53.1, 9th
Baseball Hall of Fame
Related coverage
Let's get this out of the way right at the top, Edgar Martinez was a designated hitter. It's true. He started just 561 games in the field in his career -- with most of those coming early in his career (he started 449 of his first 481 games in the big leagues in the field.) Martinez debuted in 1987 -- 14 years after the advent of the designated hitter. So far, no player that played the majority of his career as a designated hitter is in the Hall of Fame. Only Paul Molitor and Jim Rice played as much as 25 percent of their games as  a DH.
Should it be held against Martinez that he was used in a way that would serve his team best? 
The designated hitter has been in baseball since 1973 -- meaning there have been 40 seasons with the designated hitter. Even in baseball's glacial pace at accepting change, that's long enough to be considered part of the game. And as Dayn Perry writes, Martinez is the best DH ever. He even has baseball's annual award for the best DH named after him -- so he's kind of like the Cy Young of designated hitters.
For the most part, Hall of Fame debates center on how a player fares against other players at their position. For Martinez, as discussed, that's the DH spot, which has just one pseudo member in Molitor, who had 1,171 of his 2,683 games as a DH. Martinez, as a comparison, had 1,403 of his 2,055 games as a designated hitter. Molitor, like Martinez, spent most of his time in the field at third base, so he's often lumped in with the third basemen in the Hall. And, with that, we'll look at Martinez as a third baseman of sort (it makes sense, you look for the same kind of offense at third as you do at DH).
As we discussed with Jay Jaffe when we talked about his JAWS (Jaffe WAR Score system), it's easiest to look at each position separately, and in a sense, we can look at Martinez there. Also remember, JAWS and bWAR both take into account fielding statistics. There are 12 third basemen in the Hall of Fame (including Molitor), with the average putting up a bWAR of 64.9, a WAR7 (the player's seven best seasons, according to WAR) 41.8 and a JAWS of 53.4. Martinez, if considered a third baseman, is right on target with a 64.4 bWAR, 41.8 WAR7 and 53.1 JAWS. Because those numbers take into account defense, he is in a sense, docked for not playing defense, and still matches up with the best third basemen in the game's history.
But, if you're not into those types of statistics, we understand. Here are some others -- he twice won the batting title, three times led the league in on-base percentage. He finished in the top 10 in slugging percentage six times, in the top 10 in batting average seven times and the top 10 in on-base percentage 11 times. 
If you want career counting stats, Martinez is one of just 10 players in MLB history who have a .300 career batting average or better, .400-plus career on-base percentage, 300-plus home runs, 500-plus double and at least 1,000 walks. Of those 10, five are in the Hall of Fame and four are either active or yet to reach eligibility. The Hall of Famers on that list are Stan Musial, Rogers Hornsby, Babe Ruth, Lou Gehrig and Ted Williams -- pretty good company. The others are Chipper Jones, Manny Ramirez, Todd Helton and Albert Pujols.
Martinez is also one of 21 players in history to have a .300+/.400+/.500+ slash line. Of that group, 11 are in the Hall (Ty Cobb, Hornsby, Tris Speaker, Williams, Ruth, Harry Heilmann, Gehrig, Musial, Jimmie Foxx, Hank Greenberg and Mel Ott).
Martinez's on-base percentage of .418 is the 17th-best mark in baseball history. His OPS of .933 is 32nd on the all-time list, and the only players ahead of him eligible for the Hall of Fame but not inducted are Barry Bonds, Mark McGwire, Larry Walker, Jeff Bagwell and Lefty O'Doul. He had an OPS of better than 1.000 in five seasons and better than .900 in four more. And then there's OPS+, which considers the rest of the league and the park factors, where 100 is the average. Martinez had a career OPS+ of 147, 34th all-time. He had eight seasons with an OPS+ of 150 or better. Only 20 players had more, and all but Bonds, Pujols and Ramirez are in the Hall of Fame. It's the same number of 150+ OPS+ seasons that Jim Thome, Frank Thomas and Dick Allen recorded.
And here's one final note in the case for Martinez, if the character clause is going to be used against the likes of Bonds, McGwire, Sammy Sosa and Roger Clemens, should it be used for Martinez and Dale Murphy? Martinez won the Roberto Clemente Award in 2004 and was inducted into the World Sports Humanitarian Hall of Fame in 2007. Martinez still lives in Seattle and is active in the community. He was also respected by his teammates and opponents alike.
Would we vote for him? Snyder: Yes (12); Rosecrans: Yes (9); Perry: Yes (10)
For more baseball news, rumors and analysis, follow @EyeOnBaseball on Twitter, subscribe to the RSS feed and "like" us on Facebook.
The Diamondbacks outfielder was not impaired, he was just going way too fast

MLB can unilaterally implement rule changes, which will also include limits on mound visit...

If the MLBPA wants to fix MLB's economic system, it should push for more money for young p...
Fans aren't happy Gerrit Cole and Andrew McCutchen have been traded away

Acuna is arguably the best prospect in baseball

Kent had a good career, particularly with the bat