Ranking the 2013 Hall of Fame candidates: No. 9, Larry Walker
Larry Walker played much of his career at Coors Field, but what's sometimes lost in that discussion is how he good he was in other parts of the game.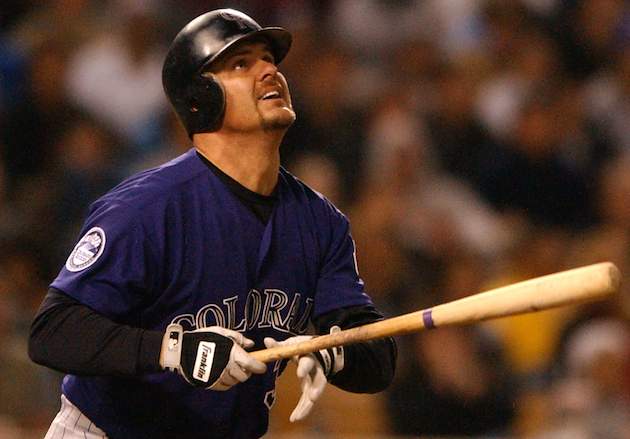 Larry Walker was one of the most complete players the game has ever seen. (Getty Images)
Here at Eye on Baseball, we're continuing our look at the 37 names on the BBWAA Hall of Fame ballot and now we're getting into some of the best players of the last few decades. What's interesting so far is how many debates have been general, as opposed to specific. The biggest issue is the so-called steroid era, but we've also had to discuss the designated hitter and if a DH belongs. Today is another such heated debate, a player's home park and the role that it plays.
First, let's remind you of parameters that we've included before -- these rankings are based on an average of rankings set forth by the three Eye on Baseball bloggers -- Matt Snyder, Dayn Perry and myself. While the official BBWAA ballot is limited to 10 players per ballot, we did not give ourselves that restriction.
Today's candidate -- No. 9 on the list -- was the best hitter in baseball's best hitters' park, and his numbers reflect that. But if you were paying more attention to the game on the field than the box score, you also got to see one of the game's best all-around players play at Coors Field.
9. Larry Walker; RF; Expos, Rockies, Cardinals; 1989-2005
Year on ballot: 3rd (got 22.9 percent of the vote last year)
Career stats: .313/.400/.565, 383 HR, 1,311 RBI, 1,355 R, 514 2B
bWAR, rank among candidates: 69.7, 5th
JAWS, rank among candidates: 56.4, 5th
Baseball Hall of Fame
Related coverage
Forget, for a second, where Larry Walker played. Instead, let's look at how he played the game.
The 1994 Expos were loaded -- and their best player was probably Walker. That year, Walker hit .322/.394/.587 with 44 doubles and 19 home runs -- all in 103 games of the 114 that the Expos played. Montreal led the Braves by six games when the strike shortened the season, the Expos were baseball's best team and seemed destined to go on to the World Series. Had that played out, Walker would have been the star of the show, setting himself up to be recognized as the best player in the game.
Since Walker is one of the prototypes that scouts discuss when talking about the five tools, let's take a look at each of those tools:
1. Hit for average: Walker has a career average of .313 -- better than George Brett (.305), Paul Molitor (.306), Hack Wilson (.307), Hank Aaron (.305), Mel Ott (.304) or Willie Mays (.302), among other Hall of Famers known for a high batting average. Walker won three batting titles -- as many as Brett -- and had four seasons with a .350 or better batting average.
2. Hit for power: His 383 home runs look pedestrian for a player who played in the steroid era and at Coors Field, but it's tough to deny his ability to hit for power. He twice led the league in slugging and slugged .565 for his career -- the 13th-best mark in baseball history. He's ahead of the likes of Stan Musial (.559), Mays (.558), Mickey Mantle (.557) and Aaron (.555). Anytime you're ahead of that crew, you've done something special -- and I don't care if you do it on Mars. Yes, he did benefit from playing in Colorado for 10 years; that can't be denied. It should be noted, though, that he hit 155 home runs in Colorado (154 at Coors Field, one at Mile High Stadium) and 228 elsewhere. When he led the league in homers with 49 in 1997, 29 of those home runs came away from Coors Field.
3. Running: While never the fastest player, Walker did have some speed (230 career steals, 33 in his monster 1997 season), but he used his speed to the fullest. Opposing managers and players often noted Walker was able to beat you on the base paths. Website FanGraphs.com lists relative base running but only has data from 2002 on. But even in the last part of his career, Walker's base running added 10 runs over his last 461 games. In this 2002 article for ESPN.com, Hall of Famer Tony Gwynn called him the best baserunner in the game -- and that was when Walker was 35.
4. Fielding: Walker won seven Gold Gloves in the outfield; only eight men won more. He's also seventh all-time among right fielders in total zone runs (96), trailing Roberto Clemente, Al Kaline, Jesse Barfield, Brain Jordan, Ichiro Suzuki, Sammy Sosa and Aaron. And then there's his arm. ...
5. Throwing: Walker finished his career with 150 outfield assists, good for 15th all-time, ahead of even Dave Parker and Dave Winfield. It's tough to prove with statistics, but anecdotal evidence from his time period tells you how feared his arm was -- and anyone who saw him uncork a throw from right knows how dangerous his arm was. There are some things in baseball that you can just appreciate for their aesthetics -- like a Ken Griffey Jr. swing or Johnny Bench behind the plate -- and Walker's throwing arm from right is right up there.
Of course, with Walker, some people are just never going to get over the fact of where he played the bulk of his career, just as some won't consider anyone implicated on PEDs or others won't consider a designated hitter. But like the DH, games played at Coors Field count just as much in the standings as other games. Other players benefited by playing at Coors Field. Did they help Walker's statistics? Sure. Did they make them? No.
Matt Snyder looked at Walker's career at Coors Field and away, and yes, it's an important part of the discussion, but it's not the entire discussion. But it's not like he's the only player in history to benefit from his home playing field. Carl Yastrzemski hit .306/.402/.503 at Fenway Park and .264/.357/.422 on the road. Jimmie Foxx hit .341/.452/.660 at Fenway Park and .299/.407/.552 away from it. Foxx also benefited from playing at Philadelphia's Shibe Park, where he hit .360/.469/.697. In his career, he hit .345/.453/.663 at home and .307/.405/.561 on the road -- still great numbers, but let's not pretend he didn't benefit from home ballparks. Detroit's Tiger Stadium had a short right field early in the 20th century, something Hank Greenberg used to his advantage. Greenberg hit .343/.441/.691 at Tiger Stadium and .295/.383/.541 away from it.
One of the many things advanced statistics try to do is take out the guess work when comparing different players over eras and in ballparks. One of the tools is to adjust statistics like OPS (on-base plus slugging) by factoring in the elements such as the era and park factors, giving us OPS+. OPS+ uses 100 as a baseline, so it's telling that Walker's career OPS+ of 141 is significant. That's in the top 50 of all-time among players with 5,000 or more plate appearances. It's the same as Chipper Jones and better than Brett (135), Kaline (134), Clemente (130), Winfield (130) and Yastrzemski (130).
Also park adjusted are WAR numbers, including the bWAR (Baseball-Reference.com's version of the stat) that we're leaning on so heavily in this series. Using Jay Jaffe's numbers from Baseball-Prospectus, Walker is above average among Hall of Fame right fielders in bWAR (69.7 for Walker, 69.5 average), WAR7 (43.1 for Walker, 41.3 average) and JAWS (56.4 for Walker, 55.4 average). Remember, right field for the Hall of Fame is a heavyweight category -- the eight players ahead of Walker in JAWS reads like a best-of-Cooperstown list: Ruth, Aaron, Musial, Ott, Frank Robinson, Clemente, Kaline and Reggie Jackson. That's heady company.  
Perhaps the one thing Walker couldn't do on a baseball field, was stay on it consistently. Like fellow right fielders Andre Dawson and Vladimir Guerrero, Walker started his career on the turf of Olympic Stadium in Montreal, taking a toll on his body. In his 17 seasons in the big leagues, he played only 150 games or more in a season just once. He played in 100 or fewer games in 1996, 2000, 2004 and 2005.
But when Walker was on the field, he was one of the best, and certainly worthy of a spot in Cooperstown.
Would we vote for him? Snyder: Yes (11); Rosecrans: Yes (4); Perry: Yes (8)
For more baseball news, rumors and analysis, follow @EyeOnBaseball on Twitter, subscribe to the RSS feed and "like" us on Facebook.
CBS Sports HQ Daily Newsletter
Get the best highlights and stories - yeah, just the good stuff handpicked by our team to start your day.
Please check the opt-in box to acknowledge that you would like to subscribe.
Thanks for signing up!
Keep an eye on your inbox for the latest sports news.
Sorry!
There was an error processing your subscription.
The Angels are reportedly taking an unconventional approach to finding Mike Scioscia's rep...

SportsLine's Mike McClure, a DFS pro with nearly $2M in winnings, gives optimal lineup adv...

No, the legendary broadcaster won't be making an appearance in the booth during the NLCS
The Braves' manager won't be going anywhere for a while

The NLCS shifts to Dodger Stadium for Game 3

Cole allowed five runs for the first time in 2018