Ranking the best 15 right fielders in Major League Baseball for 2016
It's time to rank the top right fielders in baseball for the 2016 season. At the top is, well, a familiar name.
Monday, we conclude our trek through ranking the positions (Previous rankings: C | 1B | 2B | SS | 3B | LF | CF) with right field. We'll have starting pitchers, relievers and DHs in the coming days.
As was the case with previous rankings, let's keep these things in mind:
1. We are ranking the players based upon which ones we'd most want to have for the 2016 season only, ignoring salary. Quite simply, if money were no object and you were trying to win the World Series this season, which player would you most want to have?
2. These are subjective, as voted on by Matt Snyder, Dayn Perry and Mike Axisa. We ranked the players at each position individually and averaged out the results.
3. These aren't fantasy baseball rankings. All-around play matters.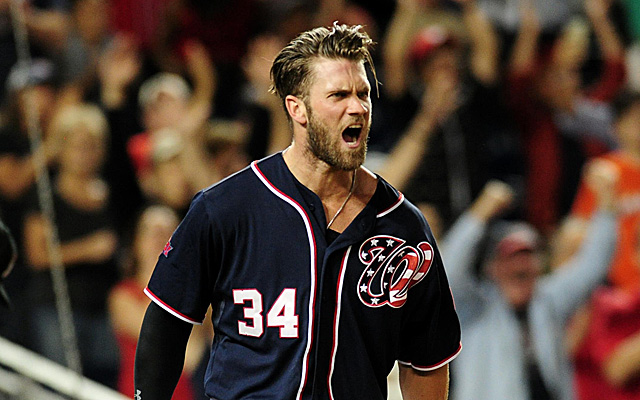 Shocking choice, huh? Harper was only 22 last season and won the NL MVP. He led the league in runs, home runs, on-base percentage and slugging percentage. He also has a cannon in right field and runs well. There's an argument to be made that he's the best player in baseball -- other than for those haters who set arbitrary rules like "he's only done it one year" -- so this was an easy pick.

Stanton is only 26 and he's already a three-time All-Star. His biggest asset is the light-tower power, as he averages 41 home runs for every 162 games played. Of course, the latter has been an issue. Stanton's games played in the last four seasons: 123, 116, 145, 74. When in the lineup, Stanton is among the game's best, sporting a career 145 OPS+ with good defense and baserunning.

A late bloomer, the 35-year-old Bautista has six All-Star appearances and four top-10 MVP finishes in his last six seasons. Here's a good example of how overrated batting average on its own is in judging production. Bautista hit .250 last season, but he led the AL with 110 walks and had 29 doubles, three triples and 40 homers. That's good for a 149 OPS+, 114 RBI and 108 runs. He also still has a very good arm in right and has walked more than he's struck out in each of the past two seasons.
Due to injury, Springer only managed 102 games played last season, but we caught a great glimpse of his power-speed combo. He hit .276/.367/.459 with 19 doubles, 16 homers and 16 steals. Given a full season, he's a decent bet for 25 homers and steals.
The power surge in 2014 wasn't a fluke. Martinez followed up his breakout campaign with 38 homers and 102 RBI last season. He set career highs in hits, runs, doubles, homers, RBI, walks, total bases and more. He also had 15 assists from right field, good for second in baseball behind Avisail Garcia.
Is he under-ranked? It's very possible. Betts will only be 23 this coming season and he's already shown he can do it all. He'll be an exceptional defender in right field and last season he hit .291/.341/.479 with 42 doubles, eight triples, 18 homers and 21 steals.
Had we done this exercise last winter, Puig would've been ranked higher. Of course, if we only based the rankings on what happened last season, he'd be lower. After hitting .305/.386/.502 in his first two seasons, Puig took a significant step backward last season. Still, he's only 25 and has the skill-set to return to star form.
Previously a model of durability, a freak hit-by-pitch injured Pence last spring and kind of ruined his season as a whole. He had played in 162 games in each of the previous two seasons but only managed 52 in 2015. Though he fills the stat sheet, Pence's overall value can't be measured in numbers. The Giants were 34-17 when he started last season and 50-61 when he didn't.
Though he's no longer the triples and steals threat he was in his younger days, Granderson brought great value to the Mets last season in every aspect of the game. He had a .364 OBP with 33 doubles, 26 homers and 11 steals while playing quality defense.
Sano debuted at age 22 last season and, boy, did he impress in his short stint. In essentially a half season, Sano clubbed 17 doubles and 18 homers with a .269/.385/.530 line. Though there has to be some concern about his defensive chops as he transitions to the outfield this season.
Coming off an injury-plagued and pretty bad 2014 season, CarGo bounced back in a huge way in 2015. He hit a career high 40 homers with a .271/.325/.540 (116 OPS+) line. His splits are a problem. He's bad against lefties (.195/.222/.308) and not very good away from Coors Field (.243/.294/.464).
An amazing defender, Reddick is a well-rounded player who had 20 homers and 10 steals last season to go with a .272/.333/.449 slash.
Calhoun won a Gold Glove last season while garnering 23 doubles and 26 home runs. The OBP dipped to an uncomfortable .308, however.
Braun is maligned, sure, but he's still very productive with the bat and the legs. He hit .285/.356/.498 with 27 doubles, 25 homers and 24 steals last season. The problem? He's coming off back surgery and is reportedly behind schedule. He's 32 now, so it's certainly worrisome.
Soler was a bit of a disappointment last season, hitting .262/.324/.399 with 18 doubles and 10 homers in 101 games. Of course, he was only 23 and we saw his immense potential in the playoffs, when he hit .474/.600/1.105 with three doubles, three homers and five RBI in 25 plate appearances. Injuries have been a big issue throughout his pro career, but the upside here is big.
Also receiving votes: Shin-Soo Choo, Rangers; Gregory Polanco, Pirates
Coming Tuesday: The top 15 DHs for 2016.
Walker was a tremendous all-around player, but Coors Field undoubtedly inflated his career...

A beardless Wilson says that he tried to outrun the police on the second day he had his driver's...

The Diamondbacks outfielder was not impaired, he was just going way too fast
MLB can unilaterally implement rule changes, which will also include limits on mound visit...

If the MLBPA wants to repair MLB's salary structure, it should push for more money for young...

Fans aren't happy Gerrit Cole and Andrew McCutchen have been traded away