As we continue with our series of ranking each position (Previous rankings: C | 1B | 2B | SS), we now move on to the hot corner.
As was the case with previous rankings, let's keep these things in mind:
1. We are ranking the players based upon which ones we'd most want to have for the 2016 season only, ignoring salary. Quite simply, if money were no object and you were trying to win the World Series this season, which player would you most want to have?
2. These are subjective, as voted on by Matt Snyder, Dayn Perry and Mike Axisa. We ranked the players at each position individually and averaged out the results.
3. These aren't fantasy baseball rankings. All-around play matters.
Onto our top 15 third basemen for this season, with a top pick that many will question in knee-jerk fashion.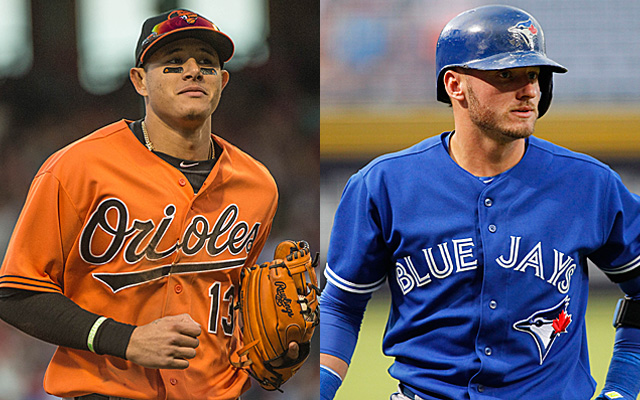 He might seem a wily veteran but was only 22 last season. He might be a bit overshadowed thanks to debuting when Mike Trout and Bryce Harper were rookies. Maybe he was overlooked last season due to the Orioles being mediocre.

But, man, Machado is a bona fide superstar at a ridiculously young age. An ironman, he played all 162 games, hitting 35 homers while stealing 20 bases and again looking like the best defensive player in baseball at the hot corner. The improved plate discipline helped him to a .359 on-base percentage and 131 OPS+. Continued improvement is likely, meaning that fourth-place MVP showing might be surpassed this season.

I know, I know. How could we possibly rank the MVP anywhere other than first? Well, this isn't a knock on Donaldson at all. This position is loaded (see the next few players) and only two were given strong consideration for the top spot. Donaldson will be 30 next season, so the thought process (I'm guessing, since I'm the one of us three who voted for Donaldson first) would be that he's already peaked while Machado possibly has more room for improvement. Look, Donaldson does everything well and it's possible he repeats last season. It's also possible that Machado wins MVP this time around. We're ranking for 2016, not 2015.

Like the two ranked above him, Arenado is an exceptional defender, both in terms of the highlight-reel plays and reliability on the even remotely routine. Offensively, he busted out in a huge way in 2015 with 43 doubles, 42 homers, 130 RBI. He led the majors with 354 total bases. Even in ballpark-adjusted OPS+ he rated out well at 124.

Bryant didn't hit his first career homer until his 21st game, but he still managed 26 in his impressive rookie season to go with 99 RBI. His defense was shaky for the first month or two, but he improved throughout the season and ended up in the positive on most advanced metrics (plus-3 in defensive runs saved). A savvy baserunner, Bryant stole 13 bases in 17 chances and often took the extra base.

Expecting Bryant to be in the NL MVP mix in 2016 is reasonable.

The 30-year-old Carpenter seems to be morphing into more of a power guy from a table-setter as he ages. His home runs totals the last three seasons: 11, 8, 28. His strikeout totals: 98, 111, 151. His OBP: .392, .375, .365. It'll be interesting to see how that progresses north of 30. Regardless, he's still one of the top men here, leading the NL with 44 doubles last season and sporting a nice 134 OPS+.

He had a down year in 2015, but was plagued by a thumb issue through most of the season. He still managed to hit .287/.334/.453 with 32 doubles and 18 homers with his customarily steady defense. Again, that was a down year, because in the previous three seasons, he hit .320/.372/.521. He'd be higher if not for it being such a loaded position and his age, as Beltre turns 37 on April 7.

Frazier had 43 doubles and 35 homers last season, stealing the show at the Home Run Derby. Unfortunately, it was all downhill from there. He hit .220/.274/.390 (80 OPS+). He still overall had a good season, but those last 2 1/2 months were troubling enough to leave him out of the top five (and there's an argument to be had to move him a few spots lower).

Perpetually underrated thanks to playing for the Mariners (non-contender in a ballpark that supresses offense), Seager topped 20 homers for the fourth consecutive season in 2015. He actually set career highs in runs (85), doubles (37), homers (26) and total bases. He's a quality defender and is still only 28.

Longoria is still a very good player and a decent centerpiece for the small-market Rays. His days of being a marquee third baseman are in the rear-view mirror, however. In 2015, he was 13th among qualified third basemen in average, 10th in OBP, 11th in slugging and 10th in home runs. The defense and career pedigree count, though, and he's still just 30 even after eight full seasons.

He's coming off a poor year for sure, but keep in mind that injuries held him back, as he only played in 80 games. Also keep in mind that he's only 25 and did this in 2014: .287/.351/.473, 39 doubles, six triples, 21 homers, 83 RBI, 111 runs, 17 steals. If he stays on the field in 2016, the chances are this ranking is low.

The long-awaited offensive breakout happened for Moose in 2015, as he hit .284/.348/.470 with 34 doubles and 22 homers. He's also a great defender and was, obviously, a major contributor for the 2015 World Series champs.

Last season, the rookie Duffy more than capably filled the void left by Pablo Sandoval (that Casey McGehee initially failed to fill). Duffy finished as the runner-up to Kris Bryant in the NL Rookie of the Year voting by hitting .295 with 28 doubles, 12 homers and 12 steals. Broken record alert: He's a great defender, too.

Turner dabbled in obscurity before catching on with the Dodgers as a 29 year old. In the past two seasons with LA, he's hit .314/.384/.492, last year gathering 26 doubles and 16 homers.

There's great promise in this kid. As a 22 year old last season, Franco hit .280 with 22 doubles, 14 homers, 50 RBI and a 127 OPS+ in just 80 games. Let's see a full season of that and he skyrockets up these rankings.

Once one of the top 10 players in baseball, Captain America is 33 and has major durability concerns after the spinal stenosis from last season. Still, when he's on the field he can play, sneaking him into the top half of the league here.
Coming Saturday: the top left fielders of 2016.
[NOTE: Worry not, Twins fans. Miguel Sano will be ranked in right field]
Coming Saturday: the top left fielders of 2016.