Ranking the postseason 1-2 rotation punches
Now that the playoffs are upon us, let's figure out which postseason clubs have the best 1-2 starting pitching punches heading into October.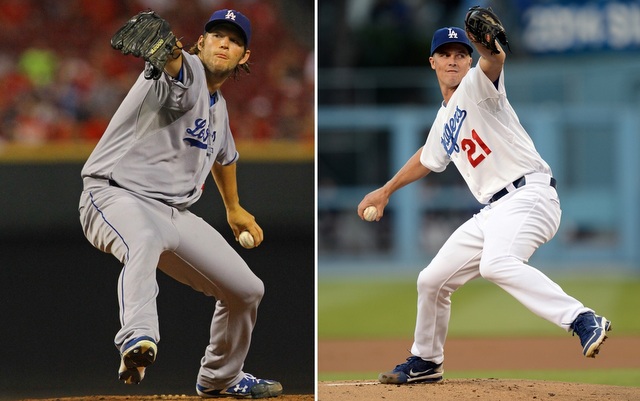 More MLB: Scoreboard | Standings | Probable Pitchers | Sortable Stats | Odds
I've never really agreed with the ol' "pitching wins championships" adage. Don't get me wrong, pitching is extremely important, but I think it's become more clear in recent years that having a balanced club is more important than anything else. You need a good pitching, a good offense, good defense and depth to make noise in the playoffs. A bunch of quality arms won't carry a team to a World Series title all by themselves.
That said, having a strong rotation is definitely a necessity. Sometimes it's just a matter of getting hot at the right time, like Jeff Weaver in 2006 or Barry Zito in 2012. A dominant ace can be (and usually is) the difference in one single game and having a strong second starter makes life easier if things don't go according to plan earlier in the series. With that in mind, let's rank the 1-2 punches of this year's postseason-bound clubs.
Just to be clear, this is not a ranking of Game 1 and 2 starters. Most playoff teams haven't even announced their exact rotations yet. This is just a ranking of each team's two best starters regardless of what games they end up starting -- or, in the case of the wild-card teams, not starting at all. The numbers listed for each pitcher are (ERA/WAR). Now onto my completely subjective rankings:
1. Los Angeles Dodgers: Clayton Kershaw and Zack Greinke
There wasn't much debate for the top spot. Kershaw (1.83/8.0) is the best pitcher in the world, so obviously so that Greinke's (2.63/4.0) excellent season was completely overshadowed. He would legitimately be considered the ace for probably half the other playoff teams. Facing these guys a combined three times in a best-of-five series or four times (maybe even five) in a best-of-seven series is a daunting task.
2. Detroit Tigers: Max Scherzer and Anibal Sanchez
With all due respect to Justin Verlander, formerly the best pitcher in the world, these two guys are the Tigers' two best starters. Scherzer (2.90/6.6) is going to win the AL Cy Young and Sanchez (2.57/6.3) won the ERA title. Both guys are super-high-strikeout pitchers and the ability to miss bats and generate outs without needing help from the defense is crucial in the postseason. These two plus Verlander and Doug Fister make up the best 1-4 playoff staff, but we're only looking at the 1-2 starters here.
3. Tampa Bay Rays: David Price and Alex Cobb
Technically, the Rays aren't even in the postseason yet. Monday night's tiebreaker game with the Rangers is considered a regular season game, but we'll cut them some slack for the purposes of this post. Cobb (2.76/4.0) was actually better than Price (3.39/2.4) this season, and you could argue Matt Moore (3.29 ERA/2.6) was better than the reigning Cy Young winner as well. Both Price and Cobb have been excellent down the stretch and form a dynamite 1-2 punch ... if the Rays actually gets to use them both.
4. Boston Red Sox: Jon Lester and Clay Buchholz
These two were big reasons why the Red Sox finished in last place last year and in first place this year. Both Lester (3.75/3.1) and Buchholz (1.74/4.3) rebounded from down seasons in big ways this summer, though the latter did miss more than half the season with a neck problem. Lester has been rather excellent of late and is coming into October on as good a roll as he's ever been.
5. Texas Rangers: Yu Darvish and Derek Holland
Like Tampa Bay, the Rangers are not technically in the postseason, but again, we're bending the rules a bit. Holland (3.42/3.5) was quietly fantastic and Darvish (2.83/5.9) is a true dominator who, based on some recent quick hooks, doesn't have the full confidence of his manager. Both guys miss bats (good!) but are a bit home run prone (bad!). I would say these two have the most boom-or-bust potential of any postseason 1-2 punch.
6. Cincinnati Reds: Mat Latos and Johnny Cueto
I'd be much more confident in this tandem if both guys weren't banged up. Latos (3.16/3.8) has bone chips in his elbow and Cueto (2.82/1.4) was recently activated after visiting the DL three times with lat strains this season. Perhaps I should list Homer Bailey as one of their top two starters instead. If Latos and Cueto were both healthy, the Reds would probably rank third on this list, maybe even second.
7. St. Louis Cardinals: Adam Wainwright and Shelby Miller
Outside of Kershaw, Wainwright (2.94/6.3) is as good as any pitcher in the postseason on an inning-by-inning basis. Miller (3.06/3.5) is only 22 and he's getting up there in innings (173 1/3), so fatigue is a concern. He did relatively stumble down the stretch (3.74 ERA in his last six starts).
8. Atlanta Braves: Kris Medlen and Mike Minor
Atlanta's rotation might not be getting the recognition it deserves heading into the postseason, and I'm probably selling them short in this post. Medlen (3.11/3.1) and Minor (3.21/3.0) were almost exactly the same pitcher this year, just one right-handed and the other left-handed.
9. Pittsburgh Pirates: Francisco Liriano and A.J. Burnett
I take back what I said about the Rangers -- these two have the most boom-or-bust potential of any 1-2 punch. Burnett (3.30/1.7) and Liriano (3.02/3.0) are both high-strikeout guys who can shut down even the best lineups when they're on, but when they're off ... man can it get ugly. You'd like a little more consistently in your 1-2 starters, ideally.
10. Oakland Athletics: Bartolo Colon and Jarrod Parker
In addition to a strong overall season, Colon (2.65/5.0) is coming into the playoffs hot, with a 1.25 ERA in six starts since coming off the DL. Parker (3.97/1.9) was excellent from mid May through mid September but has allowed 7+ runs in two of his last three starts. That's, uh, worrisome.
11. Cleveland Indians: Ubaldo Jimenez and Scott Kazmir
If Justin Masterson was healthy, the Indians would probably rank a little higher on the list. An oblique strain has sent the team's opening day starter to the bullpen for the time being, where he might be an answer to their closer problems. Both Jimenez (3.30/2.8) and Kazmir (4.04/1.1) were solid overall and downright dominant in the second half. An argument can be made for Corey Kluber over Kazmir.
The Nats will host the All-Star Game in 2018

The Orioles are looking to trade Machado heading into his walk year

The Cardinals have been linked for a while to the Baltimore star
Gallardo spent the first eight years of his career in Milwaukee

MLB revenues are at a record high right now, but teams aren't spending it on players

Chicago added Tyler Chatwood earlier this offseason but might not be done adding to the ro...