Ranking the potential World Series matchups: Dodgers-Red Sox on top
There are 16 potential World Series matchups at this point. We ranked them top to bottom, with Red Sox-Dodgers and Pirates-A's on top.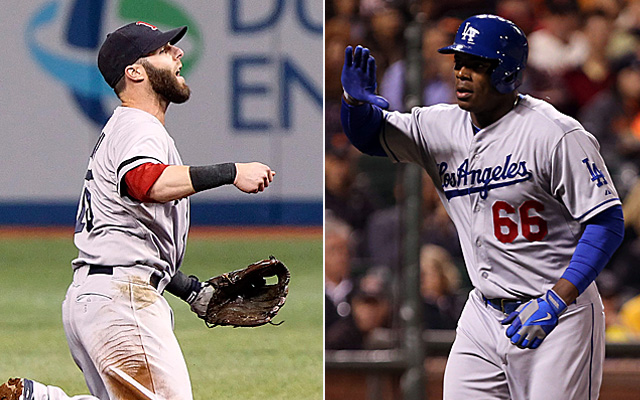 Who has the edge? Pirates-Cardinals | Dodgers-Braves | Tigers-Athletics | Rays-Red Sox
With the eight combatants set for the divisional round of the Major League Baseball playoffs, the three Eye On Baseball writers -- Matt Snyder, Dayn Perry and Mike Axisa -- figured we'd rank the 16 possible World Series matchups in order of possible excitement. That is, which series would provide the most drama, excitement and entertainment. We ranked them all individually and averaged out the rankings.
Obviously, this is subjective and has no bias against your favorite team -- but that surely won't stop the accusations from being thrown around (brace yourselves, Braves and Rays fans!). Which is fine, you know, Internet and all. The fact remains that all 16 would be fun.
Without further ado ...
1. Dodgers at Red Sox
Snyder rank: 1. Perry rank: 4. Axisa rank: 1.
Pretty obvious, no? Both teams are where they are because of the massive blockbuster trade they made with each other last August. Adrian Gonzalez has been an anchor in the middle of the Dodgers lineup while the Red Sox used all that saved money to add an insane amount of depth to their roster. Add in two of the game's oldest and most iconic ballparks, the best pitcher in the world, the general big market hoopla, and the fact that these are two of absolute best teams in baseball and you've got the recipe for a must-watch Fall Classic. - Axisa
2. Pirates at Athletics
Snyder rank: 3. Perry rank: 1. Axisa rank: 2.
First of all, this potential matchup ended up tied with the top one, but I used number of first-place votes as the tiebreaker. Anywho ...

Small markets fight back! Small payrolls fight back! The Pirates rank 20th in MLB payroll, but the A's check in at 27th. It would be a true matchups of the underdogs in this sense. But both teams are very talented, having combined to win 190 games this season (191 if we count the Pirates taking out the Reds in the wild-card round). There's also a bit of a 1970s "glory days" flavor here. The only real downside is that, yes, the TV ratings would probably suck which would clear the way for the NFL chest-pounders to obsess over them (seriously, why are they so insecure?). - Snyder
3. Dodgers at Tigers
Snyder rank: 2. Perry rank: 2. Axisa rank: 4.
A great regular season team is much different thing than a great postseason team, and you could argue these teams are the best playoff-built clubs left standing. Both have four quality starters with at least two true dominators in the rotation, both have star power in the lineup, and both have power bullpens with relievers who miss bats. The Tigers and Dodgers (Brooklyn or Los Angeles) have never met in the World Series before despite being around since the dawn of time, which is rather hard to believe. Clayton Kershaw vs. Miguel Cabrera? Max Scherzer vs. Yasiel Puig? C'mon, everyone wants to see that. - Axisa
4. Cardinals at Red Sox
Snyder rank: 6. Perry rank: 3. Axisa rank: 5.
The best record in the NL vs. the best record in the AL. Oh, and it's a rematch of the 2004 World Series, so that's neat. The Cardinals and Red Sox are very similar teams in that they're built around depth and not necessarily star power, with four quality starters and a lineup that will work the count and grind out at-bats all the way through. Did I mention these teams have the best records in their respective leagues? That's kind of a big deal. The last time the best teams in each league met in the World Series was 1999 (Yankees vs. Braves). - Axisa
5. Dodgers at Athletics
Snyder rank: 5. Perry rank: 9. Axisa rank: 3.
Without question, the hook here is that the A's and Dodgers met in the 1988 World Series. The Kirk Gibson "hobbled homer" off Eck happened, and the Dodgers went on to upset the heavily favored A's. They also clashed in the 1974 World Series, but on that occasion the A's prevailed for their third straight World Series title. - Perry
6. Pirates at Tigers
Snyder rank: 7. Perry rank: 5. Axisa rank: 7.
Battle of likely MVPs! Battle of industrial cities! Rematch of the 1909 World Series! The two teams for which Hank Greenberg played! Of course, the real sub-plot is that this match-up would pit Jim Leyland's current team against Jim Leyland's first team. Cigarettes and tears! - Perry
7. Pirates at Red Sox
Snyder rank: 4. Perry rank: 7. Axisa rank: 11.
There really isn't a ton of history here aside from the 1903 World Series,
Tim Wakefield
and Jason Bay. The Buccos are the super-easy-to-root-for underdog while the Red Sox are pretty much the designated MLB villian with the Yankees sitting at home. Everyone loves the underdog vs. juggernaut villian story. There's also last winter's
Joel Hanrahan
trade, which blew up for the Red Sox but gave the Pirates setup man
Mark Melancon
. - Axisa
8. Cardinals at Athletics
Snyder rank: 11. Perry rank: 6. Axisa rank: 8.
Like offense? We'd likely see it here. This matchup would pit the teams that checked in at third and fourth, respectively, in the majors this season in runs scored. Also, the obvious storyline going in is that it's the Tony La Russa Bowl, right? Matt Holliday was also traded to the Cardinals from the A's -- and none of the guys who went back to Oakland are currently on the A's roster. - Snyder
9. Dodgers at Rays
Snyder rank: 8. Perry rank: 12. Axisa rank: 10.
The story here would be the divide. East vs. West is easy. The Rays ranked 28th in player payroll this season while the Dodgers were second. The Dodgers led the majors in attendance while the Rays ranked dead last. There also would be a few player vs. past team storylines -- Carl Crawford vs. Rays, James Loney vs. Dodgers, etc. - Snyder
10. Pirates at Rays
Snyder rank: 10. Perry rank: 11. Axisa rank: 9.
As with the Pirates-A's possible matchup, I love the small-market series. It would also serve as the battle of the defensive shifts, as both teams have thrived with the shift this season. Otherwise, I've got very little. - Snyder
11. Cardinals at Tigers
Snyder rank: 15. Perry rank: 10. Axisa rank: 6.
This would make the fourth time the two have squared off in the World Series. The previous three: 1934 (Cardinals won), 1968 (Tigers won) and 2006 (Cardinals won). It was that latter match-up that left a bitter taste in the mouth of Detroiters. After all, their Tigers that season won 95 games, felled the mighty Yankees in the ALDS and then … lost in five games to the 82-win Cardinals. They'd like another crack at the Redbirds, for sure. - Perry
12. Braves at Red Sox
Snyder rank: 12. Perry rank: 8. Axisa rank: 15.
The Braves called Boston home once upon a time, so that right there is a pretty neat storyline. These were also two of the three or four best teams in baseball this season for very different reasons -- the Red Sox relied quite a bit on veterans while the Braves have a lot of young players at key spots. And let's not all forgot about a potential
Craig Kimbrel
vs.
David Ortiz
matchup. That's as good as it gets right there. - Axisa
13. Braves at Tigers
Snyder rank: 9. Perry rank: 13. Axisa rank: 16.
Think of it as unfinished business regarding that Aug. 12, 1987 trade of minor-leaguer John Smoltz from the Tigers to the Braves for veteran stalwart Doyle Alexander. Or think of it as two classic franchises who have managed to avoid each other in the World Series despite 112 years of mutual existence. Also of note: Craig Kimbrel vs. Miguel Cabrera in a high-leverage ninth-inning situation would be certifiably nifty. - Perry
14. Braves at Athletics
Snyder rank: 14. Perry rank: 14. Axisa rank: 12.
Let's see … We have two former Eastern Seaboard teams who now reside elsewhere. We also have a rematch of 1914 World Series. It's
Tim Hudson
's two teams, as well. Charlie Finley once owned the A's, and Ted Turner once owned the Braves. They both had white hair and a fondness for ridiculous promotions. OK, I'm reaching. - Perry
15. Cardinals at Rays
Snyder rank: 13. Perry rank: 15. Axisa rank: 13.
The Cardinals head to the postseason with 11 World Series championships and 18 pennants. The Rays bring in zero and one, respectively. There's also a contrast on the salary and attendance level, as the Cardinals have five players making eight figures this season while the Rays have zero. The Cardinals ranked second in attendance while the Rays ranked last. Otherwise, we'd just be hoping for some quality baseball. And we'd probably get it. - Snyder
16. Braves at Rays
Snyder rank: 16. Perry rank: 16. Axisa rank: 14.
This would be awesome because it's the World Series and the World Series is awesome. Because: Baseball. Otherwise, I'm finding it difficult to frame in a compelling way. Yunel Escobar returns to Atlanta? - Snyder
Get 15 percent off any order of more than $75 at CBS Sports Shop

Get your sports fans something that they'll wear all year

No, you're not imagining things. This MLB offseason has been very slow compared to the last...
Francesa will retire from radio next month, so he'll have plenty of free time next summer

The Twins need help in the rotation, and they may look to the trade market to find arms

Here are the bullet-points of what went down Tuesday regarding MLB and the Braves' punishm...